Toasted Coconut Cake is an easy, delicious cake that is perfect for everyday and holidays. This is a popular cake that is light and moist. It is made with a cake mix, because it is quick for me but, you can definitely make your favorite homemade white cake for this dessert.
This post may contain affiliate links. This means, I may receive commissions if you use a link provided. All opinions here are my own.
We are so glad you are here. You will find many delicious family friendly recipes on our recipe blog. We love to cook and hope to be able to help you with making great recipes for your family and friends. Here are a few other recipe links to continue your search: The Best Gooey Caramel Corn, Vanilla Cinnamon French Toast, Buttery Boiled Corn on the Cob, Creamy Steak Enchiladas, Orange Cream Cheese Crescent Rolls, Creamy Cajun Pasta, Little Smokies Breakfast Bake, Toasted Turkey Bacon Ranch Sandwiches, White Chocolate Raspberry Cheesecake, Carrot Cake Bars, Nutty Buddy Cupcakes and Scotchmallow Cookies.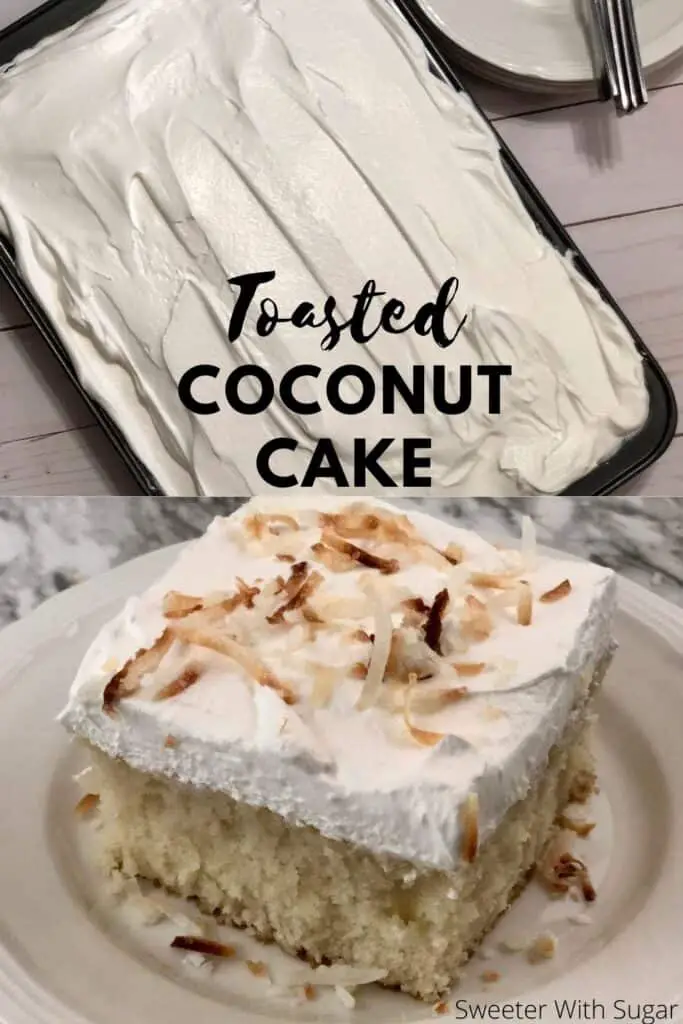 Ingredients Needed for Toasted Coconut Cake:
White cake mix-plus ingredients required for the cake mix
Can of cream of coconut
Cool Whip
Shredded coconut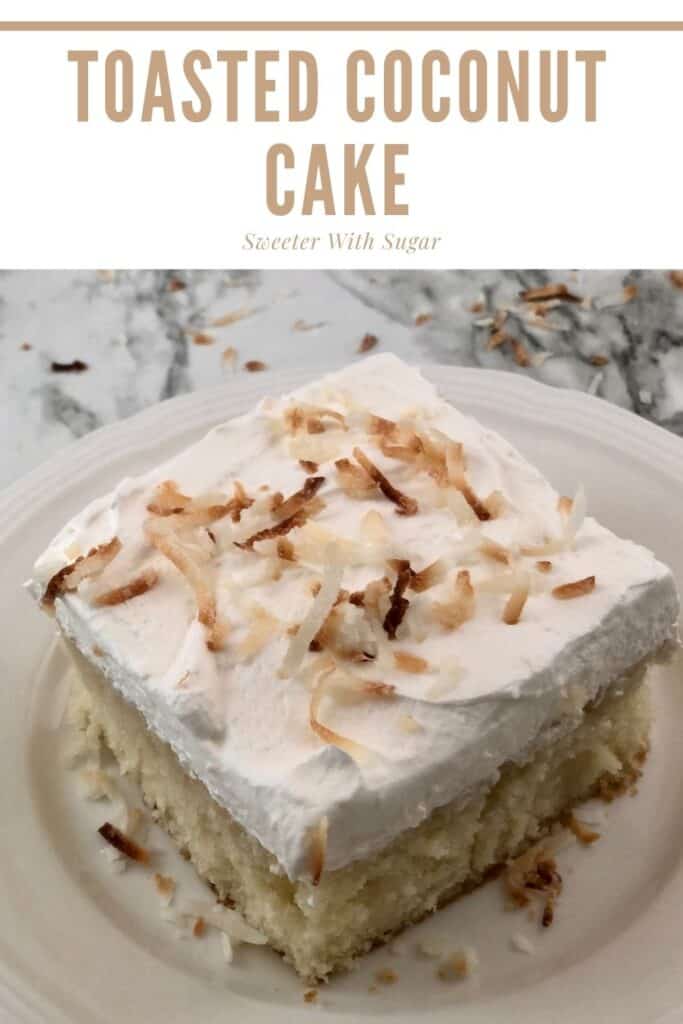 Instructions for Toasted Coconut Cake:
Prepare cake mix and bake in a 9 x 13 baking dish as directed on the back of the cake mix box.
Remove cake from the oven and poke the cake all over with a fork.
Drizzle all but 3 tablespoons of the can of cream of coconut on top of the cake. Make sure you get some of this delicious coconut cream everywhere. Reserve the three tablespoons to mix with the Cool Whip.
Allow cake to cool completely.
When white cake has cooled completely, Mix the remaining cream of coconut with the Cool Whip and spread over the cake.
Toast 1/2-1 cup of shredded coconut (depending on how much your family likes shredded coconut) by sprinkling the shredded coconut onto a baking sheet in a single layer and placing it under the broiler just to toast it. Watch closely-this can burn quickly. I like to use the low broil and I turn my oven light on and watch it closely. I also leave my oven rack in the middle of the oven.
Remove the toasted coconut from the oven and allow it to cool.
Two options: you can sprinkle the coconut on top of the whole cake or place the toasted coconut in a serving bowl with a spoon. Your family or guests can sprinkle their desired amount of coconut on top of their piece of cake. I always serve the toasted coconut in a bowl because we all love the cake and the coconut flavor but, some of our family members do not like shredded coconut because of the texture.
Cover and refrigerate this cake until ready to serve. Keep leftovers in the refrigerator. Enjoy this light and delicious cake!
Cook's Note:
I like to use a 9 x 13 cake pan that has a raised lid for this cake. If you use plastic wrap to cover this cake, it will stick to the Cool Whip.
Another variation: if you like more Cool Whip, use a larger tub of Cool Whip and reserve a two more tablespoons of the cream of coconut to mix in with the Cool Whip.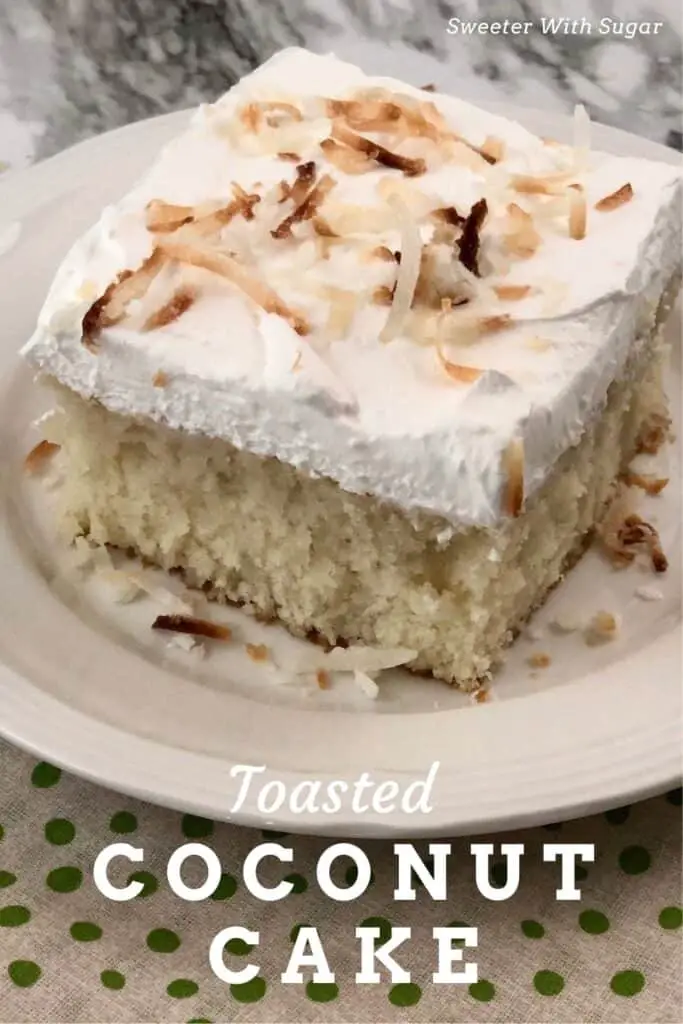 Other Recipes You Will Love: 💗
Raspberry Cream Cheese Coffee Cake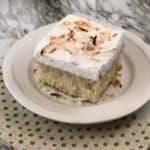 Toasted Coconut Cake
A light and delicious cake that is easy to make.
Ingredients
1

box

white cake mix

plus the ingredients needed for the cake mix

15

ounce can

cream of coconut

divided

8

ounce tub

Cool Whip

1/2-1

cup

shredded coconut
Instructions
Make and bake white cake mix as directed on the back of the box.

When cake has finished baking, remove from the oven and poke the cake with a fork.

Drizzle all but 3 tablespoons of the can of cream of coconut over the top of the cake, try to get the cream of coconut all over the cake top.

Cool cake completely, on the counter or cover the cake and place in the refrigerator.

While the cake cools, toast the coconut. Place shredded coconut on a baking sheet and place under the low broiler. Watch closely so it will not burn-this will not take much time. Remove from the oven and allow time to cool.

When cake has cooled completely, mix the remaining three tablespoons of cream of coconut with the Cool Whip. Spread on the cake.

Either sprinkle toasted coconut over the cake or serve it in a serving bowl to allow your guests the option. Some people like the flavor of coconut but not the texture, so I serve it on the side. Enjoy this delicious cake.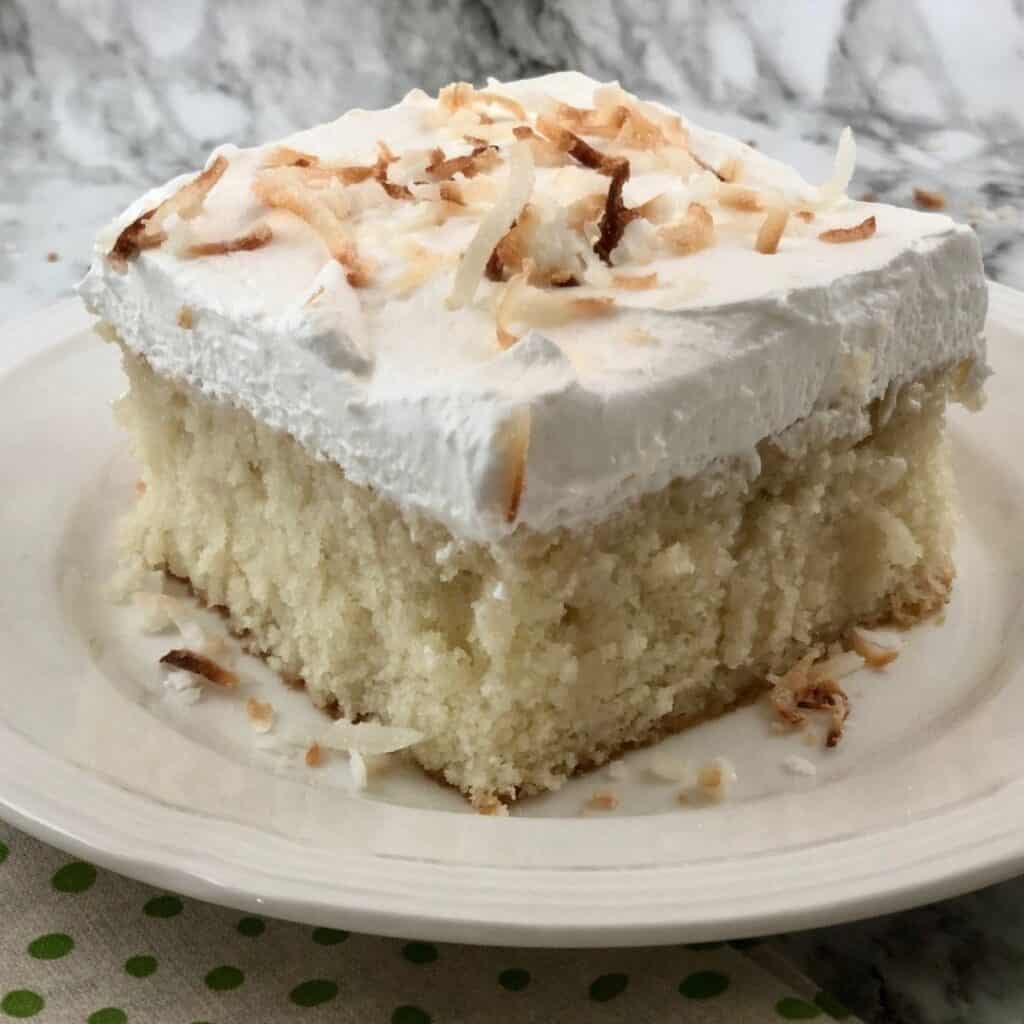 Other Yummy Dessert Recipes:
Cookies are so delicious and fun to make. Making cookies is a tradition for our family for just about every holiday. Cut-out cookies for Valentine's Day, St. Patrick's Day, Easter, Halloween, Thanksgiving, and Christmas are so much fun. Dessert is hard to resist for us and truthfully we usually don't resist-we just enjoy the many cookies and desserts recipes we make. Here are some of the best ones.
Lemon Cookies We love chocolate as you know, (if you have read many of our posts) but we also love lemon! These cookies are made with a lemon cake mix and have a yummy lemon flavor. The lemon frosting makes them even better. Try this recipe next time you want a lemon dessert, we think you will love them.
White Chocolate Macadamia Nut Cookies are the most fantastic cookie. The sweetness of the cookie and the white chocolate chips along with the salty and crunchy macadamia nuts make this cookie the best! They are extra delicious when we make ice cream sandwiches with these cookies. Costco vanilla ice cream is the best ever and makes white chocolate macadamia nut cookies fun and yummy. Of course other vanilla ice creams taste good too. Try these out for a fun summer dessert after a delicious barbecue.
Desserts with Chocolate:
Chocolate Chip Cookies Love Love Love chocolate and chocolate chips-any chocolate and all chocolate. Chocolate chip cookies are so good, the more chocolate chips in each cookie the better! Don't you just love taking a bite of a warm chocolate chip cookie with the warm, melty, and gooey chocolate chips-We do!!
Creme Filled Brownie Cookies These are fantastic! You have got to try them. The yummy brownie cookie plus the creme filling in the middle makes these one of our favorites. The creme filling is made with very few ingredients and then the brownie mix with the required ingredients is all you need for a delicious snack or dessert.
Triple Chocolate Cookies This is a delicious recipe for chocolatey cookies. It uses a chocolate cake mix along with milk chocolate chips and white chocolate chips. This cookie recipe is one of my husband's favorite cake mix cookie. Let us know how you like these delicious cookies.
Toblerone Cookies This simple and easy cookie recipe only requires four ingredients. It uses a cake mix and Toblerone candy bar pieces. The toffee in the Toblerone gives the cookies a chewy and extra chocolatey goodness. Cake mix cookies are super easy and so versatile. The versatility makes them a lot of fun-it is so fun to use your imagination in the kitchen when cooking. Try these cookies, we think you will love them.
Are You Looking For More Recipe Ideas?
Vegetable Sides:
Baked Bacon Green Beans are a great way to cook fresh green beans. The bacon flavor is always an added bonus for us. Bacon gives food such a great flavor. It is also so good served with eggs and hash browns-one of my favorite breakfast meals.
Easy Oven Baked Potatoes are easy as stated in the name of the recipe. Sheet pan veggies recipes are really good and an easy way to cook vegetables.
Bacon Baked Tomatoes are a yummy and simple way to not only to get a vegetable serving in but a great way to use garden tomatoes that you have grown. Of course you can use store purchased tomatoes.
Parmesan Roasted Carrots are one of our favorites. The added seasonings make for a yummy flavor. Children love carrots so this one is helpful when feeding kids.
Delicious Grilled Veggies YUM! Vegetables cooked on the grill-what can be better? We love to grill during all seasons of the year. These veggies are a great side for many, many grilled meats.
Baked Corn on the Cob Corn on the cob says summer to me. Summer is such a fun and free time of year. The kids are out of school and you are able to do more of the things you love to do. This recipe is a great way to cook corn. It is easy and yummy.
Skillet Garlic Butter Asparagus Asparagus is such a yummy vegetable. This recipe is quick and easy and delicious! Asparagus is a great side for chicken, beef, fish, or pasta-to name just a few.
Recipes With Lots of Veggies:
Sheet Pan Sausage and Veggies is a whole meal. Don't you just love that!? One meal on one pan that includes a protein and vegetables. You can definitely use a different sausage than summer sausage. My daughter is making this dish this week (in her meal plan) but, using brats. Brats will be great in this recipe.
Korean Rice Bowls This recipe has a bunch of vegetable in it along with a protein. A full meal, served in one bowl. Love that!
Slow Cooker Southern Corn Chowder Soups and chowders are a great way to warm you up on cold winter nights and they are full of vegetables. Vegetables and comfort food-love it!
Bacon Fried Rice Again with the bacon. 😊💕 There are vegetables in this recipe along with the bacon. This is an easy meal. It can be used as a side or a meal. I like to use it as a meal. Cooking the rice in the oven is my favorite way to cook rice: Oven Baked Rice. An extra note for this rice recipe…once when my dog was not feeling well, the vet said to feed her rice. This is the way we cooked it-without the butter and salt. It was simple to make, which is great because she had to eat it for a few days.
A fantastic vegetable filled snack or side for burgers, burritos, enchiladas, or just with tortilla chips is Guacamole. So many healthy ingredients go into this recipe for guacamole. My family likes me to make this a lot.
Thanks:
Disclaimer:
All of the thoughts and opinions here, on our family food and recipe blog, are our own. The affiliate links (if you click on one or more) here pay us a tiny commission that will not cost you anything. The commissions help us run this web-site. We appreciate your support! Thank you so much!
We all want to thank you for visiting and trying recipes from our family recipe blog. Your support is very much appreciated. All of us are hoping that all of you are staying healthy, strong and happy. Have a fantastic day and an even better week. Have fun cooking and remember to get the kids involved where it is safe to do so. They may love it and it is a great activity for quality family time. Family and friends are the best! 
(Visited 191 times, 3 visits today)