Barbecue Shredded Chicken Quesadillas are a simple and yummy dinner recipe idea you will love to make and eat. If you use rotisserie chicken, it is even easier.
This post may contain affiliate links. This means, I may receive commissions if you use a link provided. All opinions here are my own.
We are so glad you have stopped by our family recipe blog. We love to cook and hope to help you find and make easy family friendly meals. Meal-time can be hectic and stressful, but it is so important. Here are a few recipes we think you will love that will get your search started: Vanilla Mousse Pie, Cookie Butter Cookies, Rocky Road Brownies, Easy Onion Dip, Orange Chicken, Caprese Chicken Casserole, Philly Cheesesteak Waffle Fries, Salsa Verde Chicken Enchiladas, Grilled Chicken Caesar Salad, Chicken Ranch Pasta Salad, Hawaiian Barbecue Chicken Pizza and Super Moist Cornbread.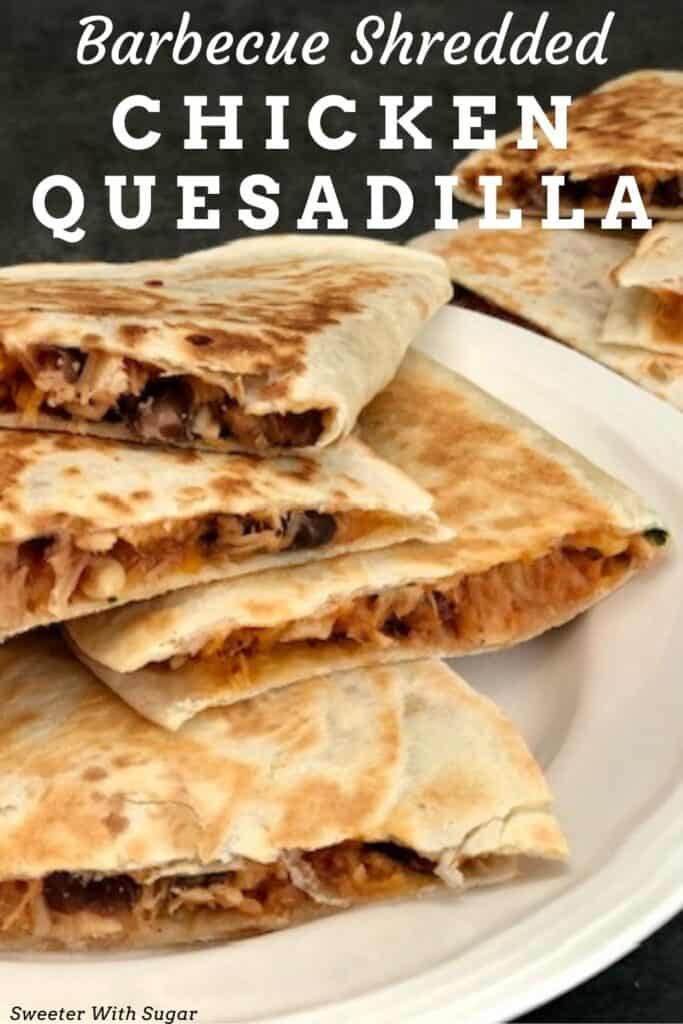 Ingredients Needed For Barbecue Shredded Chicken Quesadillas:
Chicken
Red onion
Sweet Baby Ray's barbecue sauce
Corn
Black beans
Cilantro
Chili powder
Smoked paprika
Salt
Colby and Monterey Jack cheeses
Flour tortillas
Tomatoes
Jalapeños
Sour cream
Salsa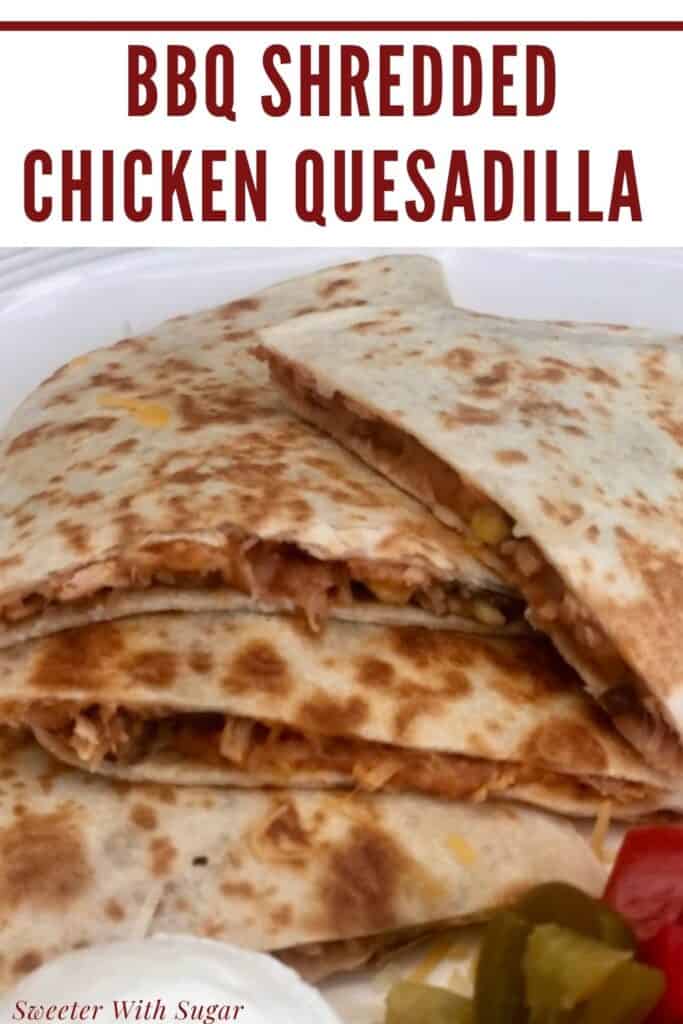 Instructions For Barbecue Shredded Chicken Quesadillas:
Cook chicken breast meat your favorite way for shredding. In the slow cooker for 6-8 hours or boil it-up to you. I like to cook it in a slow cooker until cooked through which is 165 degrees fahrenheit. Then, shred chicken breast meat or if you are using already cooked rotisserie chicken, shred the breast meat.
Add the shredded chicken, diced red onion, Sweet Baby Ray's barbecue sauce, frozen and thawed corn, drained and rinsed black beans, chopped or torn cilantro leaves, chili powder, smoked paprika, salt and Colby Monterey Jack blend cheeses to a mixing bowl and mix well.
Place the chicken mixture on half of the flour tortilla. Fold the tortilla over-in half.
Fry quesadilla in a frying pan sprayed with non-stick cooking spray. Heat through and melt cheese. Heat and brown on both sides.
Remove quesadilla from the frying pan and cut in half, if desired.
Repeat with remaining flour tortillas.
Serve with diced tomatoes, sliced jalapeños and sour cream (or salsa). Enjoy!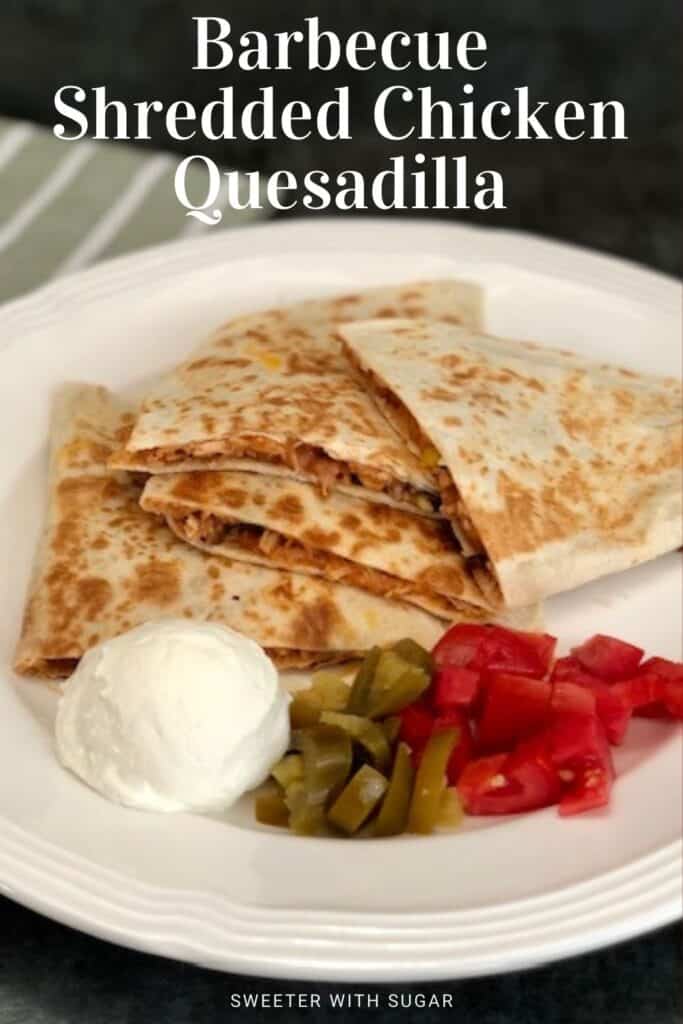 Other Recipes You May Love: 💕
German Chocolate Cookie Bites are easy make. They are not made from scratch, however, you could make your own cake. This recipe uses a German chocolate cake mix and a container of German chocolate frosting. Simple to make and delicious to eat.
Easter Crinkle Cookies are a fun and easy cookie recipe because we have made them with a cake mix. We divided the batter into three bowls and colored the batter three different colors. The kids thought that was pretty fun and that they looked like Easter eggs. This could be done in different colors such as a child's favorite colors for a birthday party, red and green for Christmas or red, white and blue for the Fourth of July.
Raspberry Shortbread Cookies are a delicious and fun cookie that taste wonderful with the butter, sugar, flour, and raspberry extract. We have made them for Valentine's Day in that post. They can, of course, be made for any holiday or just any average day. Fun holiday cookie cutters make this recipe not only yummy but fun for kids and adults, too.
Stuffed Peanut Butter Cookies are peanut butter cookies that have been stuffed or in other words wrapped around a bite-sized candy bar. We have used different bars, but we love to wrap the peanut butter cookie dough around a bite-sized Snicker bar. Chocolate and peanut butter go together perfectly. A way to make these even more simply…use Betty Crocker peanut butter cookie mix. Try different candy bars.
Thanksgiving Turkey Cookies are the cutest cookies! They are made with Nutter Butters so all you have to do is have fun decorating them with your family-kids love to be creative and decorate cookies. They have been known to come up with some pretty fun and clever ideas when we cook together. 
Breakfast Recipes To Try:
Little Smokies Breakfast Bake-Little smokies are so yummy. They are great with eggs and hash browns and they are also great in this breakfast casserole. We chop them up so they are easier to eat and you don't end up getting a whole sausage in one bite. Smaller pieces just work out better. This recipe has a delicious flavor and is easy to make.
Bacon Hash Brown Breakfast Casserole is a must try. Breakfast casseroles are so easy to make and they feed quite a few of people. Bacon and hash browns are two of my favorites for breakfast-along with every other breakfast food. I can't, as I sit here typing, think of a breakfast food that I do not like.
Breakfast Sandwiches are so good! We love Sausage McMuffin sandwiches from McDonald's. Now we can make them at home and they are delicious. This breakfast sandwich maker is so easy to use and so easy to clean. In the Breakfast Sandwiches post we list a lot of different ideas for changing up the usual breakfast sandwich. Check it out-you are sure to find some you like. 
Bacon Mushroom Breakfast Casserole – this one is our Christmas morning breakfast casserole. We make this along with this Raspberry Cream Cheese Coffee Cake. We also make Orange Julius as our beverage. Christmas is one of our favorites.
Breakfast Crunch Wrap-how much fun are these!! Taco Bell makes a great Crunch Wrap. However, we like ours more- Copycat Crunch Wrap. After we made the copycat crunch wrap we wanted to make one for breakfast and it turned out fantastic! You have go to try it out. We recently made both of these again. Both are fantastic. The Taco Bell Copycat Crunch Wrap is better to us than their original, still.
Breakfast Muffins are so fun. We make them in a brownie pan so they come out square. They hold their shape very well so we have been know to eat these on the way out the door to work and school. They have great flavor and are simple to make.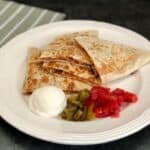 Barbecue Shredded Chicken Quesadillas
An easy dinner recipe filled with tender chicken, seasonings, cheese, corn and beans.
Ingredients
1 1/2

cups

shredded chicken

rotisserie or cooked and shredded

1 1/2

tbsps

red onion

diced

3/4

cup

Sweet Baby Ray's barbecue sauce

1/2

cup

frozen corn

thawed

15

ounces

black beans

drained

2

tbsps

cilantro leaves

torn

1/2

tsp

chili powder

1/2

tsp

smoked paprika

1/4

tsp

salt

3

cups

Colby and Monterey Jack blend cheese

grated

8

taco size

flour tortillas

tomatoes

diced

jalapeños

sliced-pickled

sour cream

salsa
Instructions
Cook and shred chicken. Boil it for 20 minutes to reach 165° F. Cook it in a slow cooker. Use rotisserie chicken-your choice.

Combine all ingredients in a mixing bowl.

Divide chicken mixture between the eight tortillas-covering only half of the tortilla.

Fold tortilla over to make a half circle.

Fry in a frying pan sprayed with non-cook cooking spray to heat through and melt cheese. Flip to brown on each side.

Remove from the pan and slice in half, if desired.

Serve with diced tomatoes, sliced jalapenos, sour cream and salsa. Enjoy!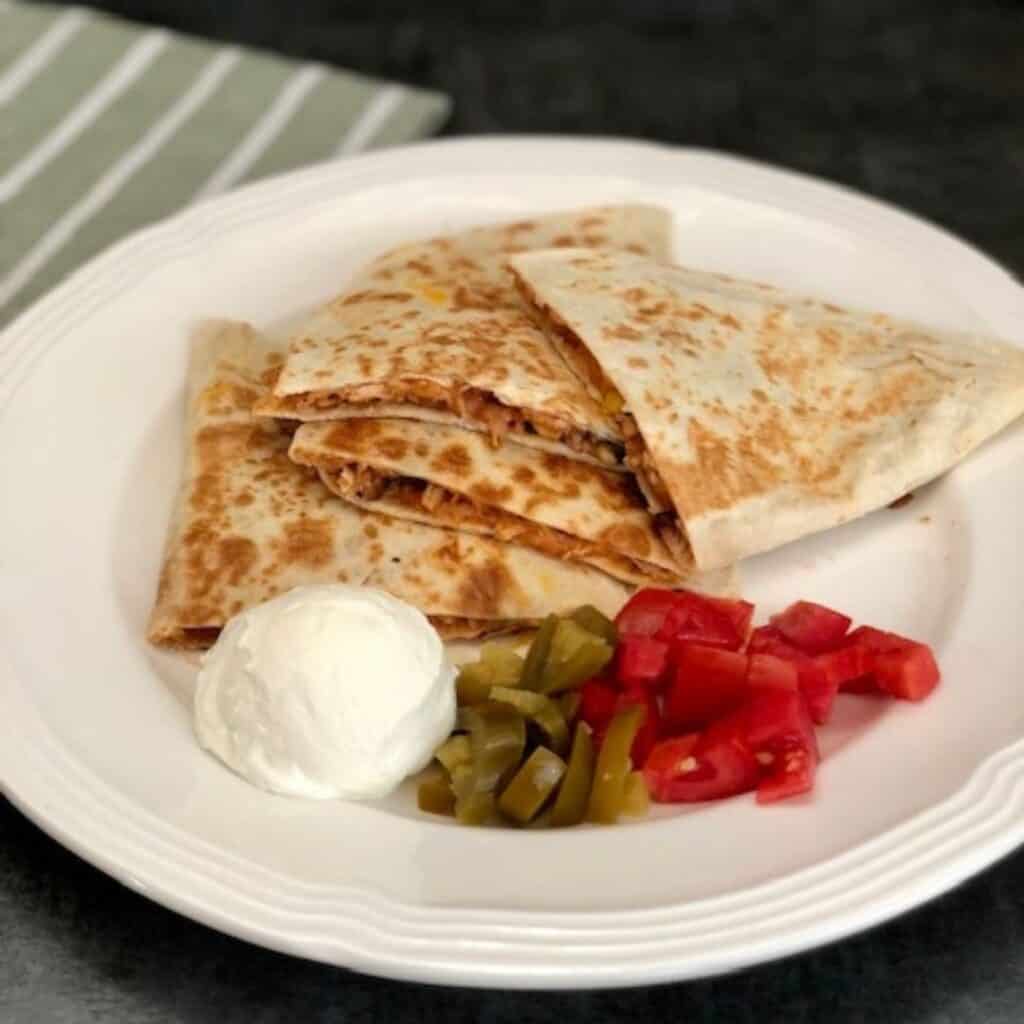 Disclaimer:
All of the thoughts and opinions here, on our family food and recipe blog, are our own. The affiliate links (if you click on one or more) here pay us a tiny commission that will not cost you anything. The commissions help us run this web-site. We appreciate your support! Thank you so much!
We all want to thank you for visiting and trying recipes from our family recipe blog. Your support is very much appreciated. All of us are hoping that all of you are staying healthy, strong and happy. Have a fantastic day and an even better week. Have fun cooking and remember to get the kids involved where it is safe to do so. They may love it and it is a great activity for quality family time. Family and friends are the best! 
(Visited 72 times, 1 visits today)