Creamy Cajun Pasta is super simple and super delicious! It has a little kick from the Cajun seasoning but it isn't overpowering. This recipe is sure to be a new favorite!
This post may contain affiliate links. This means, I may receive commissions if you use a link provided. All opinions here are my own.

Valentine's Day with Handmade
This is an easy dinner recipe. To keep it quick and to add some protein to this pasta, we like to bake breaded chicken breasts and place on top of this pasta or on the side of this pasta dish. Costco has delicious chicken patties that we use a lot. They work well with this dish along with many others. They are fantastic on salads, in a bun for a chicken sandwich-topped with barbecue sauce or ranch dressing, and alone with some vegetables.
We have many easy recipes on our on-line recipe book. Along with some that are more time consuming, but still very delicious. Here are some links to other easy recipes hope you will love: Easy Alfredo, Easy Peach Cobbler, Easy Queso, One Pan Zucchini Skillet, One Pan Coconut Lime Chicken, One Pan Parmesan Orzo, One Pan Broccoli Chicken and Rice, One Pan Beef Noodle Casserole, One Pan Spicy Enchilada Pasta, and One Pan Cheesy Sloppy Joe Pasta.
Ingredients Needed for Creamy Cajun Pasta:
12 oz. bow tie pasta
2 tablespoons butter
3 garlic cloves, minced
1/4 cup green onion
1/4 cup flour
1 14.5 ounce can can chicken broth
3 teaspoons Cajun seasoning
1/4 teaspoon salt
1/8 teaspoon pepper
1 medium lemon, juiced (about 5 tablespoons)
2 1/2 cups half and half
1 cup Parmesan cheese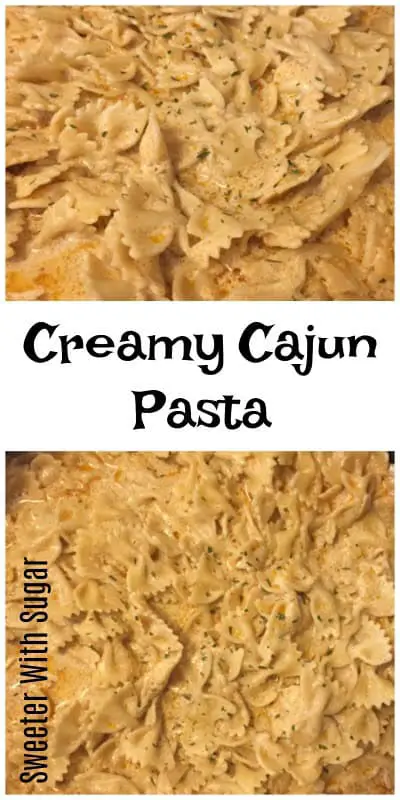 Instructions for Creamy Cajun Pasta:
Cook the pasta according to package directions with a dash of salt until just done-11 minutes. Drain and set aside.
Melt the butter in a skillet over medium heat and add the onion. Sauté until the onion is tender.
Mince the garlic, add to mixture, and stir to combine.
Stir the flour into the onion mixture, this will make a paste like consistency.
Add the chicken broth and Cajun seasoning, salt, and pepper. Bring to boil and simmer until sauce thickens. Stirring to combine broth and the flour mixture.
When sauce has thickened, reduce the heat and continue stirring. Allow time for the sauce to stop boiling-just simmering.
Stir in the half and half. Stir and let the sauce return to a simmer over low to medium heat. We want the half and half to heat through and thicken at a low boil.
As the sauce is thickening, add the parmesan cheese and mix well to combine.
When sauce is the desired thickness, remove from the heat and add the lemon juice. Stir to combine.
Pour the creamy cajun sauce over the drained pasta and stir to coat.
Top with some parsley and more grated parmesan, if desired. I like how the extra parmesan and parsley flakes look on top of this pasta-it looks pretty and very appetizing.
Enjoy!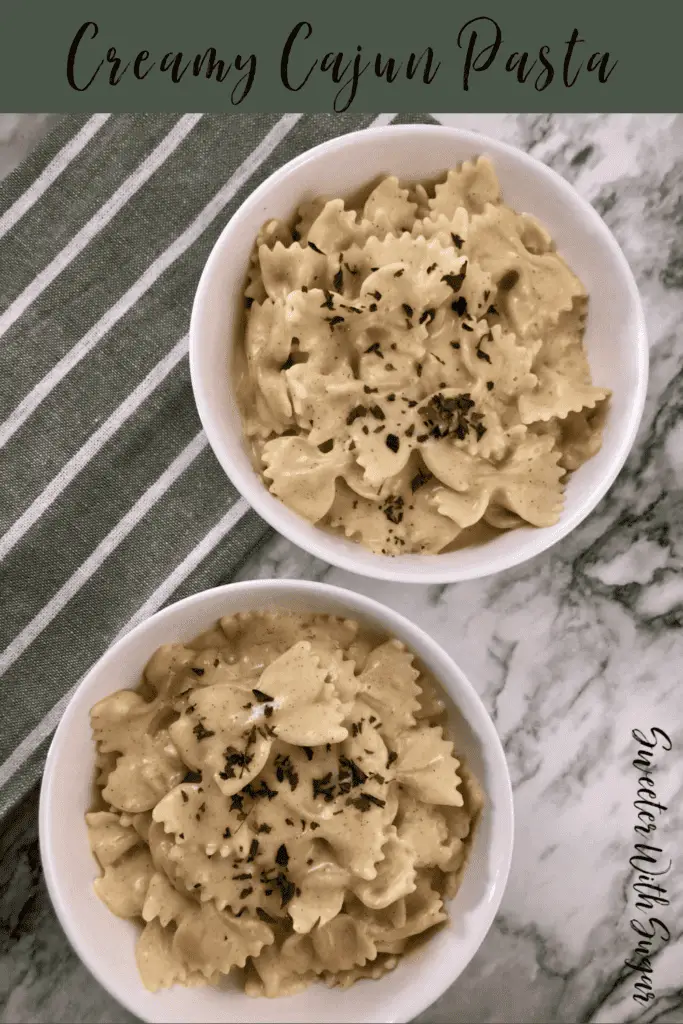 Something to remember when using dairy in some recipes, it is important that you warm the dairy up slowly and let it simmer. Do not allow sauce to boil rapidly. For example, a queso recipe we love, if I get the queso too hot after I add the milk, it will separate-you don't want that!!
Hopefully, you find some recipes here that you will love and you will come back looking for more. If you questions about the recipes on this web-site, reach out to us, we would love to help.
We hope you are all happy, healthy, and safe. Thanks for stopping by and please come back soon. We would love to hear what you like about this or any other recipe. Have a fantastic week!
Other Recipes You Will Love: 💕
Creamy Italian Chicken and Asparagus Pasta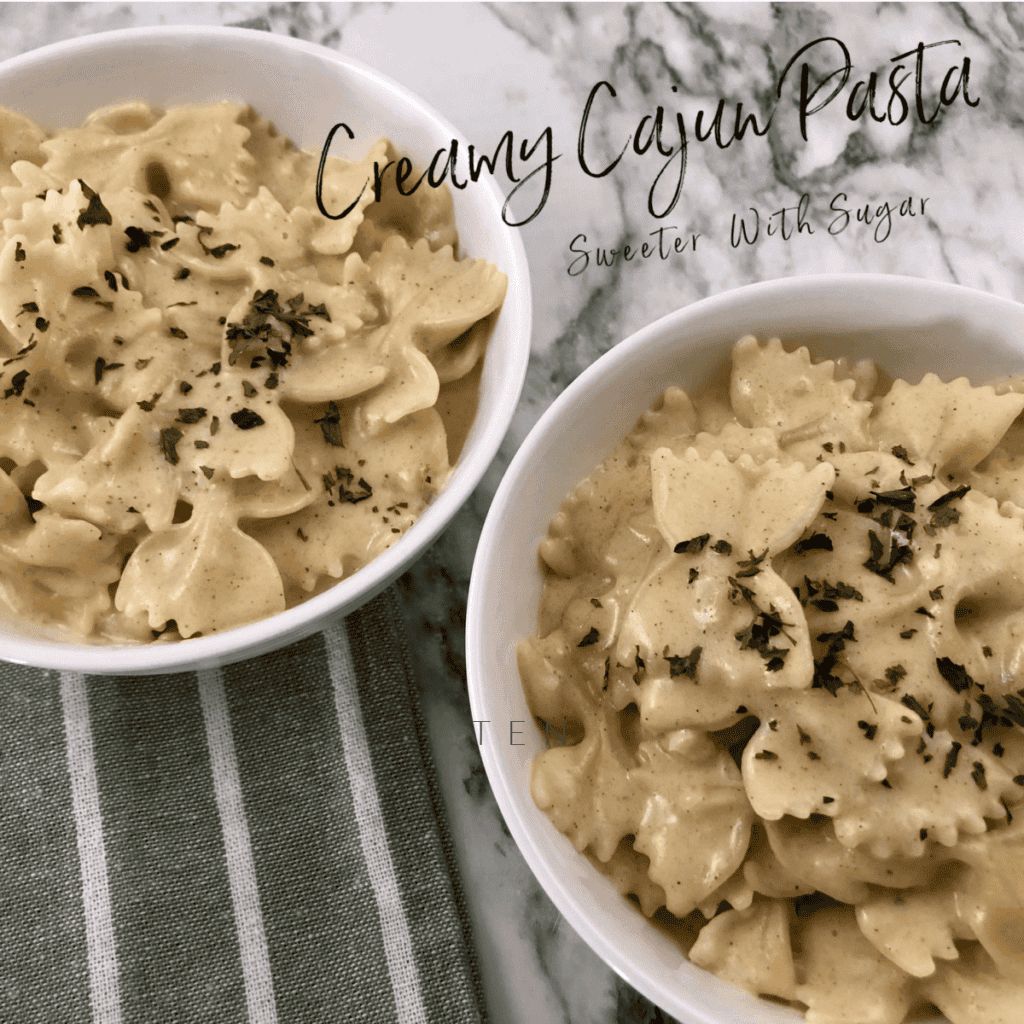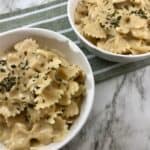 Creamy Cajun Pasta
A delicious, easy, and creamy pasta sauce with a little spice.
Ingredients
12

ounces

bow tie pasta

2

tbsp

butter

3

cloves

garlic

minced

1/4

cup

flour

1/4

cup

green onion

sliced

3

tsp

Cajun seasoning

1/4

tsp

salt

1/8

tsp

pepper

14.5

ounce can

chicken broth

1

medium

lemon

juiced-about 2-3 tablespoons

2 1/2

cups

half and half

1

cup

Kraft grated parmesan
Instructions
Cook pasta according to packaged directions-boil 11 minutes. Drain and set aside.

While pasta is cooking, make the Cajun pasta sauce.

Place butter in a medium sized sauce pan with the onion. Cook until onion is tender.

Add minced garlic and stir to combine.

Add flour to the onion mixture-this will make a paste like mixture.

Add chicken broth, Cajun seasoning, salt, and pepper. Stir, using a whisk, and bring to a boil.

When mixture has thickened, turn the heat down to bring the boil down to a simmer.

Add the half and half. Simmer to thicken the sauce.

As the sauce simmers, add the Kraft parmesan cheese. Stir to combine.

When sauce is desired consistency, remove from the heat and add the lemon juice. Stir to comine.

Pour sauce over the drained pasta. Stir to coat and to heat up the pasta. Serve and enjoy!

Add some dried parsley and extra Kraft grated parmesan to the top when serving, if desired.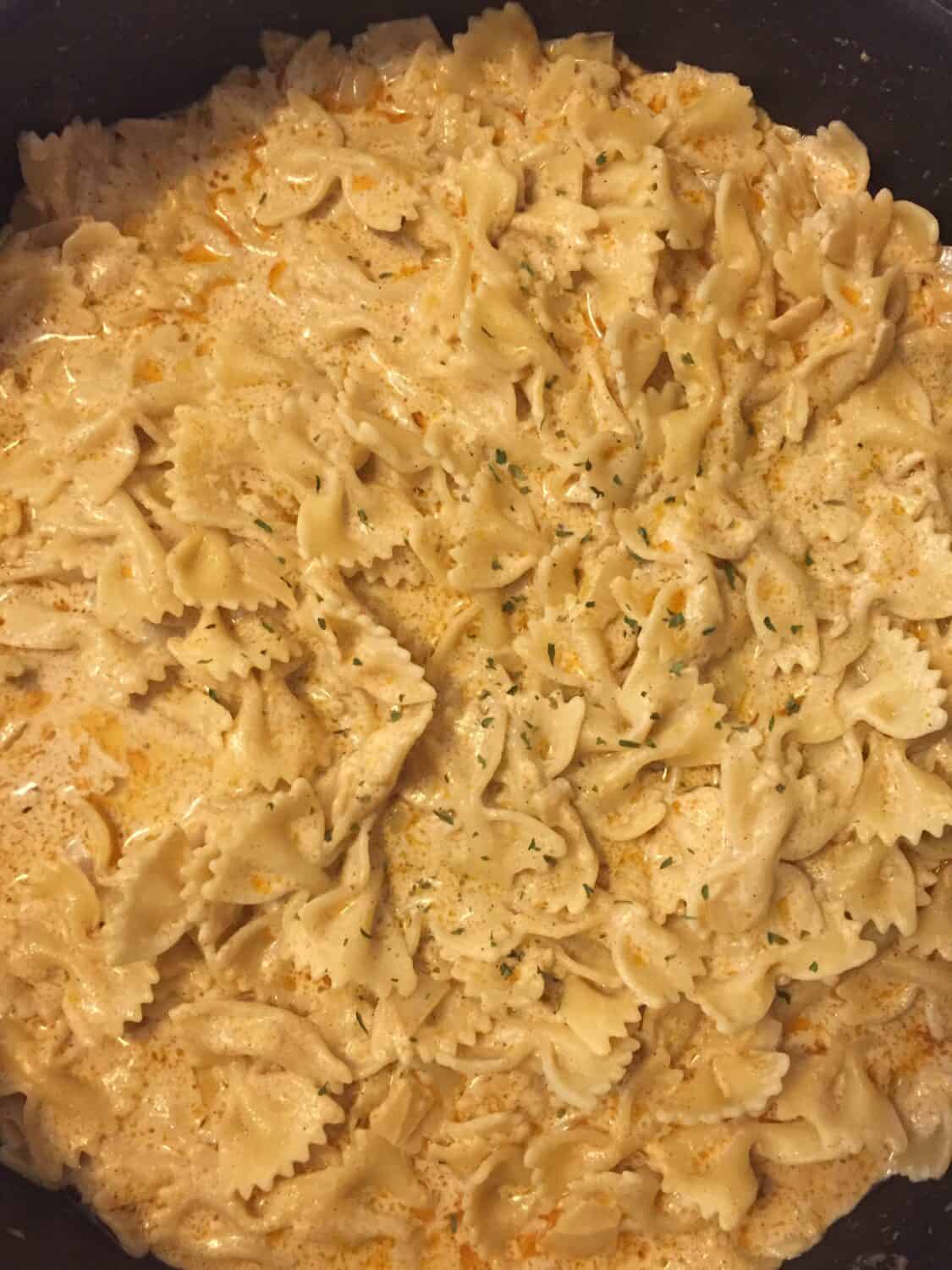 Let us add this disclaimer, we are definitely not perfect people or perfect cooks. However, we love to cook and eat what we have cooked. All of us hope you find a lot of recipes here, on Sweeter With Sugar, that you will love to cook and you and your family will love to eat. Please forgive us for any mistakes-as we are not perfect. Also, please let us know if you encounter any mistakes or problems. We'd really love to be perfect and we would love to fix the mistakes. Someone reads over our posts of course, but, sometimes things are still missed or forgotten.
We are working on going back and fixing and updating older (and not so old) posts. We have deleted a few and have made changes to many more. As we cook more we have become better and more efficient as cooks. So hopefully, our extra practice and review will make your cooking and following our recipes more helpful. We want to help make your lives in the kitchen not only delicious but easier. Enjoy your week!