This Little Smokies Breakfast Bake Casserole recipe has delicious pieces of Lit'l Smokies Sausages, sautéd mushrooms, cheese, eggs, and yummy O'Brien hash browns. Everyone loves those Little Smokies for breakfast and for appetizers. Lit'l Smokies are delicious!
This post may contain affiliate links. This means, I may receive commissions if you use a link provided. All opinions here are my own.
Here are some other breakfast casserole recipes you will love: Bacon Mushroom Breakfast Casserole, Bacon Crescent Roll Breakfast Casserole, Bacon Ranch Breakfast Casserole, Sausage Crescent Roll Breakfast Casserole and one that is not a casserole but is yummy-Breakfast Muffins.
We are so glad you are here. You will find many delicious family friendly recipes on our recipe blog. Cooking is one of our favorite things to do. We love making family favorites that have been in the family for years and years, making up new recipes, and trying other people's creative recipes. Thank you for browsing our many recipes and have a great day cooking!
I love Lit'l Smokies Sausages from Hillshire Farm for breakfast. They remind me of my dad. He loved them and would always cook them when we went camping or when he made breakfast on the grill/griddle in the back yard. I don't think there was ever a time when one didn't fall off of someone's plate and land in the dirt when we were camping. It was always disappointing when that happened, but he always had plenty cooking. We hope you love this yummy breakfast casserole recipe! Have a wonderful week! Make great memories with your favorite people every day! ❤️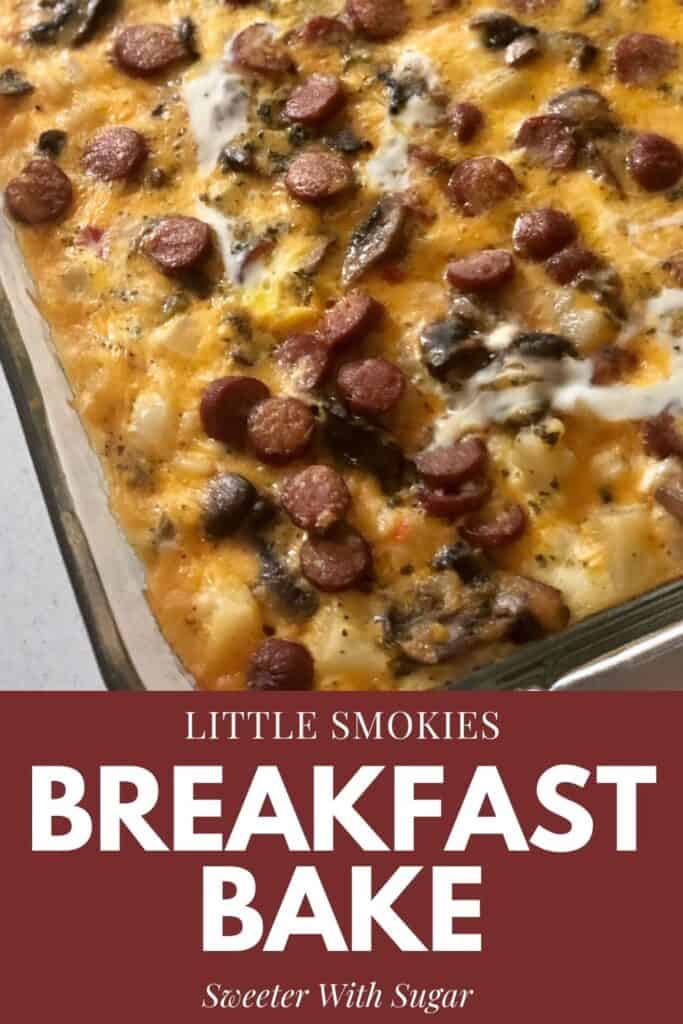 Ingredients Needed for Little Smokies Breakfast Bake:
Frozen Potatoes O'Brien, thawed on paper towel to remove as much moisture as you can
Mushrooms, sliced
Lit'l Smokies Sausages, sliced
Cheddar cheese, grated
Eggs
Milk
Butter
Parsley
Garlic powder
Onion powder
Salt
Black pepper

Instructions for Little Smokies Breakfast Bake Recipe:
When the O'Brien frozen potatoes are thawed and the moisture is removed, place them in the bottom of a 9 x 13 greased baking dish. (I thaw them in the microwave on defrost-make sure you get the moisture out after defrosting. I like to use a few paper towels to remove the moisture)
Next, sauté the mushrooms in the butter in a frying pan. Evenly distribute them on top of the hash browns.
Then, evenly distribute the sliced Little Smokies Sausages and the grated cheese on top of the mushrooms and the O'Brien hash brown potatoes.
In a mixing bowl, combine eggs, milk, parsley, garlic powder, onion powder, salt, and pepper. Beat with a wire whisk or a fork to combine the ingredients well. Then, pour this mixture over the top of the ingredients that are in the 9 x 13 baking dish.
Finally, cover the 9 x 13 baking dish with aluminum foil and bake for 60-70 minutes at 400 degrees, or until egg mixture is set.
Remove from the oven and carefully remove the aluminum foil. Allow the breakfast bake to cool a little before serving.
We love to serve breakfast casseroles like this one with some fruit and milk or juice.
Serve and enjoy this flavorful breakfast dish!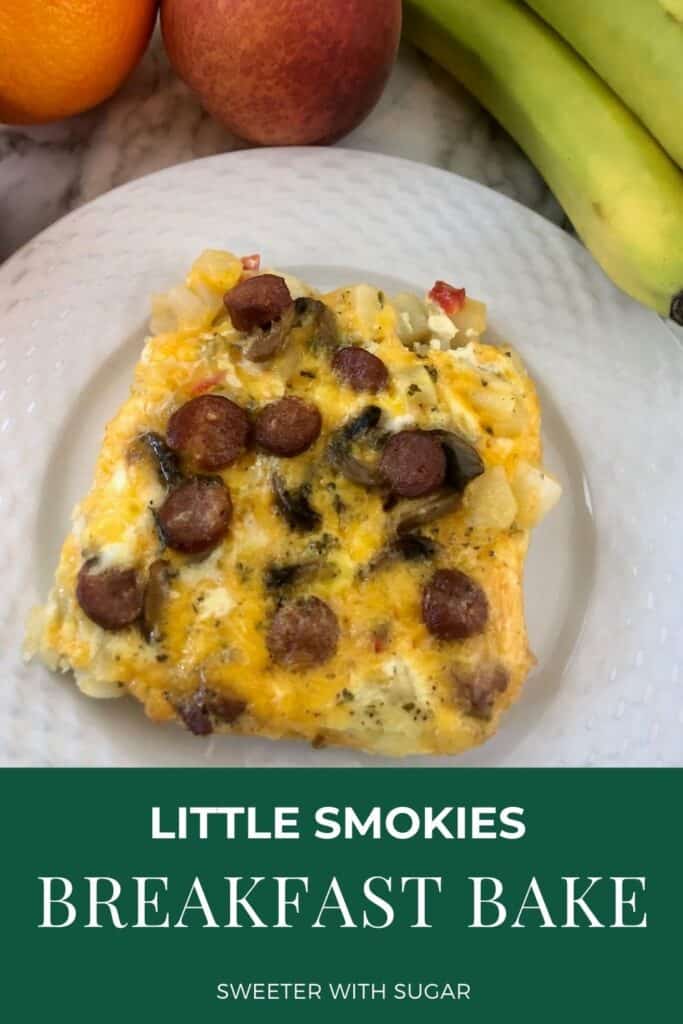 Other Recipes You Will Love: ❤️
French Fry Breakfast Casserole is a fantastic breakfast that will serve quite a few people. The French fries make this a fun breakfast dish the whole family will love and ask for again and again.
Breakfast Sandwiches are so delicious. We love the breakfast sandwich maker that is shown in the post. We have included many different variations for making breakfast sandwiches. Teenagers love to make these as a snack after school. It is easy to clean up and so very yummy.
Breakfast Muffins are a fun way to make breakfast. These muffins are quick, easy, and delicious. They are made in a brownie pan-you can also use a cupcake/muffin pan. Also, they set up really well so, you can pick them up and eat them on the way out the door on very busy and rushed mornings. They have great flavor-we love this recipe.
Sausage Biscuit Casserole Who doesn't love sausage and biscuits?! This is a fun recipe to try for your next breakfast. With only seven ingredients it is easy to make and affordable. Not to mention, delicious.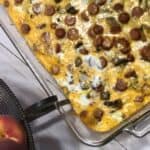 Little Smokies Breakfast Bake
A yummy breakfast casserole filled with Lit'l Smokies Sausages.
Total Time
1
hour
20
minutes
Ingredients
28

ounce bag

Potatoes O'Brien-hash browns with onions and peppers

thawed and moisture removed

2

cups

mushrooms

sliced

18

Lit'l Smokies Sausages

sliced

2

cups

cheddar cheese

grated

5

eggs

1 ½

cups

milk

1

tbsp

butter

½

tsp

parsley

½

tsp

garlic powder

½

tsp

onion powder

1

tsp

salt

½

tsp

black pepper
Instructions
Thaw hash brown potatoes in the microwave on defrost on paper towel or on the counter on paper towel. Remove moisture with extra paper towels.

Place hash brown potatoes in a greased 9 x 13 baking dish and set aside.

Sauté sliced mushrooms in the tablespoon of butter. Then, distrubute evenly on top of the hash browns.

Evenly distrubute the sliced Lit'l Smokies Sausages and grated cheddar cheese on top of the mushrooms.

In a mixing bowl, combine eggs, milk, parsley, garlic powder, onion powder, salt, and pepper. Mix with a wire whisk until well blended.

Pour egg mixture evenly over the ingredients in the 9 x 13 baking dish.

Cover with foil and bake at 400° for 60-70 minutes or until egg is set.

Remove from oven and allow 5 minutes to cool. Cut and serve. Enjoy!
Something Fun For the Kids:
Disclaimer:
All of the thoughts and opinions here, on our food recipe testing blog, are our own. The affiliate links (if you click on one or more) here pay us a tiny commission that will not cost you a thing. The commissions help us to run this web-site. We appreciate your support! Thank you so much!
Thanks:
We hope you find this Little Smokies Sausage Breakfast Bake recipe and many others on our food recipe blog-Sweeter With Sugar to be delicious and helpful in your meal planning (and party food, snack, dessert, holiday, and beverage planning). We would love to hear how you like any of the recipes here-love to see a photo of your beautiful creation and love, love, love, for you to give us a rating, and or a comment. 
Our family definitely does not claim to be the perfect cooks. Cooking (and eating what we cook and what others cook) is one of our very favorite things to do but, we are not perfect. Typos are something we hate to find in our recipes, but, it happens. If you find any mistakes, please let us know-we will fix them as soon as we can and we will appreciate your excellent editing skills.
We all want to thank you for visiting us and trying recipes from our on-line cookbook. Your support is very much appreciated. All of us are hoping that all of you are staying healthy and strong and happy. Have a fantastic day and an even better week (and month). Have fun cooking and remember to get the kids involved where it is safe to do so. They may love it and it is a great activity for quality family time. Family is the best! 
(Visited 7,841 times, 7 visits today)