This Oven Baked Rice recipe is the best! It is so easy and turns out so fluffy and delicious. It is perfect on its own or in your favorite recipe.
This post may contain affiliate links. This means, I may receive commissions if you use a link provided. All opinions here are my own.
I do NOT like boiling rice. It doesn't turn out for me. I use my instant pot and that works well but, this way to cook rice is my favorite.
Ingredients needed for Oven Baked Rice:
Long grain rice
Butter
Water
Salt (optional-if you are watching your salt consumption-leave it out)
How to make Oven Baked Rice:
Boil water, salt, and butter.
Rinse rice and place in a 9 X 13 baking dish.
Pour boiling water over rice in 9 X 13 dish.
Cover tightly with foil.
Bake for 25 minutes at 375 degrees.
Let rice rest for about 5 minutes.
Then, remove foil and fluff the rice.
Cook's Note:
Always remember to rinse your rice before you cook it or add it to recipes. Your rice will turn out better. Use a strainer with very small holes-a metal strainer has very tiny holes. The metal strainer is my favorite to use, especially for rice and delicate fruits like raspberries. It works so well!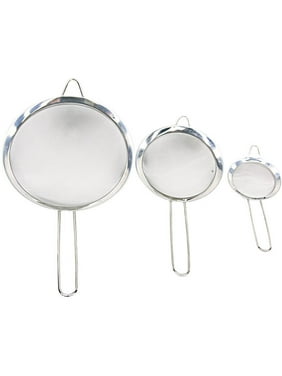 For this recipe, place the foil tightly on the 9 X 13 baking dish. I have had the water boil over one time in the oven. No one wants to clean the oven, so cover tightly.
Also, at one point, I had to feed my dog rice. I made the rice this way and left out the salt and the butter. It still worked out well. If you are watching your fat and/or salt intake, try it without the butter and/ or salt.
Other Delicious Recipes: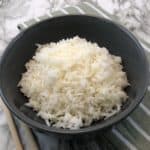 Oven Baked Rice
A quick and easy way to make fluffy rice.
Ingredients
2

cups

long grain white rice

3 1/2

cup

water

3

Tbs

butter

1

tsp

salt
Instructions
Rinse rice in a strainer with cool water.

Pour rinsed and drained rice in a 9 X 13 baking dish.

In a sauce pan, bring water, butter, and salt to a boil.

Pour boiling water over rice in the 9 X 13 baking dish.

Cover rice tightly with foil.

Bake at 375° for 25 minutes.

Remove from oven and let sit for 5 minutes.

Remove foil and fluff with a fork.

Use in your favorite recipes or alone. It is fluffy and delicious.
(Visited 345 times, 1 visits today)