Chicken Bacon Ranch Meatloaf is a delicious meatloaf recipe. We have made this meatloaf with ground chicken for a different flavor, which is always fun.
This post may contain affiliate links. This means, I may receive commissions if you use a link provided. All opinions here are my own.
Welcome, we are so glad you have stopped by our family recipe blog. We have hundreds of recipes here you will hopefully love and will find helpful in your meal planning. It is not always easy to choose what to make for dinner (or breakfast and lunch). Here are some recipe links we think you will enjoy and will get your search started: Garlic Bread Meatball Sub, Philly Cheesesteak Waffle Fries, Grilled Chicken Caesar Wrap, Breakfast Sandwiches, Bacon Hash Brown Breakfast Casserole, Breakfast Crunch Wrap, Mini Breakfast Ham Quiches, and French Breakfast Muffins.
Ingredients Needed For Chicken Bacon Ranch Meatloaf:
Ground chicken
Oatmeal
Eggs
Milk
Onion
Bacon crumbles
Parsley
Garlic
Salt
Pepper
Cheese Sticks
Ranch dressing-Homemade is BEST-see below* (if making homemade-which I suggest for the best flavor-you will also need Hidden Valley Buttermilk Dressing packet, buttermilk and Best Foods Mayonnaise
Mozzarella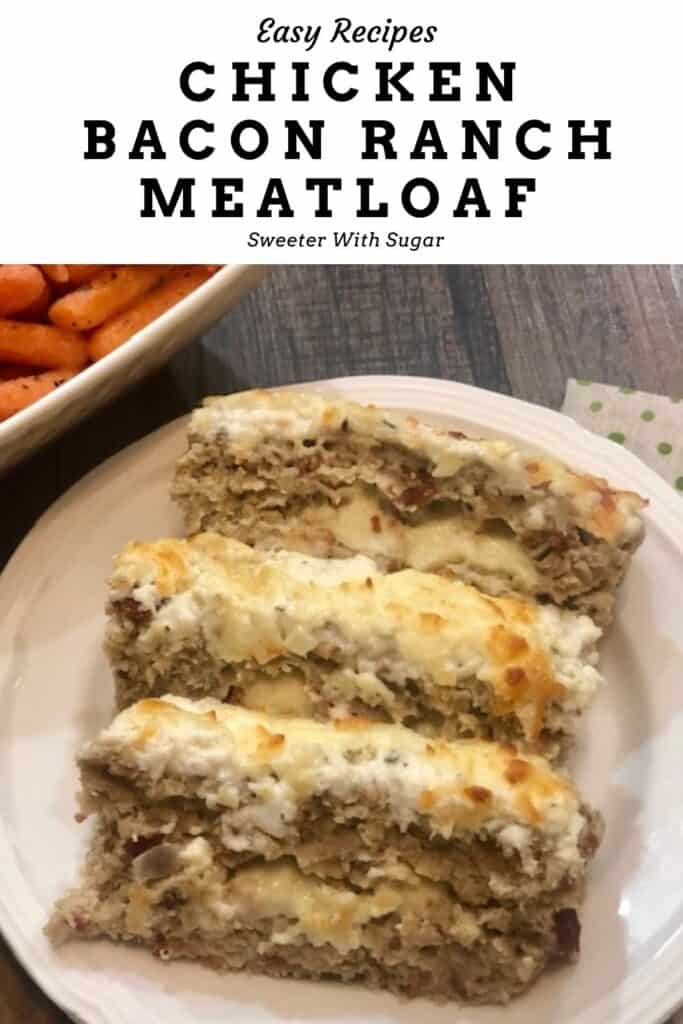 Instructions For Chicken Bacon Ranch Meatloaf:
*Make Hidden Valley Buttermilk Ranch Dressing (if using this homemade ranch dressing) by mixing one and a half tablespoons of Hidden Valley Buttermilk Ranch dressing mix (it is a powder) with one cup of buttermilk and one cup Best Foods Mayonnaise. Mix well. Refrigerate. I buy this dressing mix in a big Costco Container-you can also just buy a packet at most grocery stores that is measured correctly for one cup buttermilk and one cup Best Foods Mayo.
Prep Your Ingredients:
Pre-heat oven to 350 degrees.
Cover a bread pan in foil and then spray the foil with non-stick cooking spray. Set aside.
Shred mozzarella, unless you bought pre-shredded mozzarella. Set aside.
Cut two cheese sticks in half lengthwise or vertically and one cheese stick in half lengthwise (vertically) and then cut that cheese stick in half horizontally. Cutting them this way helps to distribute the cheese evenly. Set the cheese stick pieces aside. (see photo below)
In a mixing bowl, combine thawed ground chicken, oatmeal, eggs, milk, diced onion, bacon crumbles, parsley, minced garlic clove, salt and pepper. Mix well. I like to mix meatloaf with my hands. I feel like I can get the ingredients mixed in better that way. So, food safe gloves work great for that.
Assemble Your Meat Loaf:
When you have the meat mixed well, place half of the mixture in the bottom of the pan and press in.
Then, lay the cheese sticks in the center of the meat in the pan and press in slightly.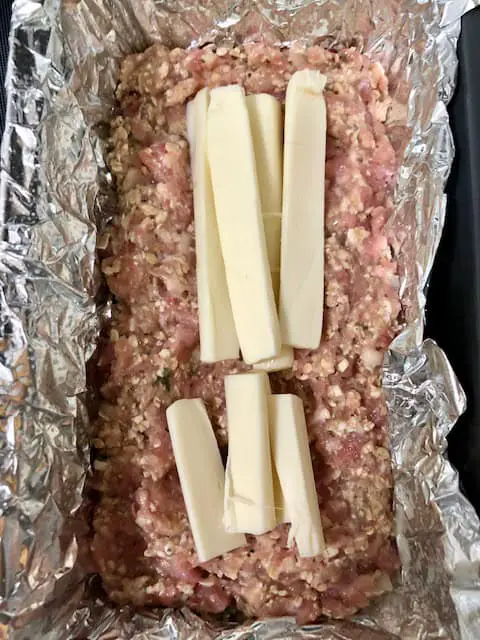 Place the other half of the meat mixture on top of the cheese sticks and press into the pan. Press well so the cheese stays in the middle when cooking.
Pour Ranch dressing on top of the meatloaf and then top the ranch dressing with the shredded mozzarella.
Bake Your Meatloaf:
Bake uncovered in pre-heated oven for 60-65 minutes-until cooked through.
Cheese will begin to get golden brown.
Remove from the oven and allow time to cool a bit.
Lift meatloaf out of the bread pan with the foil and place on a cutting board (or just cut it in the pan and lift out pieces), slice and serve with a veggie or salad to complete your meal. Enjoy this easy comfort food recipe.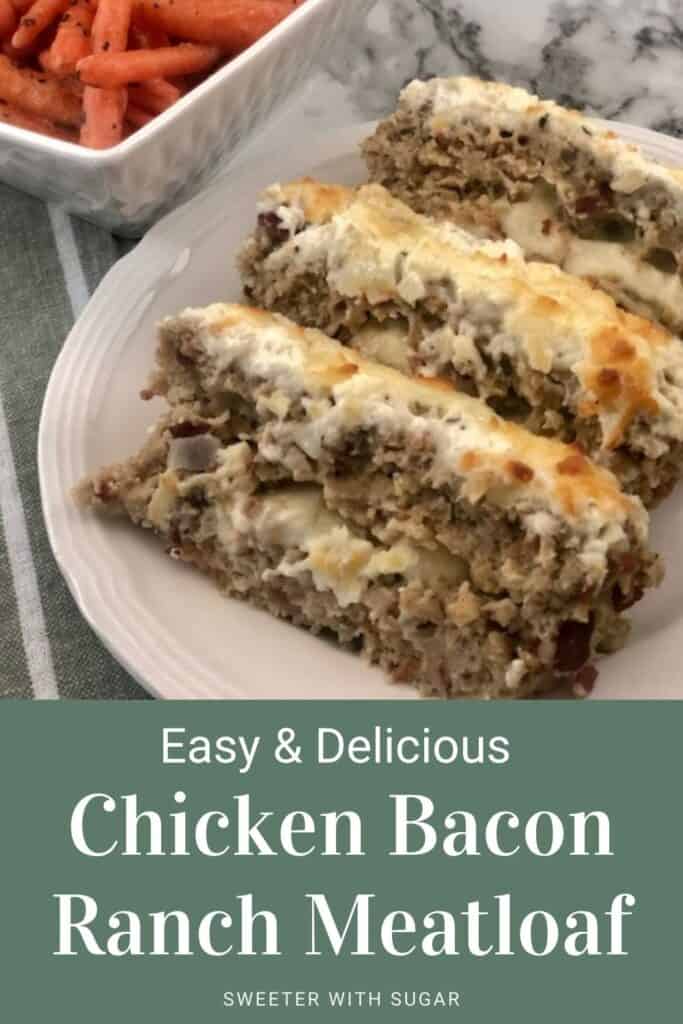 Other Recipes You Will Love: ❤️
Toasted Turkey Bacon Ranch Sandwiches-Copycat Firehouse Sub is a delicious and easy recipe that tastes like Firehouse Subs turkey bacon ranch sandwich. It is made in a 9 x 13 baking dish and heated in the oven for toasty goodness.
Classic Meatloaf-is a recipe we have made for so many years. It is a favorite and a classic. There are few ingredients needed and the topping makes this meatloaf recipe perfect.
Salsa Verde Chicken Enchiladas-are so yummy with all of the tender chicken, seasonings and the salsa verde sauce. This is another must try recipe.
Some Yummy Breakfast Recipes:
Breakfast Crunch Wrap-how much fun are these!! Taco Bell makes a great Crunch Wrap. However, we like ours more- Copycat Crunch Wrap. After we made the copycat crunch wrap we wanted to make one for breakfast and it turned out fantastic! You have go to try it out.
Little Smokies Breakfast Bake-Little smokies are so yummy. They are great with eggs and hash browns and they are also great in this breakfast casserole. We chop them up so they are easier to eat and you don't end up getting a whole sausage in one bite. Smaller pieces just work out better. This recipe has a delicious flavor and is easy to make.
Breakfast Sandwiches are so good! We love Sausage McMuffin sandwiches from McDonald's. Now we can make them at home and they are delicious. This breakfast sandwich maker is so easy to use and so easy to clean. In the Breakfast Sandwiches post we list a lot of different ideas for changing up the usual breakfast sandwich. Check it out-you are sure to find some you like. 
Bacon Hash Brown Breakfast Casserole is a must try. Breakfast casseroles are so easy to make and they feed quite a few of people. Bacon and hash browns are two of my favorites for breakfast-along with every other breakfast food. I can't, as I sit here typing, think of a breakfast food that I do not like.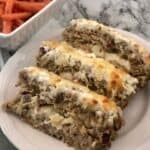 Chicken Bacon Ranch Meatloaf
A delicious meatloaf recipe made with ground chicken.
Total Time
1
hour
20
minutes
Ingredients
1

pound

ground chicken

thawed

1

cup

oatmeal

2

large

eggs

1/2

cup

milk

1/4

cup

onion

diced

1/2

cup

bacon crumbles

1/2

tsp

dried parsley

1

clove

garlic

minced

1 1/2

tsp

salt

1/2

tsp

pepper

3

cheese sticks

1/2

cup

Ranch dressing

see below for the best homemade ranch dressing

1/2

cup

mozzarella

grated
If Making The Best Homemade Ranch:
1

packet

Hidden Valley Buttermilk Ranch Dressing Mix

or 1 1/2 tablespoons if using this mix from a larger container.

1

cup

buttermilk

1

cup

Best Food Mayonnaise
Instructions
Mix buttermilk, mayonnaise and ranch dressing together and refrigerate.

Line a bread pan with foil and then spray the foil with non-stick cooking spray. Set aside.

Cut cheese sticks in half vertically and then cut one cheese stick horizontally as well to fit evenly in the bread pan. Set aside.

Mix ground chicken, oatmeal, eggs, milk, diced onion, bacon crumbles, parsley, minced garlic, salt and pepper together in a mixing bowl.

Press half of the meat mixture into the bottom of the bread pan and press in.

Lay the cut up cheese sticks in the middle of the meat mixture and press slightly.

Top cheese sticks with the remaining half of the meat mixture and press in so the cheese sticks stay in the middle.

Pour the half cup of ranch on top of the meatloaf and spread to even out.

Sprinkle the shredded mozzeralla on top of the ranch dressing and bake uncovered at 350° for 60-65 minutes-until cooked through.

Allow time to cool a bit. Lift from pan using the foil. Slice on a cutting board and serve. Enjoy!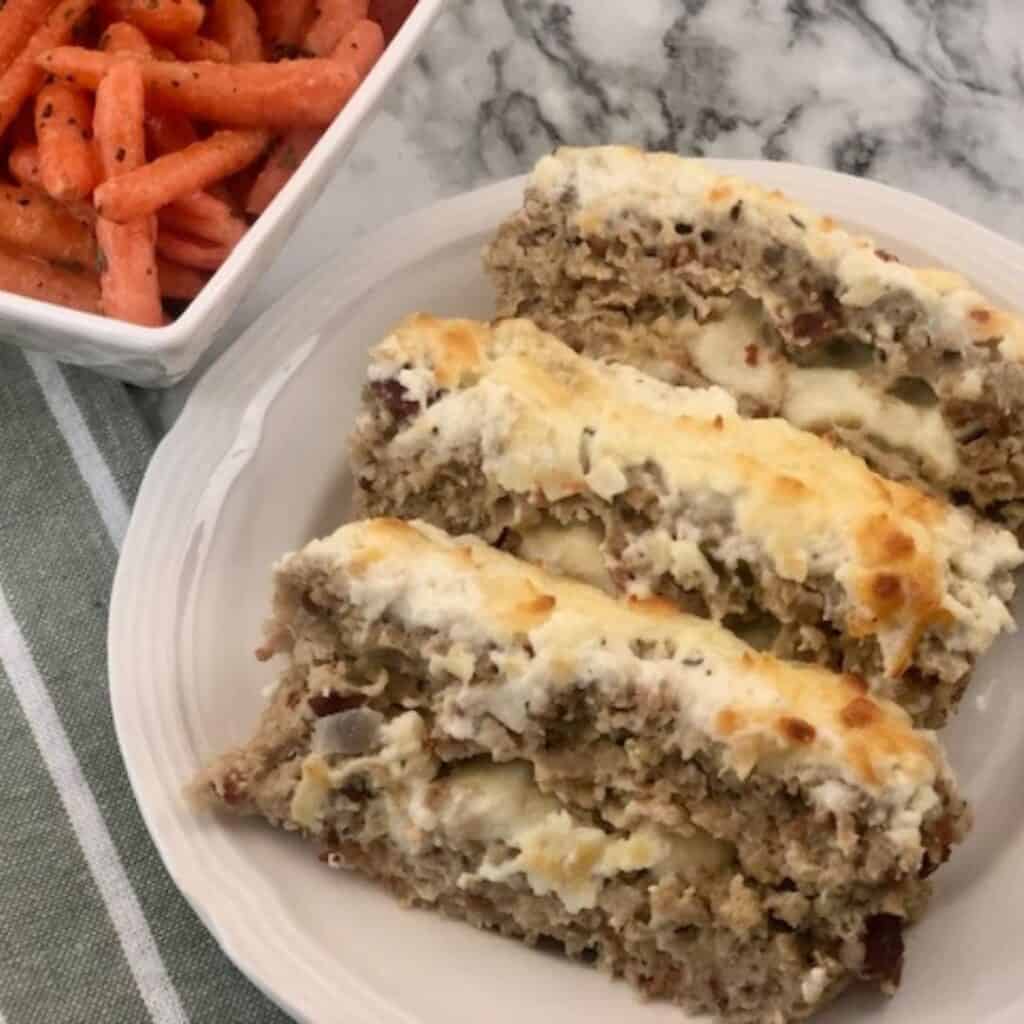 Disclaimer:
All of the thoughts and opinions here, on our family food and recipe blog, are our own. The affiliate links (if you click on one or more) here pay us a tiny commission that will not cost you anything. The commissions help us run this web-site. We appreciate your support! Thank you so much!
We all want to thank you for visiting and trying recipes from our family recipe blog. Your support is very much appreciated. All of us are hoping that all of you are staying healthy, strong and happy. Have a fantastic day and an even better week. Have fun cooking and remember to get the kids involved where it is safe to do so. They may love it and it is a great activity for quality family time. Family and friends are the best!