Vanilla Cinnamon French Toast is a simple and delicious breakfast recipe. With only five ingredients plus your favorite toppings, its simple, delicious, and inexpensive.
This post may contain affiliate links. This means, I may receive commissions if you use a link provided. All opinions here are my own.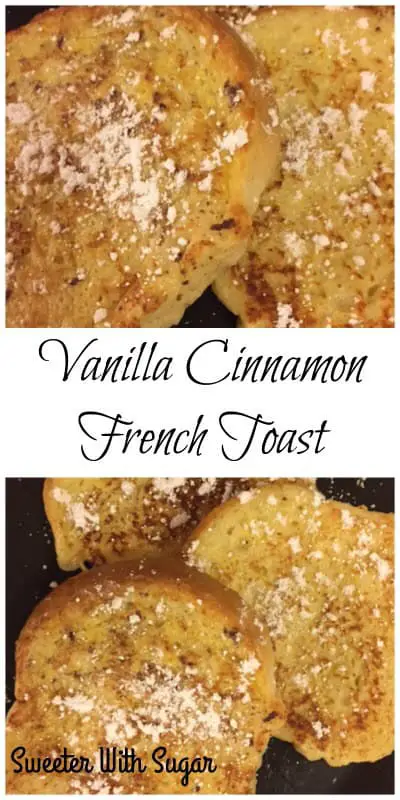 We are so glad you are here. You will find many delicious family friendly recipes on our recipe blog. Cooking is one of our favorite things to do. We love making family favorites that have been in the family for generations, making up new recipes, and trying other people's recipes. Thank you for browsing our many recipes and have a great day cooking!
I love love love french toast. Especially this Vanilla Cinnamon French Toast! Vanilla and Cinnamon are so fantastic together and they taste great in this wonderful comfort food recipe. Eat the French toast for breakfast or dinner! If you have read many of our posts, you already know breakfast for dinner is a family favorite!
Valentine's Day with Handmade
Ingredients Needed for Vanilla Cinnamon French Toast:
3 eggs
1/2 cup milk
1/2 teaspoon nutmeg
1/2 teaspoon cinnamon
1 tablespoon vanilla
Bread
How to Make Vanilla Cinnamon French Toast:
In a shallow dish mix all of the ingredients together well-the eggs, milk, nutmeg, cinnamon, and vanilla. Dip the pieces of bread in the egg mixture and place in a greased frying pan on medium heat (a griddle or electric frying pan works great for French toast). Cook until golden brown on each side. Top with butter, powdered sugar, syrup and/or whipped cream. Fruit is also delicious on top of French toast, too. My favorite is…to melt butter on a hot piece of French toast and then sprinkle it with powdered sugar. It needs to have enough butter for the powdered sugar to be absorbed into it-it is fantastic!
Serve and enjoy!
Other Recipe You Will Love: 💕
Valentine's Day French Toast Bites are so much fun for a yummy Valentine's Day breakfast. The kids will love these French toast bites. We used a heart shaped cookie cutter. These are also fun in different shapes just for fun or for other holidays. My kids love their food to be fun and cute. Try them, your kids will want them again and again.
Baked French Toast is simple and easy to make. It is fantastic with raspberry syrup or your favorite syrup. Then, dusted with powdered sugar.
French Breakfast Muffins are so buttery and covered in cinnamon and sugar. They have been a family favorite for so many years. We love to serve these with fresh fruit.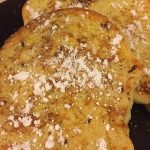 Cinnamon Vanilla French Toast
A delicious French toast recipe with the flavor of cinnamon and vanilla.
Ingredients
Bread Slices

French Bread or Texas Toast

3

large

eggs

1/2

cup

milk

1/2

tsp

nutmeg

1/2

tsp

cinnamon

1

tbsp

vanilla
Instructions
In a shallow dish, mix eggs, milk, nutmeg, cinnamon, and vanilla with a wire whisk.

Heat a griddle, frying pan, or electric frying pan and spray with cooking spray (or melt some butter in the pan, if desired).

Dip each side of bread into the egg mixture and cook on the hot pan. Flip when french toast is golden brown.

When each side is golden brown, serve with your favorite toppings, such as, syrup, butter, powdered sugar, whipping cream, or fruit.
Other Delicious Breakfast Recipes:
The Easiest Breakfast Casserole is such a simple breakfast recipe. I put all of the ingredients into a blender and blend. Then, pour the mixture into a greased 9 x 13 baking dish. Bake and enjoy! It is versatile too. You can add some ham or bacon after you blend the egg mixture. This is a delicious recipe that everyone will love.
Breakfast Muffins are such a great and fun breakfast idea. They are full of delicious hash browns, onion, green chilies, ham, cheese, egg, and seasonings. They are great for mornings that are busy-they hold their shape perfectly which makes them easy to hold and eat as you walk out the door.
Breakfast Sandwiches are one of our favorites. We love the breakfast sandwich maker. It is simple to use and simple to clean. It comes apart so washing is easy. There are many many different ideas in the breakfast sandwich post for breakfast sandwich variations. It is fun of ideas with different meats, different cheeses, and different sauces.
Thanks:
We hope you find this Vanilla Cinnamon French Toast recipe and others on Sweeter With Sugar to be so good and helpful in your meal planning (and party food, snack, dessert, holiday, and beverage planning). We would love to hear how you like any of the recipes here-love to see a photo of your beautiful creation and love, love, love, for you to give us a rating, and or a comment. 
Our family definitely does not claim to be perfect cooks. Cooking (and eating what we cook and what others cook) is one of our favorite things to do but, we are not perfect. Typos are something we hate to find in our recipes, but, it happens. If you find any mistakes, please let us know-we will fix them as soon as we can and we will appreciate your excellent editing skills.
We all want to thank you for visiting and trying recipes from our on-line cookbook. Your support is very much appreciated. All of us are hoping that all of you are staying healthy and strong and happy. Have a fantastic day and an even better week. Have fun cooking and remember to get the kids involved where it is safe to do so. They may love it and it is a great activity for quality family time. Family is the best! 
Disclaimer:
All of the thoughts and opinions here, on our food recipe blog, are our own. The affiliate links (if you click on one or more) here pay us a tiny commission that will not cost you a thing. The commissions just help us run this web-site. We appreciate your support! Thank you so much!
(Visited 12,404 times, 1 visits today)