You will want more than one of these Baby Ruth Bars! Peanut butter, butterscotch, chocolate, and Rice Krispies make this bar a dessert everyone will love.
This post may contain affiliate links. This means, I may receive commissions if you use a link provided. All opinions here are my own.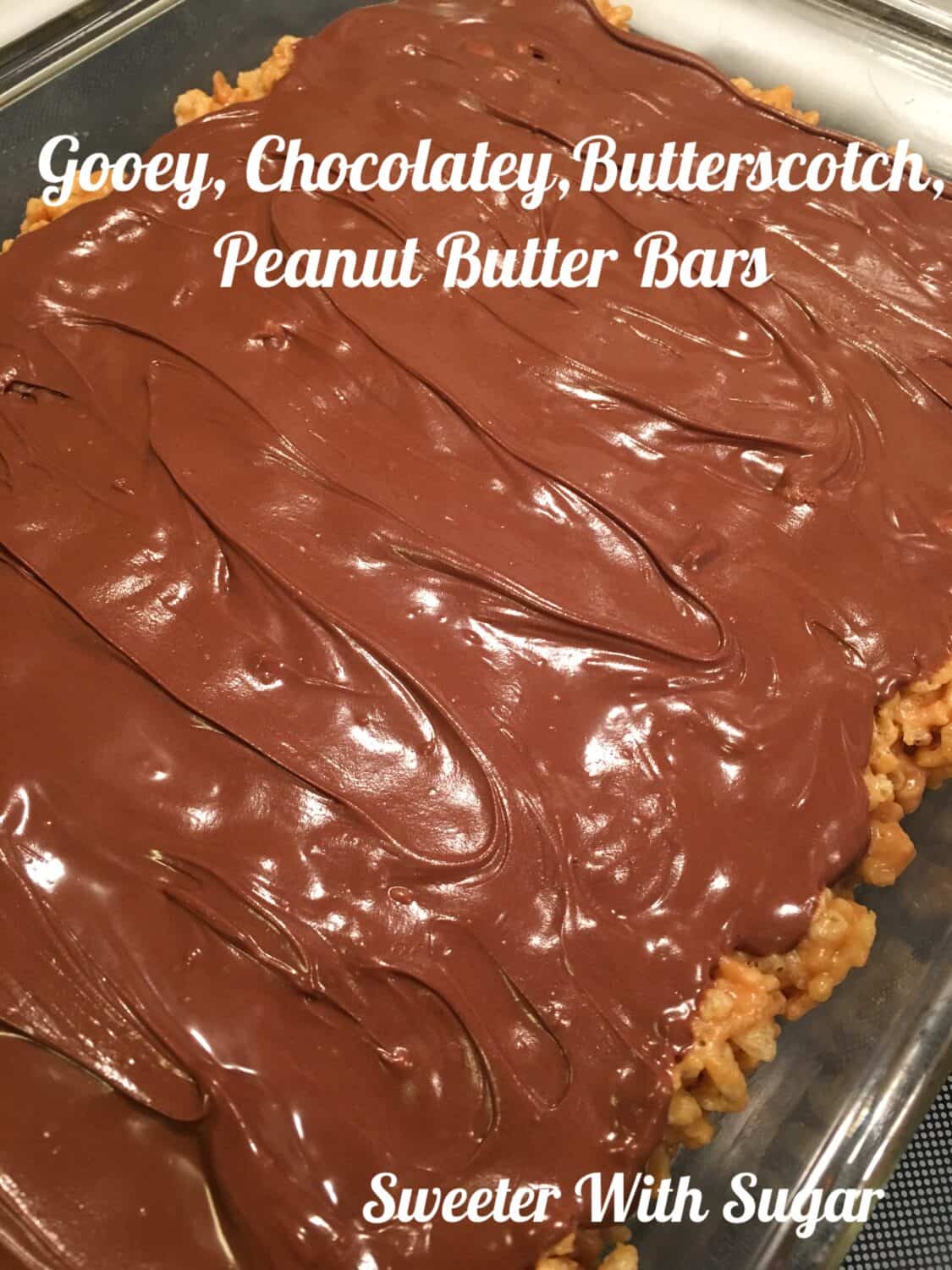 These bars have many names and varying ingredients. This one is the version we love best. It has just the right chocolate and butterscotch ratio with the right amount of Rice Krispies and peanut butter. They are hard to resist and hard to stop eating once you start. We love them!
Ingredients Needed for Baby Ruth Bars (Scotcharoos):
1 cup sugar
1 cup corn syrup
1/4 teaspoon vanilla
6 cups Rice Krispies cereal
16 ounce container of peanut butter
7 ounces chocolate chips
7 ounces butterscotch chips
1 teaspoon oil
Instructions Needed for Baby Ruth Bars (Scotcharoos)
1. Use butter to grease a 9 x 13 baking dish and set it aside. 
2. In a large pot (large enough to fit six cups of Rice Krispies in plus the sugars and peanut butter), bring sugar and corn syrup to a boil, slowly, to dissolve the sugar. Stir continually so it doesn't burn. 
3. As soon as the mixture boils, remove the pot from heat. Stir in the vanilla and peanut butter. Mix until the mixture is smooth, creamy, and well combined. 
4. Stir in the six cups of Rice Krispies and mix well. 
5. Pour mixture into the buttered 9 x 13 dish and spread out. 
6. Place chocolate and butterscotch chips in a microwave safe bowl. Pour the oil over the top of the chocolate and butterscotch chips. Microwave slowly and stir frequently.  When the mixture is melted, smooth, and creamy, spread over the peanut butter Rice Krispie treats. 
7. Allow time to cool and then, cut into bars and enjoy!! 
Other Recipes You Will Love: ❤️
Caramel Coated Cinnamon Toast Crunch
(Visited 279 times, 1 visits today)