Salted Caramel Chocolate Chip Cookies are so simple and quick to make because I use Pillsbury pre-made chocolate chip cookie dough. Then, I add some extra yumminess!
This post may contain affiliate links. This means, I may receive commissions if you use a link provided. All opinions here are my own.
Welcome to our family food and recipe blog. There are hundreds of recipes here for you to browse through that we hope you will love to make and eat. Here are a few of our recipes that we think you will like: Chocolate Mousse Pie, Sweet Chex, Rock Road Brownies, Traeger S'mores Brownies, Father's Day Dinner, Breakfast Tacos, Egg Drop Soup, Salsa Verde Chicken Enchiladas, Copycat Crunchwraps and Toasted Turkey Bacon Ranch Sandwiches.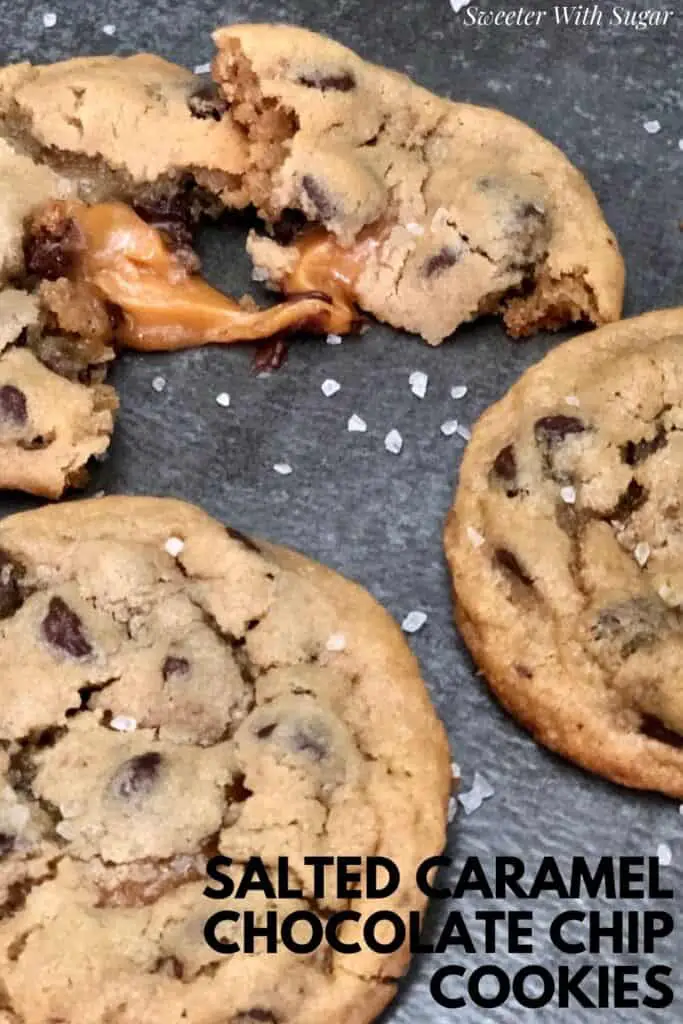 Ingredients Needed for Salted Caramel Chocolate Chip Cookies:
16 ounces Pillsbury Chocolate Chip Cookie Dough
12 Werther's Original Soft Caramels
Course Sea Salt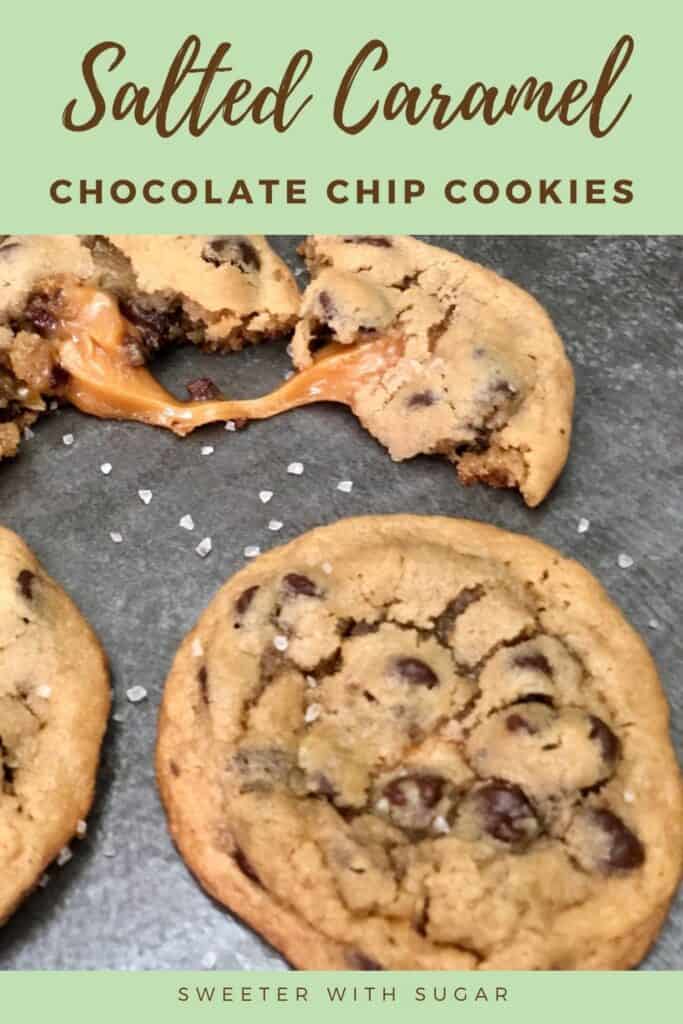 Instructions for Salted Caramel Chocolate Chip Cookies:
Divide Pillsbury Chocolate Chip Cookie Dough into 12 balls.
Unwrap and fold Werther's Original Soft Caramels in half.
Push one soft caramel into each cookie dough ball and fold dough around it.
Place cookies on a lightly greased baking sheet and sprinkle with coarse sea salt-lightly press some into the cookie, as desired.
Bake at 350 degrees for 12-14 minutes, depending on your oven and desired done-ness.
If more sea salt is desired, sprinkle more onto the cookies as soon as you remove them from the oven. Enjoy!
Note: The sea salt needs to be added as you prefer. Some people like a lot of salt and others not so much. I will leave a couple without any salt for one member of my family so everyone is happy with these yummy cookies. I like to press six or so granules of the coarse sea salt into the cookie ball tops-carefully so I do not flatten the cookie ball. Then, when the cookies have baked and are out of the oven, I will sprinkle more as I see are necessary for our tastes. Also, I have used Kraft caramel before and it works too. I like the Werther's soft caramels best.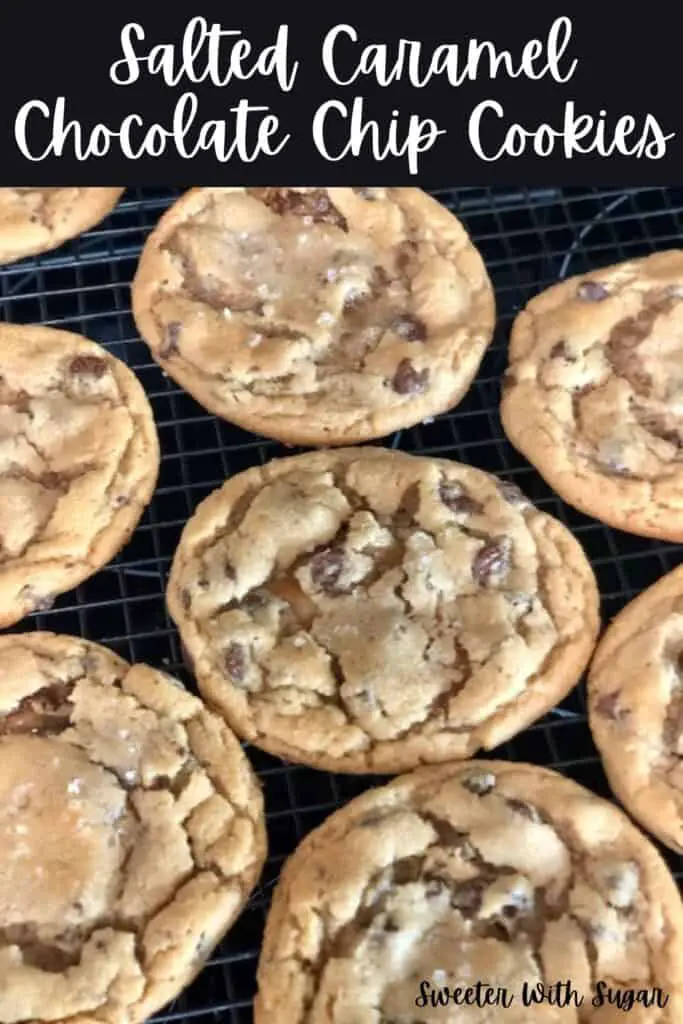 Other Cookie Recipes You Will Love: 💕
Pumpkin Cookies with Cream Cheese Frosting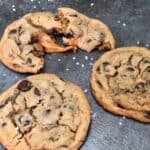 Salted Caramel Chocolate Chip Cookies
A quick and easy cookie recipe.
Ingredients
16

ounce tube

Pillsbury Chocolate Chip Cookie Dough

12

Werther's Original Soft Caramels

unwrapped

coarse sea salt
Instructions
Divide Pillsbury Cookie Dough into 12 pieces.

Unwrap Werther's soft caramels and fold them in half.

Wrap cookie dough around 12 caramels to make 12 cookies.

Place on a lightly greased cookie sheet and sprinkle with sea salt.

Bake at 350° for 12-14 minutes.

Sprinkle with more sea salt as soon as they come out of the oven, if desired.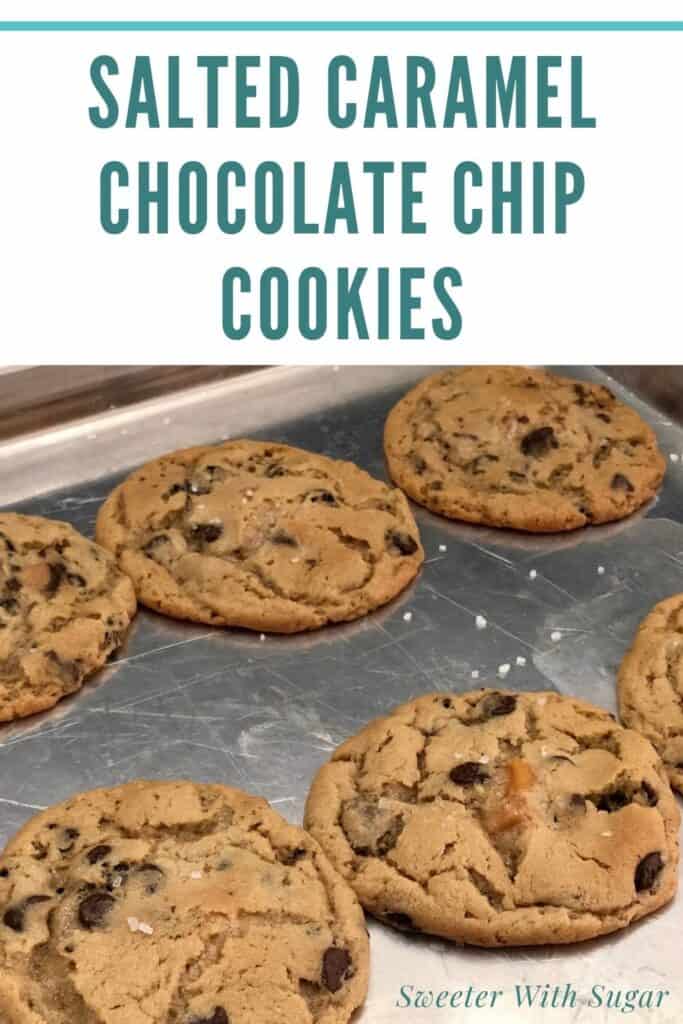 Other Recipes You May Enjoy:
Stuffed Peanut Butter Cookies are peanut butter cookies made even better. They have been stuffed or in other words wrapped around a bite-sized candy bar. We have used different bars, but we love to wrap the peanut butter cookie dough around a bite-sized Snicker bar. Chocolate and peanut butter go together perfectly. Other great bite-sized candy bars for this recipe are: Reese's peanut butter cup, Milky Way, Rolos, Three Musketeers, or a chunk of a Caramello bar. A way to make these even more simply…use Betty Crocker peanut butter cookie mix. 
Stained Glass Sugar Cookies are so pretty. We used a flower cookie cutter and then cut out the center with a small round cutter (we use the center cutter from our donut cutter-you could use a small lid or a knife) and then we placed broken up Jolly Ranchers in the center to give it the stained glass look. It is fun to use different colors of Jolly Ranchers, too. They were super fun to make and eat. Use parchment paper on your cookie sheet to make removing the cookies easier. 
German Chocolate Cookie Bites are so easy. They are not made from scratch, however, you could make your own cake. This recipe uses a German chocolate cake mix and a container of German chocolate frosting. Simple to make and delicious to eat. Have fun baking!
Breakfast Recipes:
Creamy Cherry Vanilla Smoothie has the delicious flavor of cherry with a hint of vanilla. It is easy to make-place everything in a blender, blend, and drink.
Valentine's French Toast Bites are fun for Valentine's Day and fun for any other day, as well. Kids love to see their food in different shapes. I have always made pancakes into animal shapes and have molds to do that now, too. Kids are funny…I made a quesadilla for my daughter-I made it into a Jack-o-Lantern for Halloween. She looked at it and smiled but, then she said, I don't like my food with a face. I'm thinking….what?? I always make your food into fun shapes. Made me laugh and I cut it up so it wasn't a face.
Little Smokies Breakfast Bake-Little smokies are so yummy. They are great with eggs and hash browns and they are also great in this breakfast casserole. We chop them up so they are easier to eat and you don't end up getting a whole sausage in one bite. Smaller pieces just work out better. This recipe has a delicious flavor and is easy to make.
Breakfast Sandwiches are so good! We love Sausage McMuffin sandwiches from McDonald's. Now we can make them at home and they are delicious. This breakfast sandwich maker is so easy to use and so easy to clean. In the Breakfast Sandwiches post we list a lot of different ideas for changing up the usual breakfast sandwich. Check it out-you are sure to find some you like.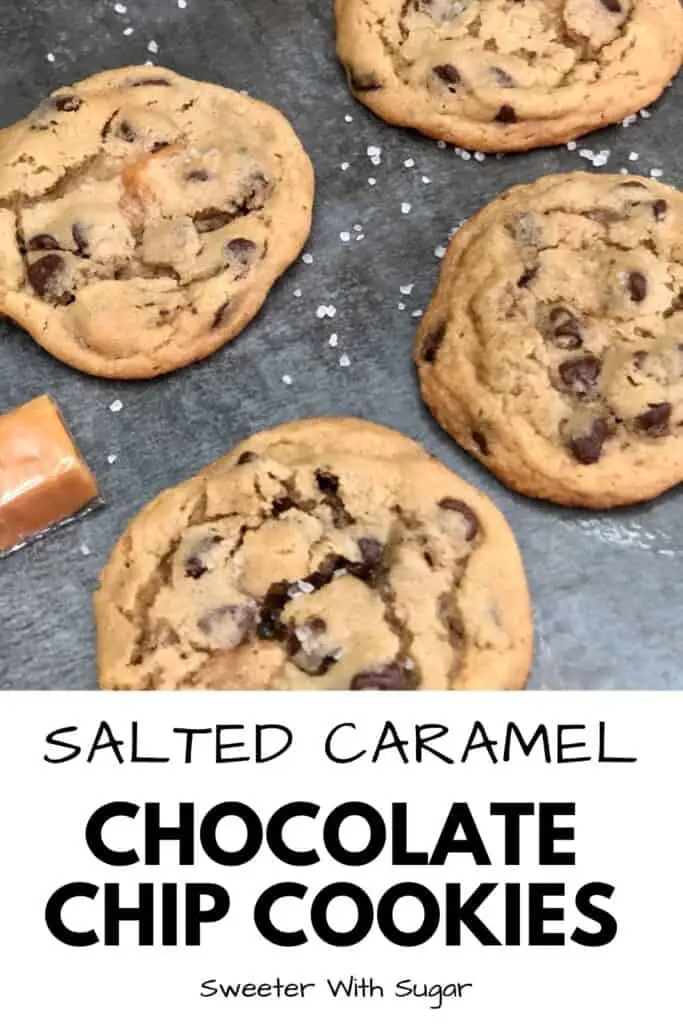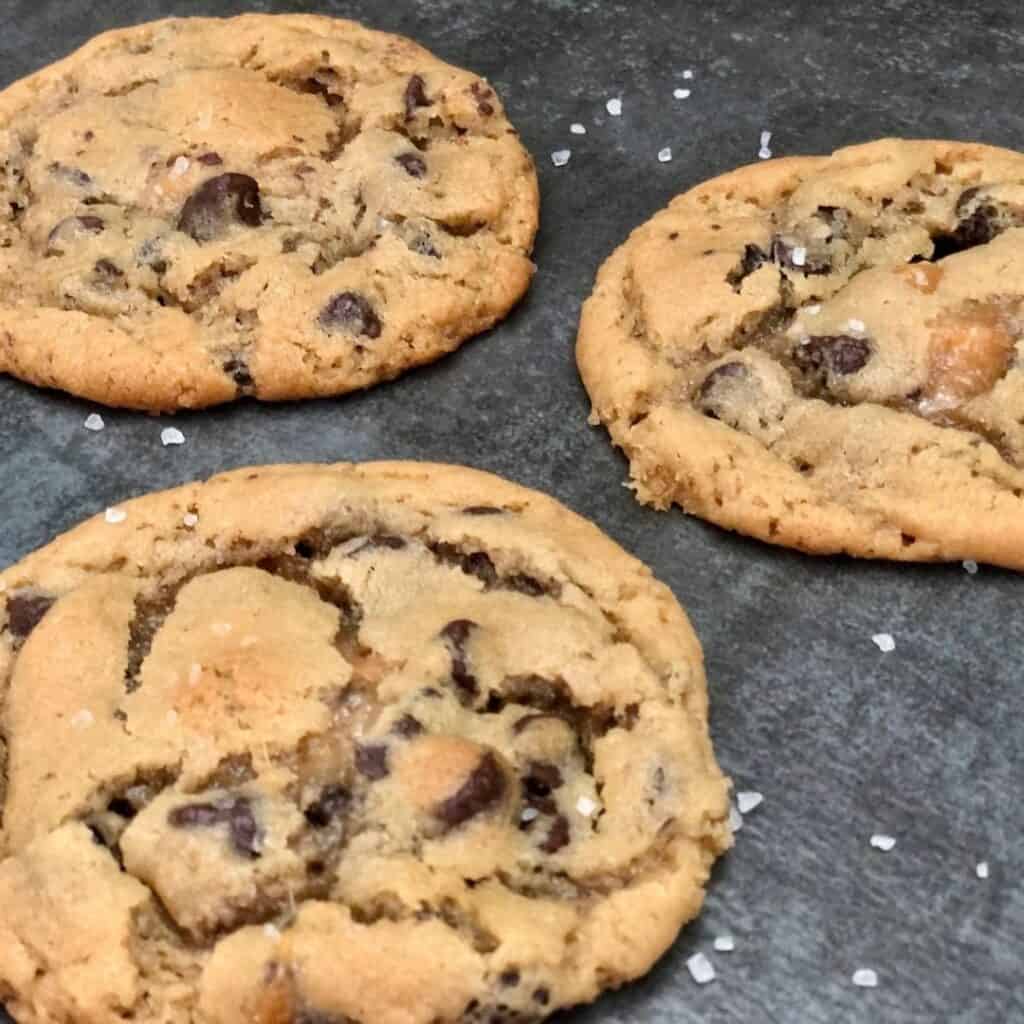 Disclaimer:
All of the thoughts and opinions here, on our family food and recipe blog, are our own. The affiliate links (if you click on one or more) here pay us a tiny commission that will not cost you anything. The commissions help us run this web-site so, we appreciate your support in this way. We appreciate your support in visiting and following our blog! Thank you so very much!
We all want to thank you for visiting and trying recipes from our family recipe blog. Your support is very much appreciated. All of us are hoping that all of you are staying healthy, strong and happy. Have a fantastic day and an even better week. Have fun cooking and remember to get the kids involved where it is safe to do so. They may love it and it is a great activity for quality family time. Family and friends are the best! Don't forget how important it is to sit and eat meals as a family-and talking while you enjoy your meals.
(Visited 308 times, 1 visits today)