Baked Asian Pork Ribs are very easy to make and they have a spicy Asian flavor. Just marinate the ribs and cook in the oven for two hours.
This post may contain affiliate links. This means, I may receive commissions if you use a link provided. All opinions here are my own.
Welcome to our family recipe blog. There are hundreds of recipes here we hope you will find helpful and delicious! Here are some links to recipes we think you will love: Skillet Garlic Butter Asparagus, The Best Gooey Caramel Corn, Slow Cooker Pork Loin and Vegetables, Breakfast Tacos, Boneless Honey BBQ Wings-Buffalo Wild Wings Copycat, Scotchmallow Cookies, Churro Corn Pops, Almond Joy Fudge, Homemade Pizza Sauce, Chocolate Mousse Pie, Sweet Chex, Rock Road Brownies, Traeger S'mores Brownies, Father's Day Dinner, Orange Chicken and Caprese Chicken Casserole.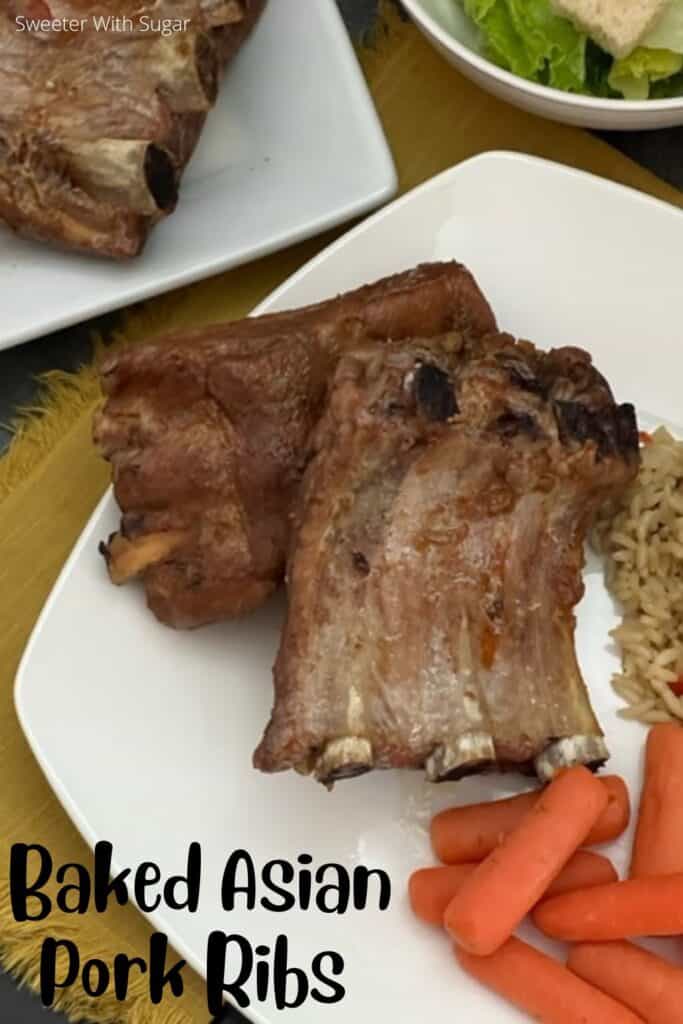 Ingredients Needed For Baked Asian Pork Ribs:
Pork ribs
Apple juice
Sriracha sauce
Brown sugar
Garlic cloves
Sesame oil
Soy sauce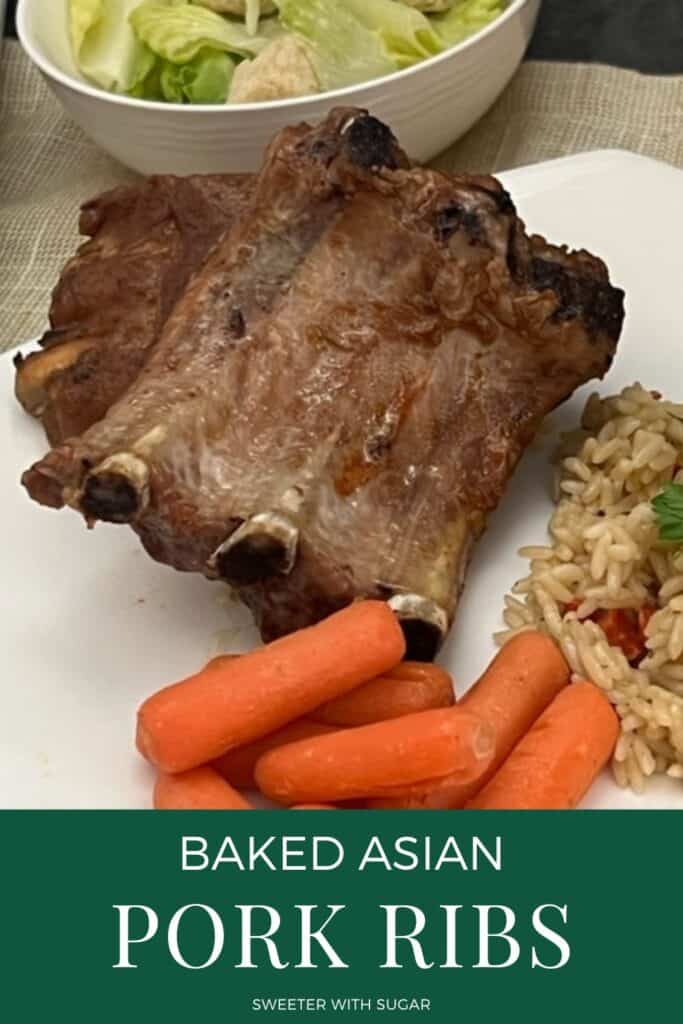 Instructions For Baked Asian Pork Ribs:
In a Ziploc bag, combine, apple juice, sriracha sauce, brown sugar, minced garlic, sesame oil and soy sauce. Stir or squish the ingredients around in the bag to mix.
Cut the rack of ribs into pieces that will fit into the bag.
Place ribs into the marinade and marinate for at least one hour. Longer if possible. It is great if you can make the marinade in the morning and let the ribs marinate until the afternoon when you will cook them. Let the ribs marinate in the refrigerator.
After the ribs have marinated, spray a 9×9 or 8×8 baking dish with cooking spray.
Preheat the oven to 300 degrees.
Place ribs in the baking dish with the meat side down.
Pour the marinade over the ribs and cover the baking dish with aluminum foil.
Place in pre-heated oven and bake for two hours.
Other Recipes You Will Love: ❤️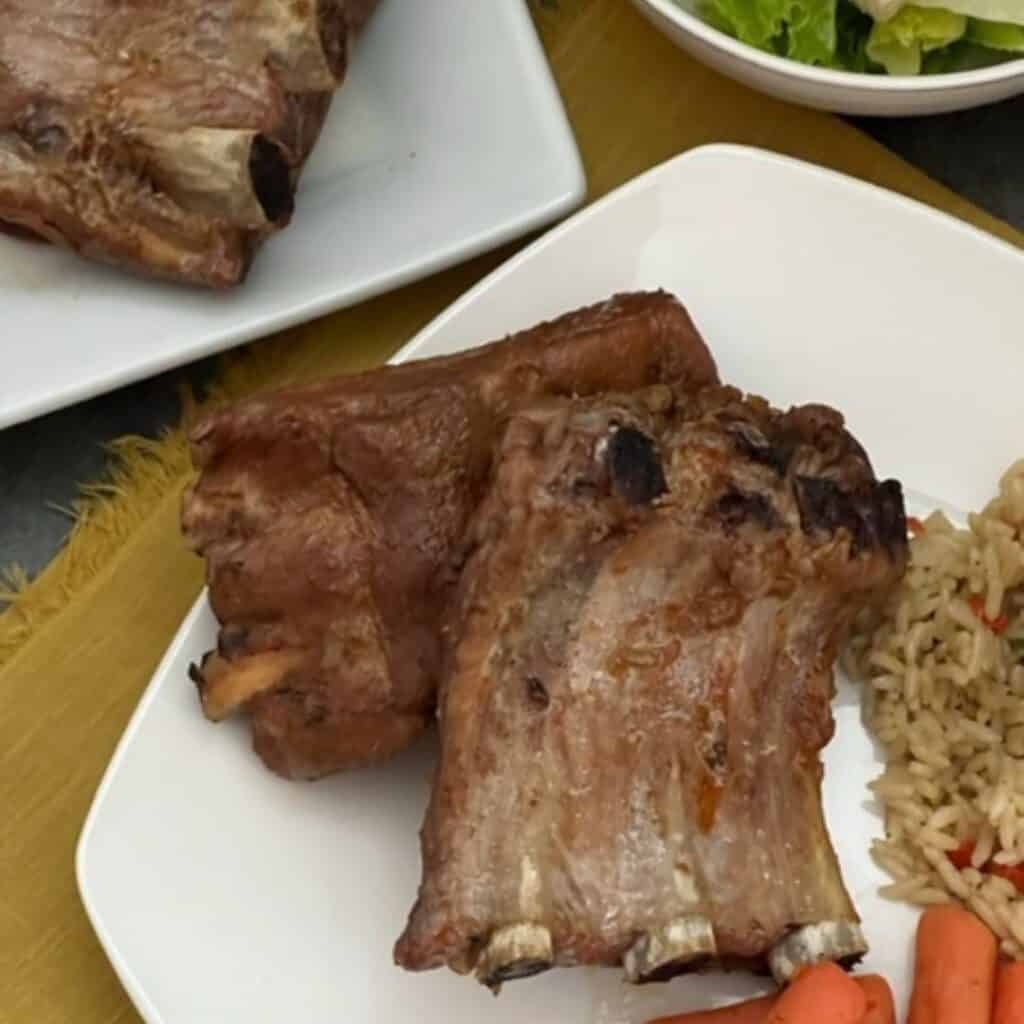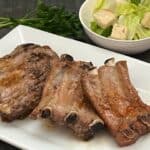 Baked Asian Pork Ribs
An easy pork rib recipe with an Asian flavor and baked in the oven.
Total Time
3
hours
10
minutes
Ingredients
1 1/2

pounds

pork ribs

cut to fit into a large ZipLoc bag
Marinade Ingredients:
1/4

cup

apple juice

2

tsp

sriracha sauce

less if you want less heat

1/4

cup

brown sugar

2

cloves

garlic

minced

2

tbsp

sesame oil

1/2

cup

soy sauce
Instructions
In a ZipLoc bag, combine marinade ingredients and stir to combine.

Cut ribs into sections to fit into the bag. Place ribs into the bag and seal the bag shut. Marinate in the refrigerator for at least an hour-more if possible.

After ribs have marinated, preheat the oven to 300°

Spray a 8×8 or 9×9 baking dish with non-stick cooking spray.

Place the ribs, meat side down, in the baking dish.

Pour marinade over the ribs in the baking dish and cover with foil.

Remove from the oven and serve with rice, salad or steamed veggies.
Disclaimer:
All of the thoughts and opinions here, on our family food and recipe blog, are our own. The affiliate links (if you click on one or more) here pay us a tiny commission that will not cost you anything. The commissions help us run this web-site. We appreciate your support! Thank you so much!
We all want to thank you for visiting and trying recipes from our family recipe blog. Your support is very much appreciated. All of us are hoping that all of you are staying healthy, strong and happy. Have a fantastic day and an even better week. Have fun cooking and remember to get the kids involved where it is safe to do so. They may love it and it is a great activity for quality family time. Family and friends are the best! 
Yummy Cookies to Try:
Raspberry Shortbread Cookies are a delicious and fun cookie that taste wonderful with the butter, sugar, flour, and raspberry extract. We have made them for Valentine's Day in that post (link above). They can, of course, be made for any holiday or just any average day. Fun holiday cookie cutters make this recipe not only yummy but fun for kids and adults, too.
Easter Crinkle Cookies are a fun and easy cookie recipe because we have made them with a cake mix. We divided the batter into three bowls and colored the batter three different colors. The kids thought that was pretty fun and that they looked like Easter eggs. 
Thanksgiving Turkey Cookies are the cutest cookies! They are made with Nutter Butters so all you have to do is have fun decorating them with your family-kids love to be creative and decorate cookies. They have been known to come up with some pretty fun and clever ideas when we cook together. 
Stuffed Peanut Butter Cookies are peanut butter cookies that have been stuffed or in other words wrapped around a bite-sized candy bar. We have used different bars, but we love to wrap the peanut butter cookie dough around a bite-sized Snicker bar. Chocolate and peanut butter go together perfectly. A way to make these even more simply…use Betty Crocker peanut butter cookie mix.