Raspberry Shortbread Cookies are buttery with a yummy raspberry flavor. This recipe is easy to make and only requires a few ingredients.
This post may contain affiliate links. This means, I may receive commissions if you use a link provided. All opinions here are my own.
We are so glad you are here today. You will find many delicious family friendly recipes on our food recipe, food tasting blog. Cooking is one of our favorite things to do. We love making family favorites that have been in the family for years and years, making up fun new recipes, and trying other people's favorite recipes. Thank you for browsing our many recipes and have a great day cooking!
On our recipe blog you will find many cookie recipes the whole family will love. Here are a few to get your search started: Raspberry Shortbread Cookies, Chocolate Chip Cookies, Lemon Cookies, White Chocolate Chip Macadamia Nut Cookies (and ice cream sandwiches), Triple Chocolate Cookies, and Toblerone Cookies.
These cookies turn out so cute and so delicious. This recipe can be used for holidays or any day. I used a heart shaped cookie cutter to make these for my kids for Valentines Day. However, they are equally cute and yummy for any other holiday. They are fun to decorate. I dipped some and I frosted some with melted white chocolate. Use any type of sprinkles or jimmies to make them fun and cute. Frosting is also great on them. But, I used melted white chocolate which is delicious on them. Anyway you frost or decorate these cute and yummy cookies, they will be wonderful.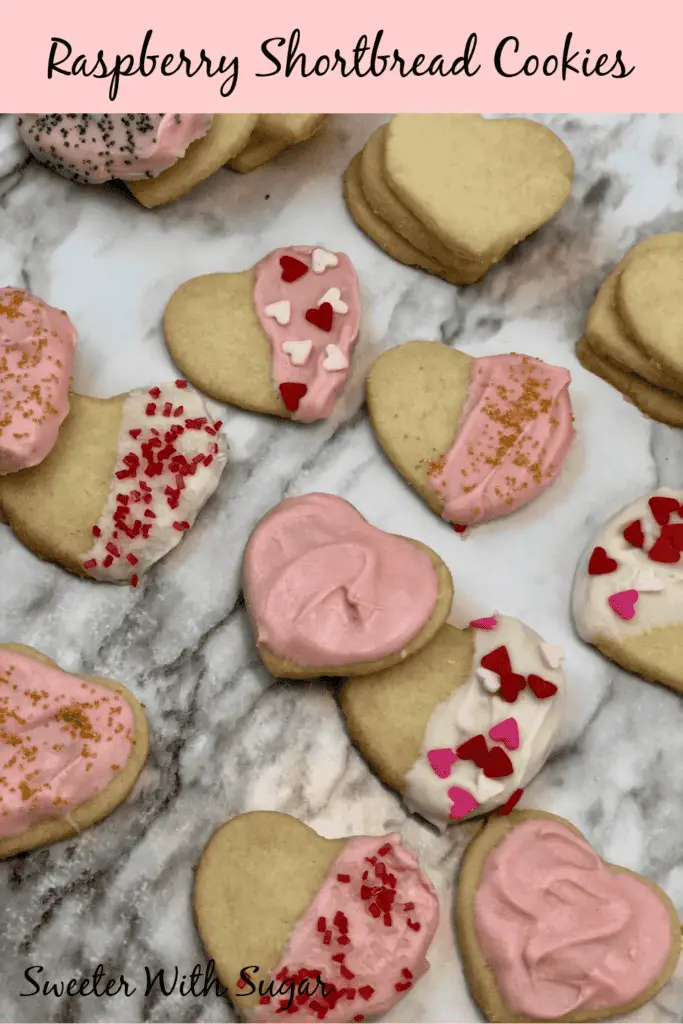 Fun cookie cutters are a favorite at our house. I love it when they come in different sizes of the same shape like these. Kids love to cut cookies out-they love to help in the kitchen. Family time is the best!
Ingredients Needed for Raspberry Shortbread Cookies:
Butter
Sugar
Flour
Raspberry Extract
White Chocolate Chips
Oil
Food Coloring, if desired
Sprinkles, if desired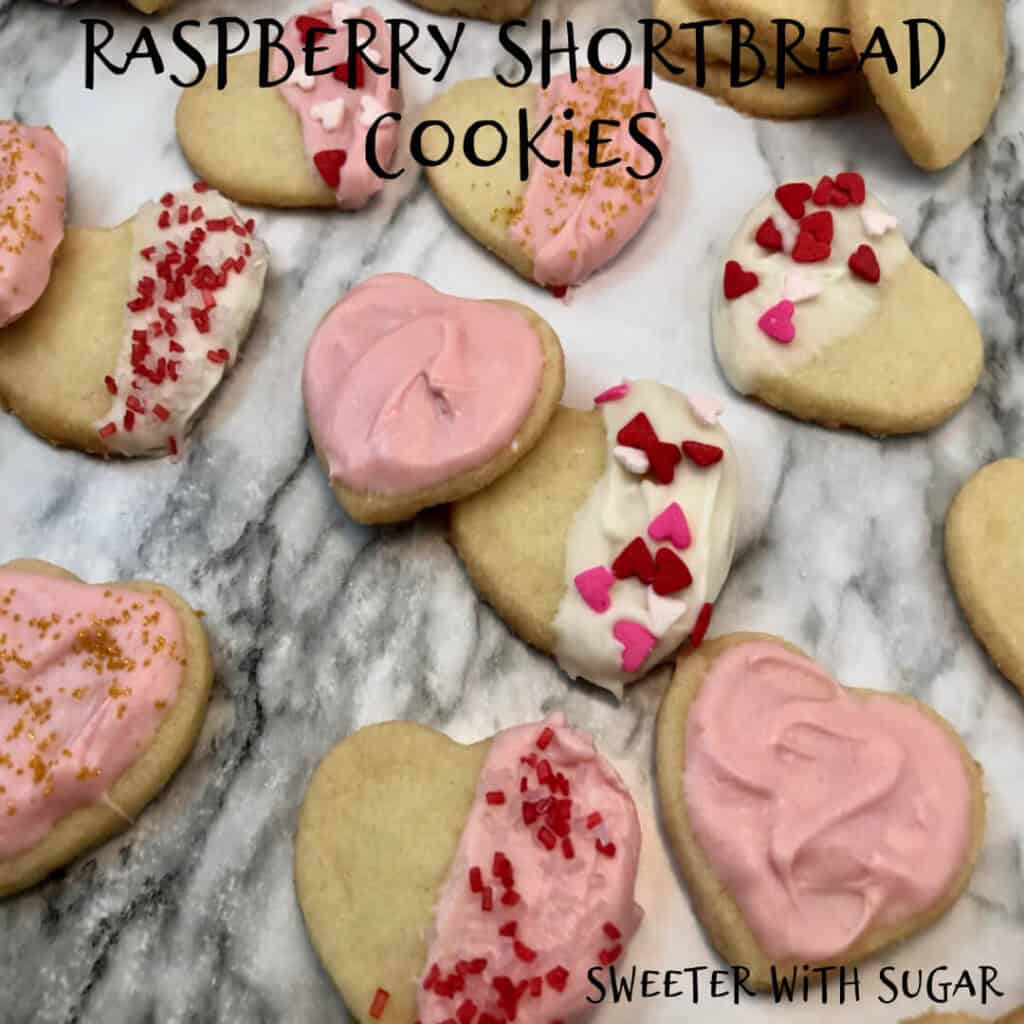 How to Make Raspberry Shortbread Cookies:
Preheat the oven to 350 degrees.
In a small mixing bowl, combine softened butter, sugar, flour, and raspberry extract. Mix this mixture well so the raspberry extract will be distributed well.
Dust the counter top with a little bit of flour and then, roll the shortbread cookie dough out top of the flour.
Use cookie cutters to cut the cookies-I used a mini heart cookie cutter. From this mini cookie cutter, I had 30 cookies. If you use a bigger cookie cutter, you will obviously get fewer cookies.
Bake shortbread cookies in a 350 degree oven for 10 minutes. Bake longer for larger cookies.
Remove from the oven and allow time to cool.
Slowly melt chocolate with the oil in the microwave (10-15 second intervals). Stir between intervals.
Dip or frost cookies in the melted chocolate. Decorate as desired.
Other Recipes You Will Love: 💗
Pumpkin Cookies with Cream Cheese Frosting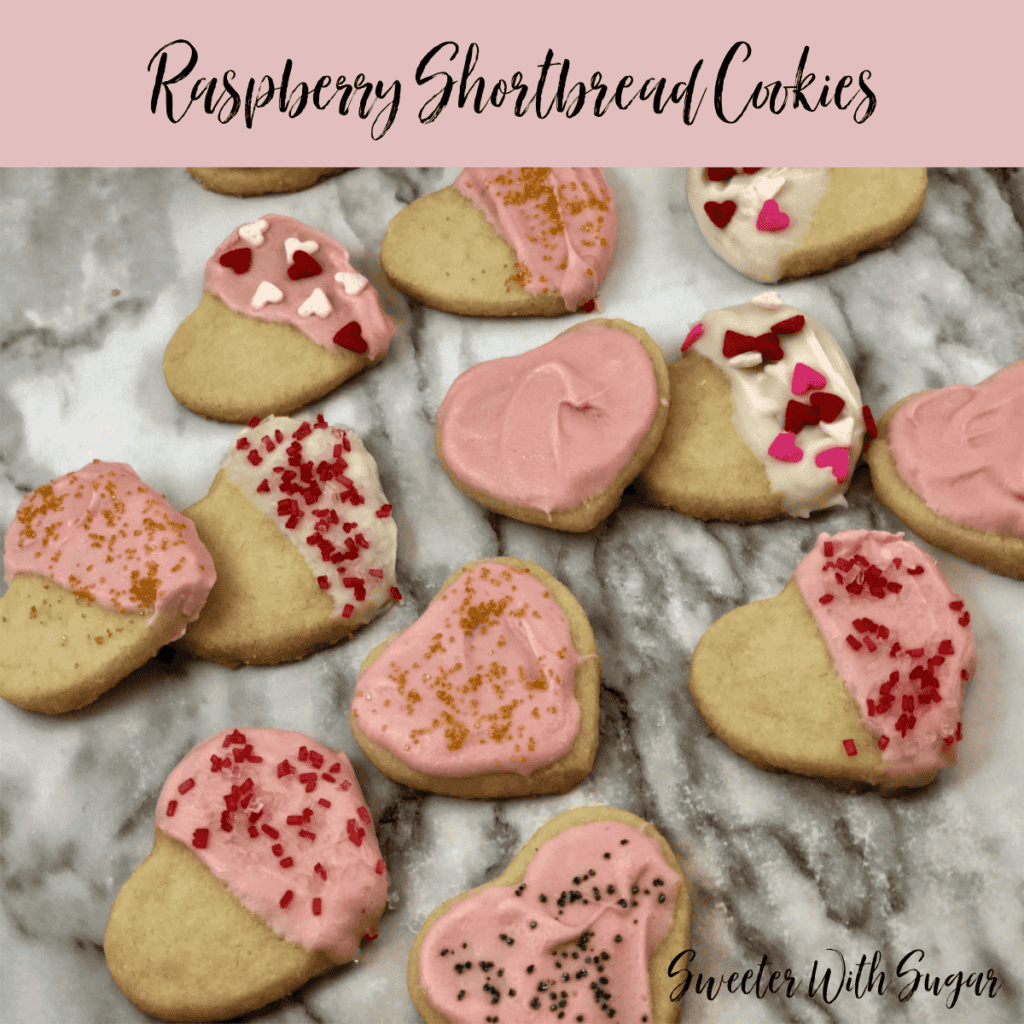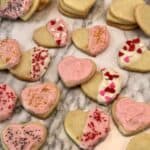 Raspberry Shortbread Cookies
A simple cookie with a delicious raspberry flavor.
Ingredients
1/2

cup

butter

softened, not melted

1/4

cup

sugar

1

cup

flour

1/2

tsp

raspberry extract

1

cup

white chocolate chips

1/2

tsp

oil

food coloring

optional

sprinkles

optional
Instructions
In a small mixing bowl, combine softened butter, sugar, flour, and raspberry extract. Mix well to combine and distribute raspberry extract.

Dust counter top with a little flour and roll the short bread cookie dough out. Cut out with cookie cutters.

Bake in a 350° oven for about 10 minutes.

Remove from the oven and cool.

Melt white chocolate in a microwave safe bowl with the oil. Microwave slowly, stirring every 10-15 seconds. Add a food coloring, if desired. DIp or frost cookies in the melted chocolate.
Other Yummy Cookie Recipes:
Cookies are so delicious and fun to make. Making cookies is a tradition for our family for just about every holiday. Cut-out cookies for Valentine's Day, St. Patrick's Day, Easter, Halloween, Thanksgiving, and Christmas are so much fun. Dessert is hard to resist for us and truthfully we usually don't resist-we just enjoy the many cookies and desserts recipes we make. Here are some of the best ones.
Lemon Cookies We love chocolate as you know, (if you have read many of our posts) but we also love lemon! These cookies are made with a lemon cake mix and have a yummy lemon flavor. The lemon frosting makes them even better. Try this recipe next time you want a lemon dessert, we think you will love them.
White Chocolate Macadamia Nut Cookies are the most fantastic cookie. The sweetness of the cookie and the white chocolate chips along with the salty and crunchy macadamia nuts make this cookie the best! They are extra delicious when we make ice cream sandwiches with these cookies. Costco vanilla ice cream is the best ever and makes white chocolate macadamia nut cookies fun and yummy. Of course other vanilla ice creams taste good too. Try these out for a fun summer dessert after a delicious barbecue.
Cookies with Chocolate:
Chocolate Chip Cookies Love Love Love chocolate and chocolate chips-any chocolate and all chocolate. Chocolate chip cookies are so good, the more chocolate chips in each cookie the better! Don't you just love taking a bite of a warm chocolate chip cookie with the warm, melty, and gooey chocolate chips-We do!!
Creme Filled Brownie Cookies These are fantastic! You have got to try them. The yummy brownie cookie plus the creme filling in the middle makes these one of our favorites.
Triple Chocolate Cookies This is a delicious recipe for chocolatey cookies. It uses a chocolate cake mix along with milk chocolate chips and white chocolate chips. This cookie recipe is one of my husband's favorite cake mix cookies and I love them not only because they are delicious, they are so easy to make. Let us know how you like these delicious cookies.
Toblerone Cookies This simple and easy cookie recipe only requires four ingredients. It uses a cake mix and Toblerone candy bar pieces. The toffee in the Toblerone gives the cookies a chewy and extra chocolatey goodness. Cake mix cookies are super easy and so versatile. The versatility makes them a lot of fun-it is so fun to use your imagination in the kitchen when cooking. Try these cookies, we think you will love them.
Disclaimer/Thanks:
We hope you find this Raspberry Shortbread Cookie recipe and others on Sweeter With Sugar to be yummy and helpful in your meal planning (and party food, snack, dessert, holiday, and beverage planning). We would love to hear how you like any of the recipes here-love to see a photo of your beautiful creation and love, love, love, for you to give us a rating, and or a comment.
Our family definitely does not claim to be perfect cooks. Cooking (and eating what we cook and what others cook) is one of our favorite things to do but, we are not perfect. Typos are something we hate to find in our recipes, but, it happens. If you find any mistakes, please let us know-we will fix them as soon as we can and we will appreciate your excellent editing skills.
We all want to thank you for visiting and trying recipes from our on-line cookbook. Your support is very much appreciated. All of us are hoping that all of you are staying healthy and strong and happy. Have a fantastic day and an even better week. Have fun cooking and remember to get the kids involved where it is safe to do so. They may love it and it is a great activity for quality family time. Family is the best!