Chocolate Mousse Pie with a Vanilla Wafer Cookie Crust is so smooth and creamy. The crust, made with vanilla wafers, makes it extra delicious!
This post may contain affiliate links. This means, I may receive commissions if you use a link provided. All opinions here are my own.
We are so glad you are here. You will find many delicious family friendly recipes on our recipe blog. Cooking is one of our favorite things to do. We love making family favorites, making up new recipes, and trying other people's recipes. Thank you for browsing our many recipes and have a great day cooking! Here are a few recipe links to get your search started: Nutty Buddy Cupcakes, Churro Corn Pops, Orange Cream Cheese Crescent Rolls and Chocolate Orange Fudge.

Ingredients Needed for Chocolate Mousse Pie:
40 vanilla wafers
1/4 cup sugar
1/4 cup butter
1 1/2 cups milk
1 1/2 cup heavy cream
5.1 ounce box instant chocolate pudding (or any flavor of your choice)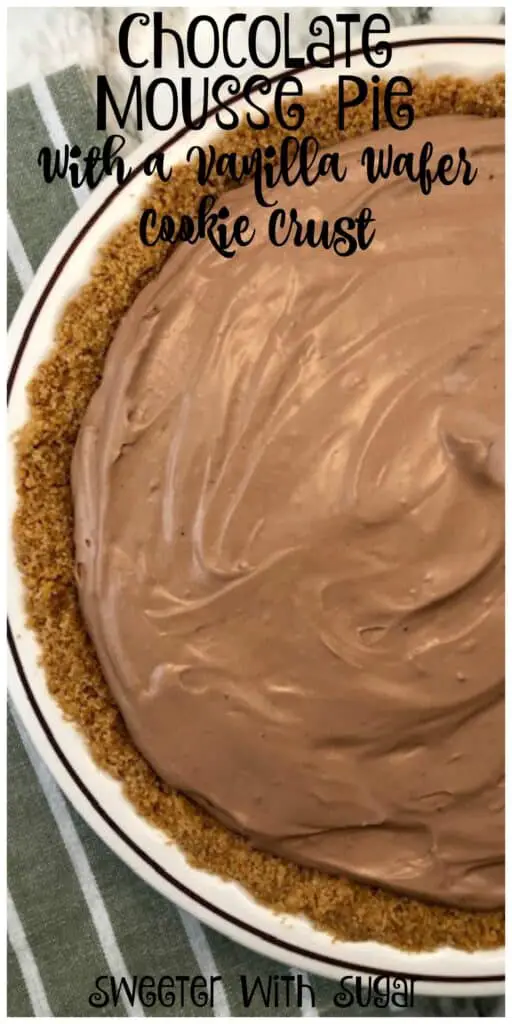 Instructions for Chocolate Mousse Pie:
Crush vanilla wafer in a blender. Love, Love, Love, the Ninja blender. The single serve works great for this.
Combine vanilla wafer crumbs with the sugar.
Melt butter in the microwave.
Combine vanilla wafer crumb mixture and the melted butter. Mix well. Press mixture into a 9 inch pie pan. Bake at 350 degrees for 8-9 minutes. Cool completely.
With an electric mixer, combine pudding with milk, until well blended.
Then, add the heavy whipping cream and continue beating with the electric mixer until pudding turns thick. You want it to be thick enough so when you cut into the pie, the mousse doesn't spill into the pan where you removed a piece of the pie. It needs to stay in its place.
Refrigerate until chilled and ready to serve. Enjoy!
Other Recipes You Will Love: ❤️
Brownie Bottom Satin Pie Dessert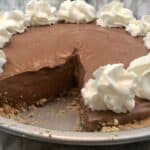 Chocolate Mousse Pie
A delicious, smooth, and creamy dessert.
Ingredients
Ingredients for the crust:
40

vanilla wafers

crushed

1/4

cup

sugar

1/4

cup

butter

melted
Ingredients for the mousse:
1 1/2

cups

heavy cream

1 1/2

cups

milk

5.1

ounce box

instant chocolate pudding mix
Instructions
Instructions for the crust:
Crush the vanilla wafers-I use the single serve container for the Ninja Professional Blender.

Mix the crushed vanilla wafers with the sugar.

Melt the butter and combine with the vanilla wafer mixture.

Press into a 9" pie pan and bake at 350° for 8-9 minutes. Cool completely.
Instructions for the mousse:
With an electric mixer, combine chocolate pudding mix with milk until well combined.

Add the heavy whipping cream and continue beating on medium speed until mousse is thick and creamy. It needs to be thick enough to stay in its place when you cut the pie into pieces.

Fill the vanilla wafer crust with the mousse and refrigerate until ready to serve.

Top with whipping cream, if desired. Enjoy!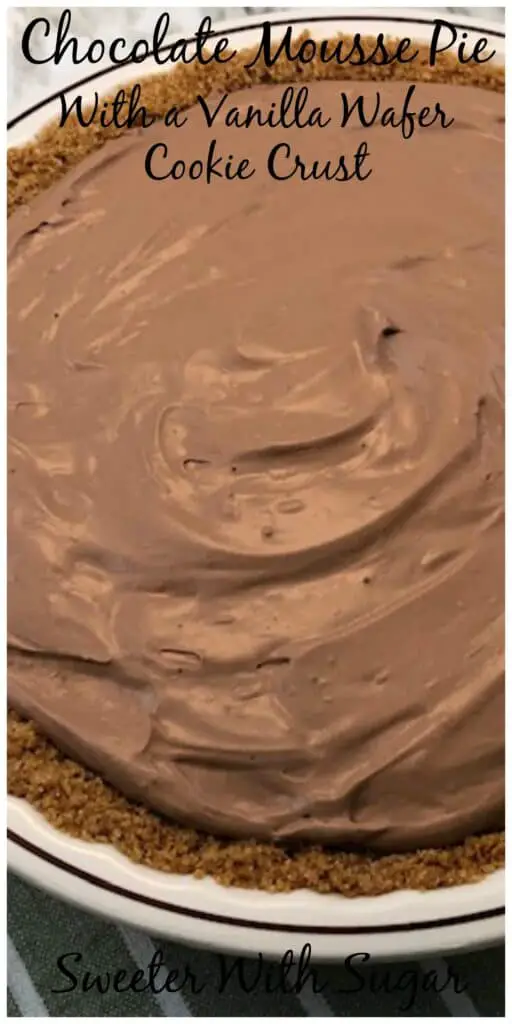 Disclaimer:
All of the thoughts and opinions here, on our family food and recipe blog, are our own. The affiliate links (if you click on one or more) here pay us a tiny commission that will not cost you anything. The commissions help us run this web-site. We appreciate your support! Thank you so much!
We all want to thank you for visiting and trying recipes from our family recipe blog. Your support is very much appreciated. All of us are hoping that all of you are staying healthy, strong and happy. Have a fantastic day and an even better week. Have fun cooking and remember to get the kids involved where it is safe to do so. They may love it and it is a great activity for quality family time. Family and friends are the best! 
(Visited 301 times, 1 visits today)