Churro Corn Pops are fantastic! They are covered with a gooey coating and dusted with cinnamon and sugar. Makes me miss Disneyland where you can buy the best churros.
This post may contain affiliate links. This means, I may receive commissions if you use a link provided. All opinions here are my own.
Welcome to our food recipe blog. You will find many helpful and delicious family recipes here. Here are some recipes to get your browsing started: Hasselback Bottoms, Copycat Cheesecake Factory Louisiana Chicken Pasta, Nutty Buddy Cupcakes, White Chocolate Raspberry Cheesecake, Traeger S'mores Brownies, Super Moist Bundt Cake, Buttery Boiled Corn on the Cob, Boneless Honey BBQ Wings-Buffalo Wild Wings Copycat, Toblerone Cookies, and Scotchmallow Cookies.
Some of our favorite things for this recipe:
Just sitting at home like most of you (quarantine 2020). I worked out, made breakfast, ate breakfast, cleaned the kitchen, started some laundry….it is only 10 am. Now what???? I'm making something with those Clover Club Corn Puffs that are waiting for me in the pantry-wanting to become something creative and delicious. I started with my recipe for caramel, shrunk it and changed it. Here goes…..
Ingredients Needed for Churro Corn Pops:
Clover Club Corn Pops (or your favorite brand)
Butter
White sugar
Karo Syrup
Vanilla
Baking soda
Sugar and cinnamon
This recipe is so easy to make and so good. We have made them so very many times since our first trial. We had a hard time finding the Clover Club Corn Pops for a while. (It is hard to find a lot of things right now. The shelves are better stocked now than in the spring of 2020. This has been such a stressful and strange year!). When we found them finally, we bought a bunch of bags. We will be adding these to the Christmas treats we share with friends, neighbors and family this year and in future years. Grandma will be getting some whenever she wants-she loves them. I love that it does not require a lot of ingredients, it is so quick to make, it has turned out perfect every single time, and everyone loves it!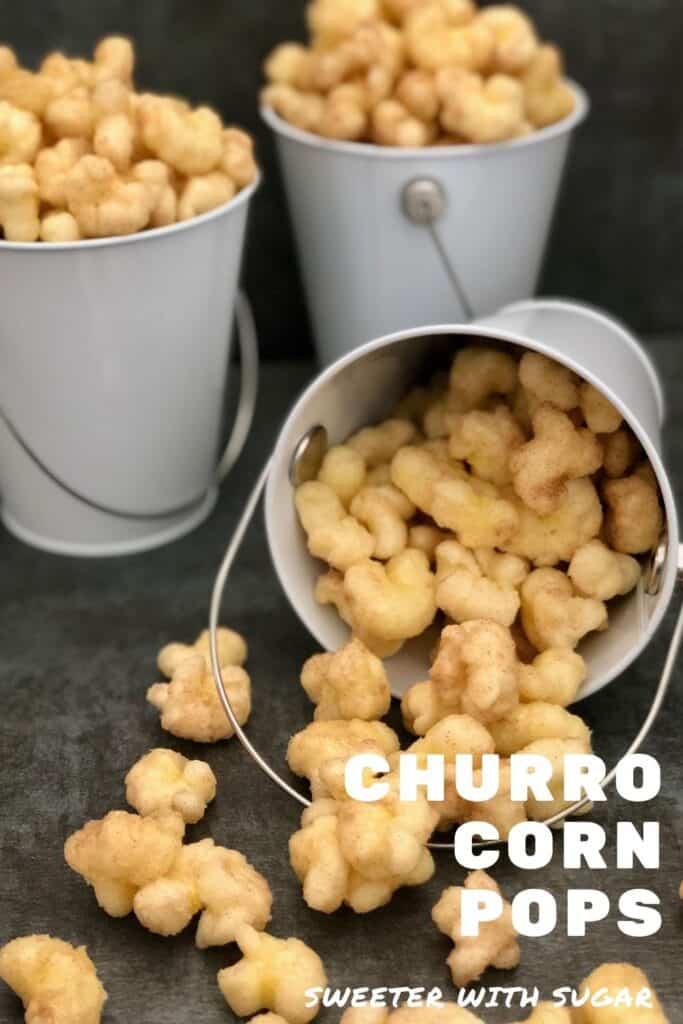 How to Make Churro Corn Pops:
Put corn pops in a large bowl and set aside.
Combine butter, sugar and Karo in a sauce pan over medium heat. Bring to a boil and boil for 2 minutes-only! Stir constantly, scraping along the bottom of the sauce pan, but do not scrape the sides of the pan (like when making most homemade candies). I love to use a flat bottomed wooden spoon for this.
Remove from heat and add baking soda and vanilla. Stir.
Quickly coat corn pops with the gooey mixture. Distribute as evenly as possible. Pour some caramel mixture over the pops, stir and repeat.
Quickly sprinkle some of the cinnamon and sugar mixture on Corn Pops and stir. Repeat until all of the cinnamon and sugar mixture has been used. You want to distribute the cinnamon and sugar as evenly as possible.
Place Corn Pops onto two large baking sheets to cool and dry out for an hour or more. Then, eat or store in an airtight container.
ENJOY!!
Don't forget to get our summer dessert e-cookbook-it is a great value at only $2.99 for 24 delicious summer dessert recipes you will love to serve and eat this summer! Cover is displayed below. Click here for more information and to purchase.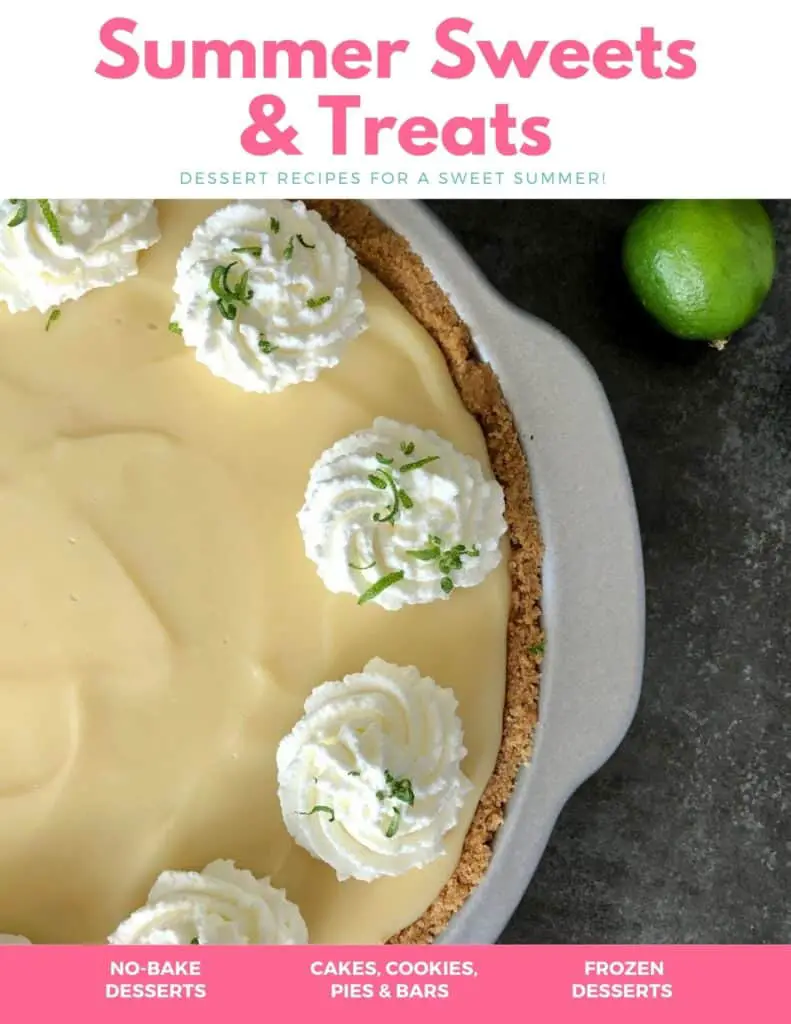 Thank you so much for visiting our food and recipe blog. You will find many recipes your family will love to eat and you will love making for them. We would love to hear what you love or to answer any questions. If you have questions, feel free to contact us. Our email is in our about page. One of us will get back to you as soon as we can-hopefully within a day. Please leave us a comment and a rating. Have a wonderful week, stay healthy and happy. 😊
Other Delicious Recipes You Will Love: 💕
Double Chocolate Zucchini Bread
Chocolate Orange Fudge-tastes like Terry's Milk Chocolate Oranges
Frozen Strawberry Ice Cream Pie with an Oatmeal Cookie Crumb Crust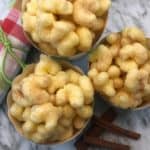 Churro Corn Pops
A delicious, gooey, churro flavored snack.
Total Time
1
hour
15
minutes
Ingredients
1/2

cup

butter

1

cup

white sugar

1/2

cup

Karo Corn Syrup

1/2

tsp

baking soda

1/2

tsp

vanilla

10

ounces

Clover Club Corn Pops Snacks

1/4

cup

white sugar

1/2

tsp

cinnamon
Instructions
Put corn pops in a large bowl, set aside.

Mix the 1/4 cup sugar and 1/2 teaspoon cinnamon together in a bowl and set aside.

Place butter, sugar, and Karo Syrup in a sauce pan. Stirring constantly-scaping across the bottom of the pan, bring to a boil over medium heat. Boil for 2 minutes to dissolve the sugar. Do not scrape the sides of the pan.

Remove from heat. Add baking soda and vanilla. Mix.

Quickly pour some of the mixture over the corn pops and mix to coat. Repeat until you have used all of it.

Sprinkle cinnamon and sugar mixture over the corn pops a little at a time. Stir to distribute. Repeat.

Place corn pops, in a single layer, on two large baking sheets.

Allow time to cool and dry out, at least an hour. Enjoy!
Disclaimer:
All of the thoughts and opinions here, on our food recipe blog, are our own. The affiliate links (if you click on one or more) here pay us a tiny commission that will not cost you anything. The commissions help us run this web-site. We appreciate your support! Thank you so much!