Barbecue Pulled Pork Nachos have a lot of flavor and they are fun to make and eat. The tender barbecue pulled pork combined with the other ingredients will make this a new favorite.
This post may contain affiliate links. This means, I may receive commissions if you use a link provided. All opinions here are my own.
NOTE: Read this recipe post all the way through. I use one pork loin roast to make two delicious dinner recipes. This saves me time- I love that!
Welcome to our family recipe blog. We have hundreds of recipes here for you to browse through. We hope you find many that your family will love. Here are a few other recipe links to continue your search: Skillet Garlic Butter Asparagus, The Best Caramel Corn, Slow Cooker Pork Loin and Vegetables, Boneless Honey BBQ Wings-Buffalo Wild Wings Copycat, Churro Corn Pops, Almond Joy Fudge, Homemade Pizza Sauce, Orange Chicken and Caprese Chicken Casserole.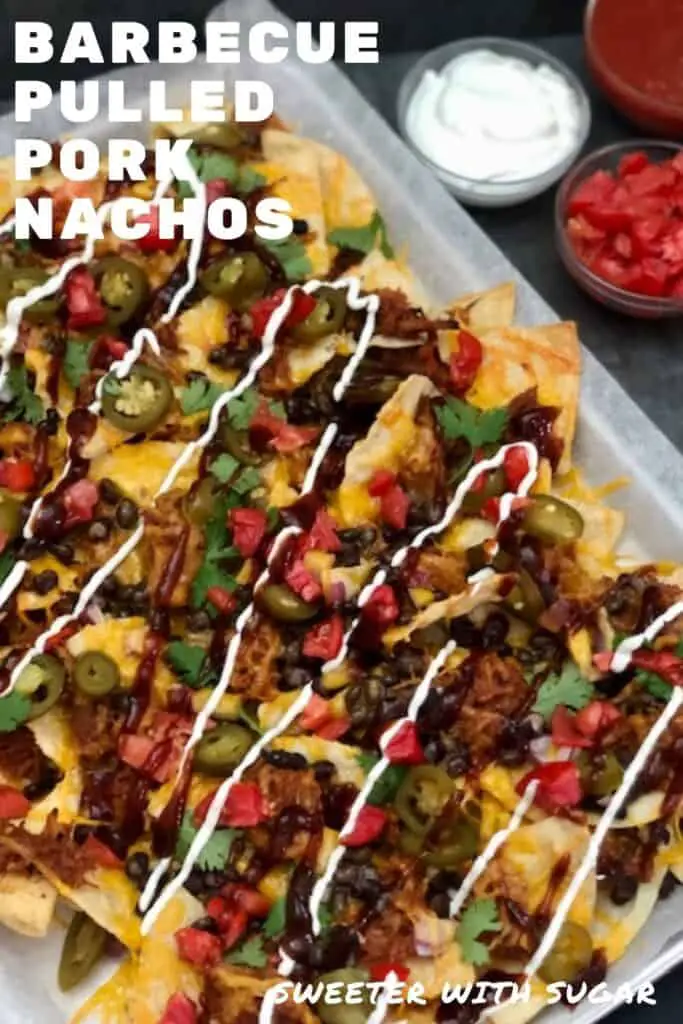 Ingredients Needed for Barbecue Pulled Pork Nachos:
Thick tortilla chips like Don Julio Original Restaurant Style Tortilla Chips
Shredded barbecue pulled pork
Black beans, drained, rinsed and paper towel dried
Red onion, diced
Cheddar cheese, grated
Jalapenos, pickled nacho jalapeño peppers
Tomatoes, diced
Cilantro leaves, torn
Sour cream
Barbecue sauce
Salsa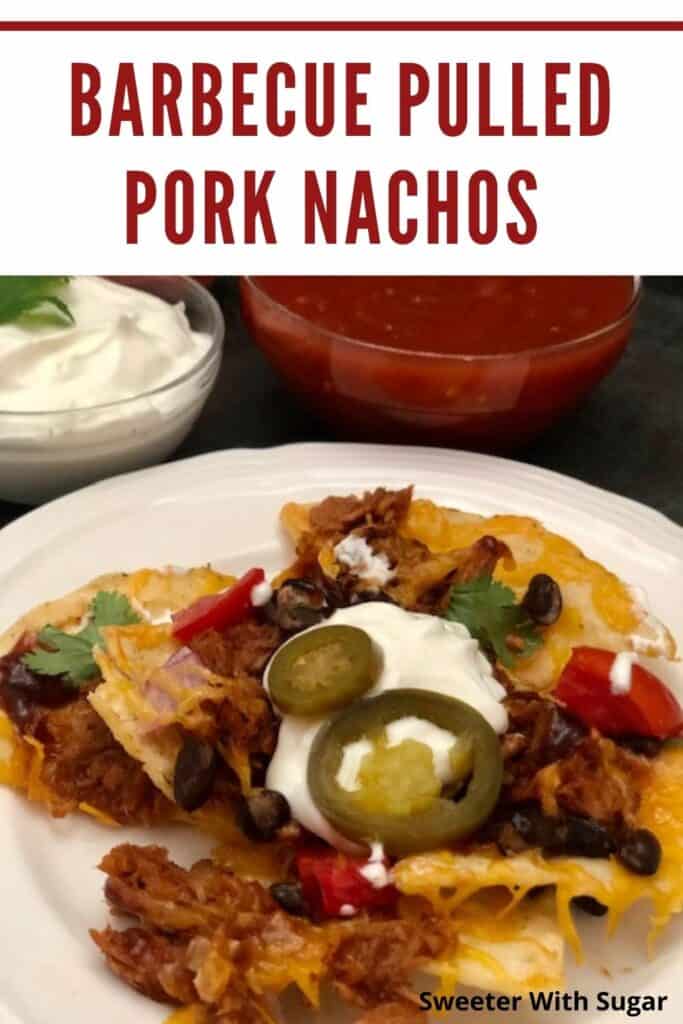 Instructions for Barbecue Pulled Pork Nachos:
You will need 2 cups of barbecue pulled pork. You can cook a small pork loin (1 1/4 pounds) in a slow cooker for 6-7 hours on low-until desired tenderness, buy pre-made barbecue pork or do what I like to do and cook one roast for two meals.
Cook's Note:
I like to cook a three pound pork loin in a Crockpot for eight hours on low. When pork loin has cooked through, remove it from the slow cooker and shred it. Coat it with three cups of Sweet Baby Ray's barbecue sauce. Use two cups of the pulled pork for this recipe and three cups for Barbecue Pulled Pork Mac and Cheese. Just remove two cups and place it in an airtight container in the refrigerator to use for another recipe within a couple days or you can freeze it for later use. I like cooking a bigger pork loin rather than one that is under three pounds.
Just before the pork is ready:
About 20-30 minutes before pork loin is finished cooking, prepare your nacho ingredients-dice the tomatoes and onion, grate the cheese, tear the leaves off of the cilantro stems, drain the sliced pickled jalapeños and rinse the black beans. Then, place jalapeños and black beans on paper towel to soak up any leftover water/juices on the jalapeños and beans.
Prepare the pork-shred and coat in barbecue sauce.
Lay a sheet of parchment paper on a large baking sheet.
Lay a little more than half of the tortilla chips on top of the parchment paper in a single layer-about 5 ounces. I suggest using Don Julio Original Restaurant Style Tortilla Chips because they are thick. This will help the chips not get soggy as quickly and you need a thick chip to hold all of the yummy ingredients in this recipe.
Top the tortilla chips with 1 1/2 cups of shredded cheddar cheese.
Then, top the cheese with half of the pulled pork-just drop pieces of the pork onto the chips (try to distribute evenly).
Top the pork with half of the black beans and the half of the red onion.
For Layer 2: lay remaining tortilla chips on top of the first layer and top those with 1/2 cup of cheese.
Distribute the remaining pulled pork on top of the second layer of chips and cheese.
Sprinkle the remaining black beans and red onion on top.
Then, distribute the remaining cheese (one cup), evenly on the very top.
Bake in a 400 degree oven for 8-10 minutes.
Remove from oven and top with jalapeños, tomatoes, cilantro, sour cream, barbecue sauce, and salsa-as desired.
Serve these yummy nachos immediately and enjoy!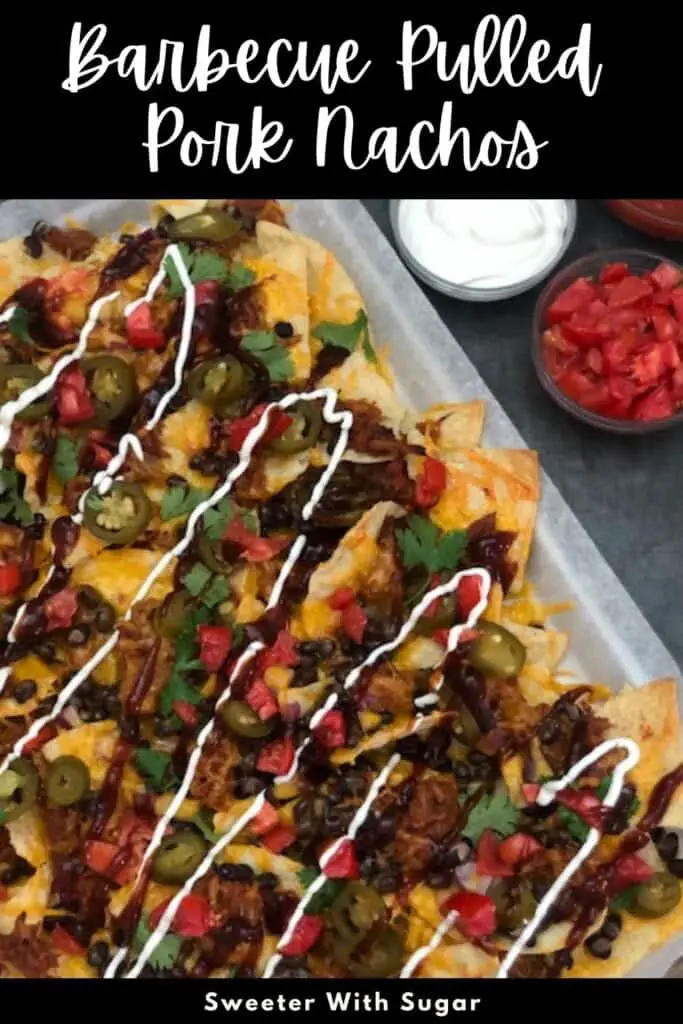 Other Recipes You Will Love:
Scotchmallow Cookies are so easy and yummy! They require very few ingredients and have this gooey middle you will love. We LOVE See's Scotchmallow chocolates and wanted to make a cookie with those flavors.
Lemon Chicken is a fun way to eat this Asian favorite! Not only is it easy, it is yummy.
West Coast Tri-Tip is one of my favorite beef recipes! We could eat this once a week easily. We love the flavor blend in the seasonings.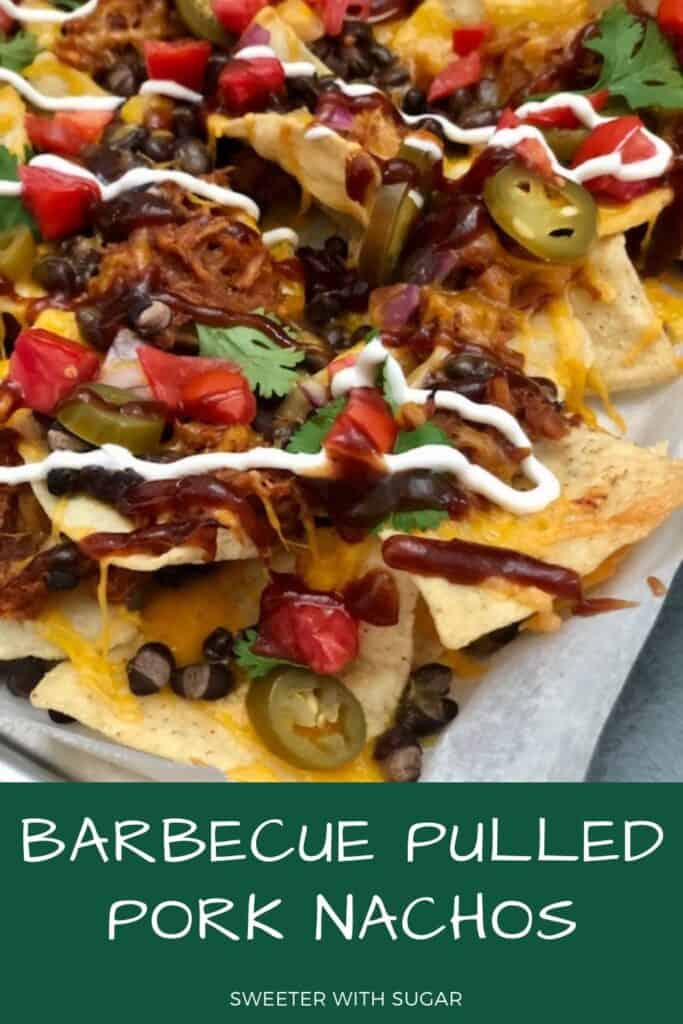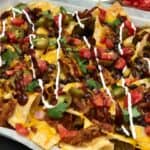 BBQ Pulled Pork Nachos
A fun and delicious dinner recipe that is also great for game day and parties.
Total Time
4
hours
15
minutes
Ingredients
9

ounces

Don Julio Original Restaurant Style Tortilla Chips (they are thick)

divided

1 1/4

pounds

pork loin

see Cook's Note in post to make two meals with one 3 pound roast

1 1/4

cups

Sweet Baby Ray's Original BBQ Sauce

or more, if desired

15

ounce can

black beans

rinsed, drained and dried on paper towel

1/3

cup

red onion-more if desired

diced

3

cups

cheddar cheese

shredded

sliced pickled jalapeños

drained on paper towel

tomatoes

diced

cilantro leaves

torn

sour cream

barbecue sauce

salsa
Instructions
Cook a 1 1/4 pound pork loin in a slow cooker for 6-7 hours on low until cooked through and desired tenderness.

Remove pork loin from the slow cooker when cooked through and shred. Cover the shredded pork loin in 1 1/4 cup barbecue sauce-more if needed.

About 30 minutes before the pork loin is ready, prepare your toppings: dice red onion and tomatoes, shred cheese, tear leaves off cilantro stems, drain jalapeños, rinse and drain black beans and lay jalapeños and black beans of paper towel to absorb any remaining juices or water. Set aside.

Place parchment paper on a large baking sheet and spread five ounces of tortilla chips onto the parchment paper.

Cover tortilla chips with 1 1/2 cups shredded cheese.

Distribute half of the pulled pork on top of the cheese, half of the onion and half of the black beans.

Repeat layers with the remaining chips, 1/2 cup grated cheese, remaining pulled pork, remaining onion and black beans.

Sprinkle the last cup of grated cheese on the top.

Bake in a 400° oven for 8-10 minutes

Remove from the oven and top with jalapeños, tomatoes, cilantro, barbecue sauce, sour cream and salsa, as desired. Serve immediately.
Other Dinner Recipe Ideas:
Some recipes for dinner are: Chicken Garlic French Bread Pizza-so delicious. I love chicken garlic pizza and I love this version of chicken garlic pizza. It is simple to make and tastes great.
Cheese Burger Stuffed French Bread. These ingredients for this recipe are so good together. The cheese sauce is so good. Try this recipe next time you buy French Bread and let us know what you think. Of course we hope you love it as much as we do! We have made this recipe for years! It was called Cheese Burger Stuffed French Bread way back then but, it is kind of like Philly cheesesteak. Whatever the name, it is fantastic.
Garlic Mushroom Cheesy Bread is a great side for pasta. I use to go to this Italian Restaurant in another state I lived in. They had a delicious mushroom cheese bread that I loved to order with my fettuccini Alfredo. We made this cheesy bread recipe because we miss that bread.
Disclaimer:
All of the thoughts and opinions here, on our food recipe blog, are our own. The affiliate links (if you click on one or more) here pay us a tiny commission that will not cost you anything. The commissions help us run this web-site. We appreciate your support! Thank you so much!
We all want to thank you for visiting and trying recipes from our family recipe blog. Your support is very much appreciated. All of us are hoping that all of you are staying healthy, strong and happy. Have a fantastic day and an even better week. Have fun cooking and remember to get the kids involved where it is safe to do so. They may love it and it is a great activity for quality family time. Family is the best! 
(Visited 58 times, 1 visits today)