The bottoms of the Hasselback Potatoes are the best. These Hasselback Bottoms are so addictive! They are chewy, crispy, and flavorful-you have got to try this recipe!
This post may contain affiliate links. This means, I may receive commissions if you use a link provided. All opinions here are my own.
Hello! We are so glad you have stopped by our recipe blog. You will find hundreds of family friendly recipes that will help you get meals prepared easily. At the bottom of this recipe post, you will find other sides you will love!
These go well with so many different main dishes. We love them with steak. They are also great with grilled chicken, brats, hamburgers, hotdogs, pulled chicken or pork, and even alone as a snack.
They are chewy and crispy. How long you cook them and how thick you cut the potatoes will determine their chewiness or crispiness. On one baking sheet, I will have chewy and crispy potatoes because some slices end up thinner than others. This works out great for me because I love them both.
Ingredients Needed for Hasselback Bottoms:
russet potatoes
butter
bacon grease (always keep the fat from cooking bacon-it gives great flavor to many recipes (refrigerate it))
garlic
salt
pepper
Lawry's Seasoned Salt
onion powder
How to Make Hasselback Bottoms:
Potatoes should be at room temperature.
Do not peel potatoes. Just slice your washed potatoes into 1/4 slices and place them in a bowl that is big enough for you to stir the potatoes around. Then, set this bowl aside.
Place the butter, bacon grease, minced garlic, salt, pepper, Lawry's Seasoned Salt, and onion powder into a microwave safe bowl and heat to melt the butter and bacon grease. Stir to combine.
Pour butter mixture over the room temperature sliced potatoes and stir to coat. (If you would rather brush the butter mixture on with a pastry brush-your choice)
Lay each piece of potato on a large greased baking sheet in a single layer.
Bake the coated potatoes at 425 degrees for 35-40 minutes. Until cooked through and desired chewy or crispy-ness. Remember ovens can vary so watch your potatoes (or whatever it is you are baking).
Remove from the oven and serve as a side or as a snack. Enjoy!!
This delicious side is easy to make. You may like them to be cut extra thin so they come out crispy or you may like them more chewy. I cut mine to about 1/4 inch thick. I am not perfect at getting them exactly the same but, it works out well because I end up with both crispy and chewy. We like them both ways.
It is important to have your potatoes at room temperature. The warm melted butter and bacon grease mixture will solidify on cold potatoes. This will make it difficult to coat all of the potatoes. Having your butter mixture warm and then pouring it over your room temperature potatoes helps to be able to distribute the mixture more evenly.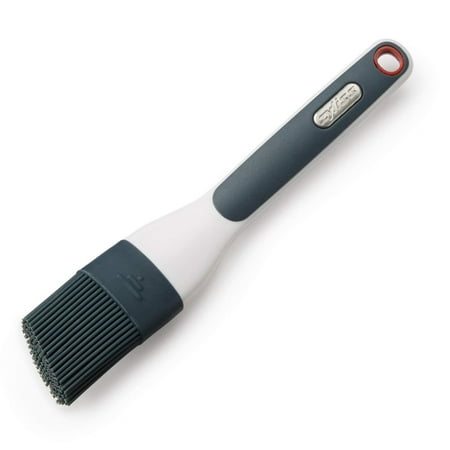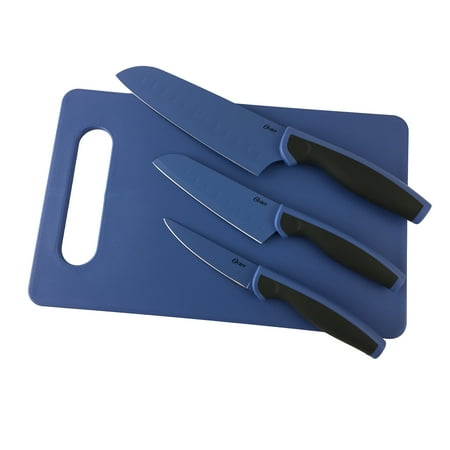 Other Recipes You May Love: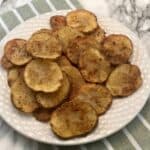 Hasselback Bottoms
Flavorful, chewy, and crispy potato slices that are a perfect side.
Ingredients
2

medium

russet potatoes

sliced to 1/4 inch thickness

2

tbsp

butter

2

tbsp

bacon grease

3

large cloves

garlic

minced

1/4

tsp

pepper

1/4

tsp

salt

1/2

tsp

onion powder

1

tsp

Lawry's Seasoned Salt
Instructions
Wash and slice potatoes that are room temperature (about 1/4 inch thick slices).

Spray a large baking sheet with cooking spray.

Place butter, bacon grease, minced garlic, pepper, salt, onion powder, and Lawry's Seasoned Salt In a microwave safe bowl. Heat ingredients together just until melted. Stir to combine.

Pour the butter mixture over the room temperature potatoes and stir to coat.

Lay sliced potatoes on the greased cooking sheet in a single layer.

Bake in a 425° oven for about 35-40 minutes.
We have made these so many times and have made little changes to the recipe. We have changed it to be super simple to make. They take a while to cook, but are so worth the wait. We love to eat these with barbecued meat. We eat them a lot during the summer.
If you love Hasselback Bottoms, you will love these recipes too!:
Other Sides You Will Want To Try:
Loaded Tater Tots are easy and versatile. In this recipe it has only five ingredients. Of course you can add more or use less. You can choose a different cheese. We use different cheeses-we use what we have. I have not tried pepper jack yet-I will soon. We have found a new love of pepper jack cheese in recent months. I use bacon crumbles, jalapeños, and green onion. You could use a different onion and pepper. You could try a different meat-I love bacon so I will stick with bacon. But, make the changes you know your family will like.
Baked Bacon Green Beans-I love fresh green beans. Adding bacon to nearly anything makes my family happy. These green beans are tender crisp and have a yummy bacon flavor. They are a great side dish for many main dishes.
Oven Baked Rice is the most easy way to cook rice. It turns our fluffy and delicious. Adding a little butter and salt to the boiling water gives the rice a wonderful flavor-I can eat this rice plain. You have got to try this way of cooking rice, if you haven't already.
Sesame Fried Rice is fantastic. I love using sesame oil in Asian dishes. This fried rice has great flavor. Serve it on the side of Sweet and Sour Chicken for an amazing meal.
Loaded Baked Potato Salad is a great salad recipe to take to barbecues. Salads like these feel like summer to me. It's one of the best times of the year for our family. Buttermilk Ranch is what we use for the dressing for this wonderful salad.
Cilantro Lime Rice is such a great rice recipe for burritos. This Copycat Cafe Rio Sweet Pork Burrito recipe is a favorite.
Sweet Sides:
Creamy Orange Sherbet Jell-O Salad is a simple recipe that adults and kids alike love. This recipe has a great orange flavor and is so creamy and smooth. It only calls for five ingredients plus two others if you want to decorate the salad. It is inexpensive and refreshing.
Honey Brown Sugar Carrots are a favorite for holiday meals. They are sweet and just yummy. This recipe is simple to make and has been a favorite of family and friends. You can use baby carrots to cut out some prep time or cut pieces from whole carrots.
Pistachio Pineapple Jell-O Salad is a classic Jell-O salad we have been making for as long as I can remember. It is the most simple salad. Dump all of the ingredients in a bowl and mix-that's it!! Love that!!
Strawberries and Cream Jell-O Salad is another smooth and creamy Jell-O salad that is easy to make and is loved my adults and children. With only four ingredients it is super easy and super inexpensive. The Cool Whip is the key to making this salad creamy. When you want to get the kids involved in cooking, having them mix in the Cool Whip is a great way to get them involved. They also love to garnish the salad once it is on the plate. Add a strawberry and a bit of whipping cream to the top.
Disclaimer:
All of the thoughts and opinions here, on our food recipe blog, are our own. The affiliate links (if you click on one or more) here pay us a tiny commission that will not cost you anything. The commissions help us run this web-site. We appreciate your support! Thank you so much!