If you like Terry's Chocolate Oranges, you will love this Chocolate Orange Fudge. It is creamy, delicious, and has a great orange flavor.
This post may contain affiliate links. This means, I may receive commissions if you use a link provided. All opinions here are my own.
We are so glad you are here. You will find many delicious family friendly recipes on our recipe blog. Cooking is one of our favorite things to do. We love making family favorites that have been in the family for generations, making up new recipes, and trying other people's recipes. Thank you for browsing our many recipes and have a great day cooking!
Here are a few recipe links we think you will like: Almond Joy Fudge, Peanut Brittle, Scotchmallow Cookies, Cranberry Sauce and Orange Cream Cheese Crescent Rolls.
Fudge has become a popular year round dessert and/or snack. When I was young, fudge was a fun and delicious Christmas and holiday tradition. My mom made fudge to share with family and friends for Christmas every year. She is an amazing cook. She made amazing fudge and so many delicious Christmas candies.
We have always loved fudge and are so glad it is always available. I love all of the different flavors available, too. I am also happy it is so easy to make. This fudge is easy to make and only requires 3 ingredients. It is so smooth and creamy! We love the chocolate orange flavor. I have always purchased plenty of Terry's Chocolate Oranges around Christmas but, this fudge has become a new favorite. We will be making this year round and of course for Christmas.
This recipe calls for orange extract. I like McCormick Pure Orange Extract. It gives this fudge it's delicious orange flavor. The milk chocolate chips and the sweetened condensed milk make this fudge chocolatey, smooth, and creamy. Our family has not tried this recipe using dark chocolate but, I am sure it would be fantastic. Many of us are dark chocolate fans. I will have to try that sometime soon. My husband loves white chocolate, that will be another version of this amazing recipe we will be trying in the near future.
Ingredients For Chocolate Orange Fudge:
Milk Chocolate Chips
Sweetened Condensed Milk
Orange Extract
We hope you try this fudge recipe and we hope you think it tastes nearly as delicious or even more delicious than the chocolate orange we tried to copycat. We will still be buying these at Christmastime and hoping for a couple in our stockings on Christmas morning.
Other Delicious Recipes You Will Love:
Creamy Peanut Butter Marshmallow Fudge
Mr. and Mrs. Snowman Cinnamon Rolls
Crescent Roll Bacon and Egg Bake
Chocolate Peanut Butter Fudge Dipped Pretzels
Thank you for visiting our family cookbook. Thank you for your care and support. Hoping you and your family are healthy, safe, and happy! Have a wonderful week! Love-love it if you would leave us a comment or rating. We want to know what you like and what you would like to see here in the future.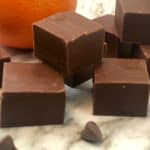 Chocolate Orange Fudge
A delicious and easy fudge recipe.
Ingredients
3

cups

milk chocolate chips

14

ounces

sweetened condensed milk

1

teaspoon

orange extract
Instructions
In a medium sauce pan, melt milk chocolate chips and sweetened condensed milk over low to medium low heat.

Slowly melt chocolate, stirring constantly.

Add orange extract when the chocolate starts to melt.

Heat until melted and chocolate becomes shiny.

Pour into a 9 X 9 foil lined baking dish. Spread if needed to smooth the top.

Allow to set up-about 4 hours at room temperature.

Cut, enjoy, and share! People love this creamy chocolate orange fudge!
Disclaimer:
All of the thoughts and opinions here, on our food recipe blog, are our own. The affiliate links (if you click on one or more) here pay us a tiny commission that will not cost you anything. The commissions help us run this web-site. We appreciate your support! Thank you so much!
I have recently purchased a double boiler (not when I posted this recipe-later-so as an update…) which has made my chocolate melting so much better. It was easy to use and melted the chocolate so nicely. Not having to be so concerned that the chocolate would get to hot and dry out and be un-useable or burn and also be un-useable was fantastic! Even though I was not worried as much, I still stayed with my melting chocolate stirring often.
(Visited 7,154 times, 1 visits today)