This recipe for Crock Pot Chicken and Gravy is literally the easiest thing I've ever made and had it count as a proper dinner. There are so many great things about this recipe! It only needs three ingredients, it's super cheap, the ingredients are all pantry items I typically have on hand, and it gets thrown in the crock pot for you to forget about it. I'm not sure if it gets any better than that!
This post may contain affiliate links. This means, I may receive commissions if you use a link provided. All opinions here are my own.

Ingredients Needed For Crockpot Chicken and Gravy:
1 lb. chicken
1 can chicken broth
1 pkg. chicken gravy mix
Instructions For Chicken and Gravy:
When I make this recipe, I use this Crock Pot and it is wonderful. I love how it is on the smaller side for smaller meals like this so I don't always have to get out my huge one.
This recipe could easily be doubled or tripled to feed your family or if you need to feed a group. I love how cozy this recipe is over mashed potatoes too. It makes the perfect, hearty, comfort food.
You need to make this Crock Pot Chicken and Gravy for dinner this week! It is so easy and delicious, it will become a regular at your house.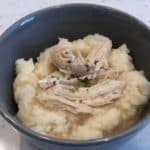 Crock Pot Chicken and Gravy
An easy crock pot recipe that makes tender chicken and seasoned gravy all in the same pot.
Ingredients
1

lb.

chicken

1

can

chicken broth

1

pkg.

chicken gravy mix
Instructions
In the crock pot, add the chicken and chicken broth.

Cook on high for 3 hours.

Remove the chicken and shred into your desired size of pieces.

Pour gravy mix into the crock pot and stir until combined and warmed through.

Add the shredded chicken back into the crock pot to coat them in the gravy.

Serve over mashed potatoes.
Other Recipes You Will Love: 💕
Easy Crock Pot Macaroni and Cheese