Looking for something fun to make for Valentine's Day for your family or for a party? This Valentine's Day Charcuterie Dessert Board is it! Kids and adults will love this dessert board. There are so many options for charcuterie boards and so much fun!
This post may contain affiliate links. This means, I may receive commissions if you use a link provided. All opinions here are my own.
We are so glad you are here. You will find many delicious family friendly recipes on our recipe blog. We love to cook and hope to be able to help you with making great recipes for your family and friends. Here are a few other recipe links to continue your search: The Best Gooey Caramel Corn, Vanilla Cinnamon French Toast, Buttery Boiled Corn on the Cob, Creamy Steak Enchiladas, Orange Cream Cheese Crescent Rolls, Creamy Cajun Pasta, Little Smokies Breakfast Bake, Toasted Turkey Bacon Ranch Sandwiches, Nutty Buddy Cupcakes and Scotchmallow Cookies.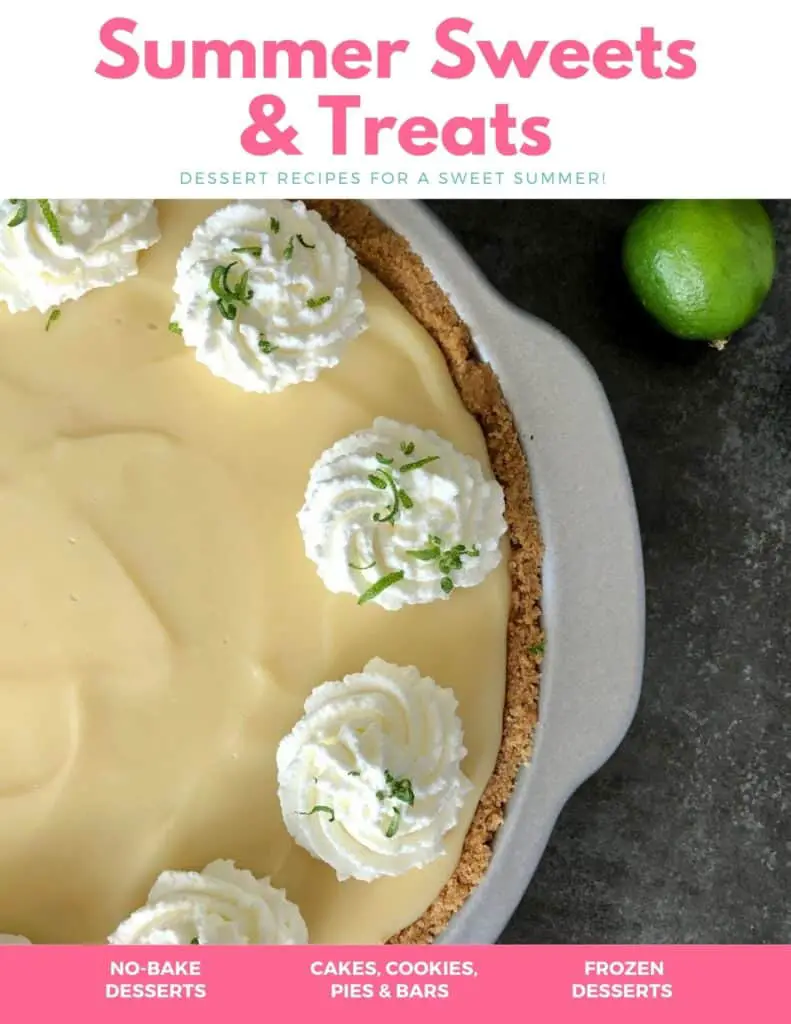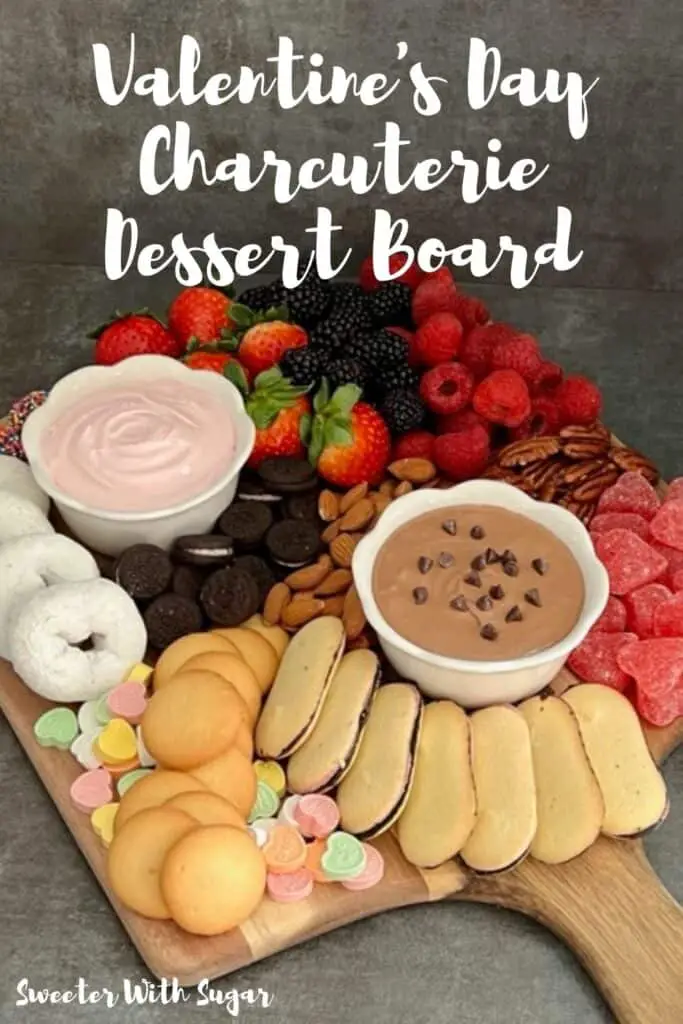 Ingredients Needed for Valentine's Day Charcuterie Dessert Board:
Fruit dips-the ones we used are: Easy Fruit Dip
Valentine candies-there are so many to choose from-use your family's favorites
Fruit-berries are perfect for charcuterie boards
Cookies-use miniature cookies and regular sized-it all depends on how big your charcuterie board is
Nuts
Donuts
Mini chocolate chips for decoration
NOTE: There are so many fun ideas. You could use cinnamon lips, Starburst heart shaped jelly beans, red hots, Lindt Lindor Truffles, Swedish Fish, Starburst-Reds, macarons, Mother's X & O's Cookies…so many options.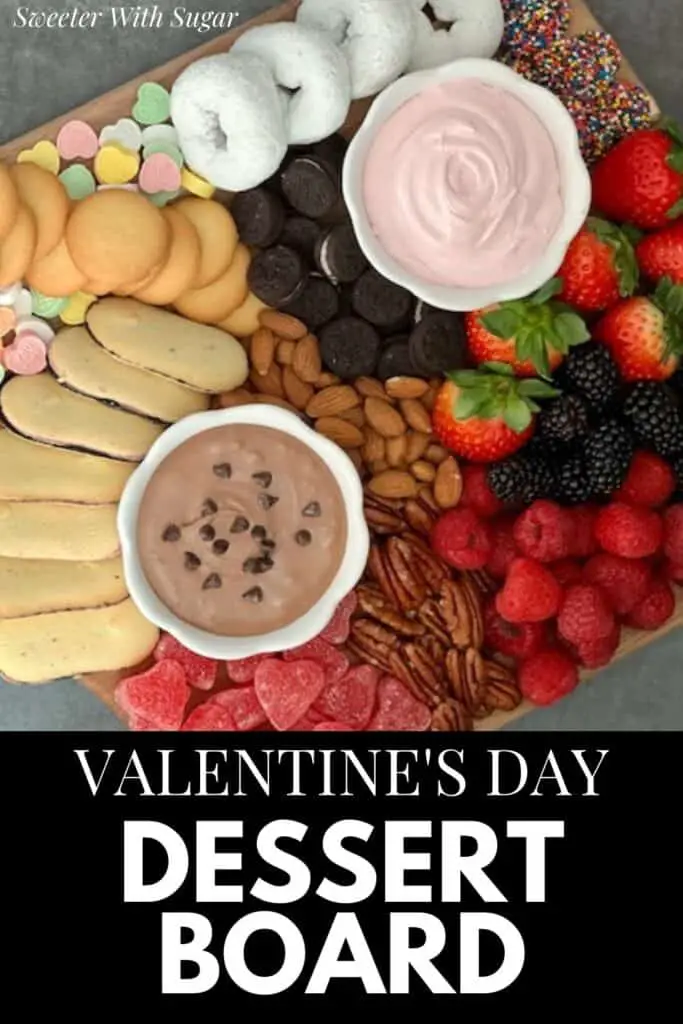 Instructions for Valentine's Day Charcuterie Dessert Board:
You can use a charcuterie board, cutting board or platter.
Make fruit dips: we used two fruit/dessert dips-a chocolate and raspberry dip. You can find the recipes for those dips right here 👉 Easy Fruit Dip.
Wash and pat the fruit dry with paper towels.
Arrange your fruit (we used strawberries, blackberries and raspberries), Valentine candy (we used cherry jelly hearts, conversation hearts and dark chocolate rainbow nonpareils), nuts (we used almonds and pecans), Hostess Donettes, and cookies (we used Vanilla Wafers, mini Oreos and Pepperidge Farm's Raspberry Chocolate Milanos). There are so many options. Use your favorite cookies and candies. Use more or less fruit and nuts. Make sure you add your families favorite Valentine treats.
Serve this fun charcuterie board and enjoy some time with family and friends. We hope you have a Happy Valentine's Day! 💕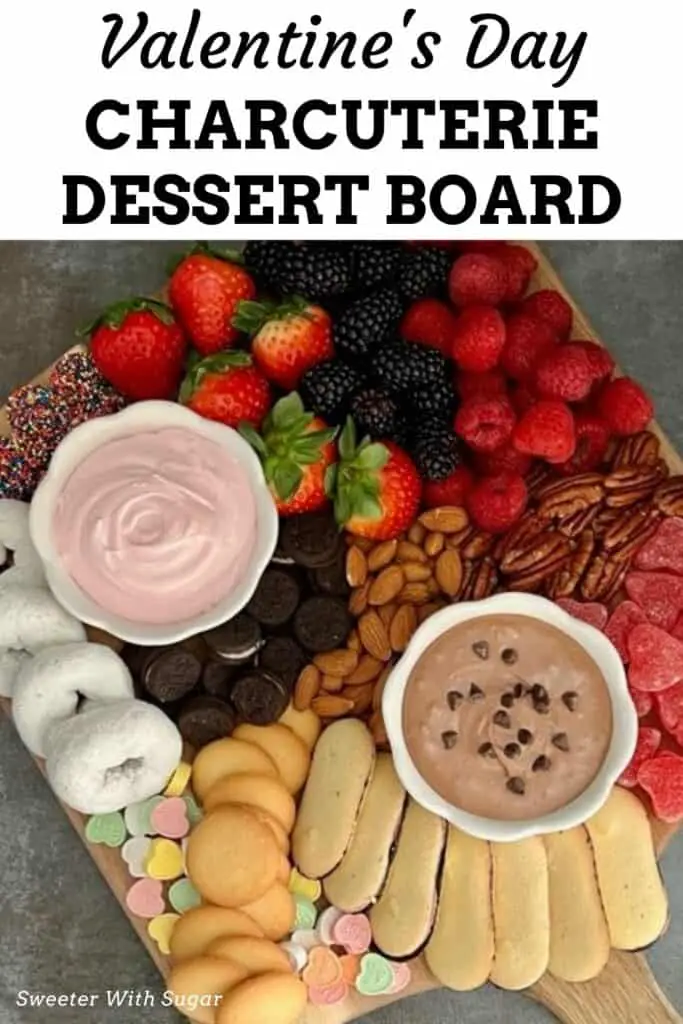 Other Fun Recipes You May Love: 💕
Easy Fruit Dip-These dips are the ones I used for this Valentine's Day Dessert Board 😊❤️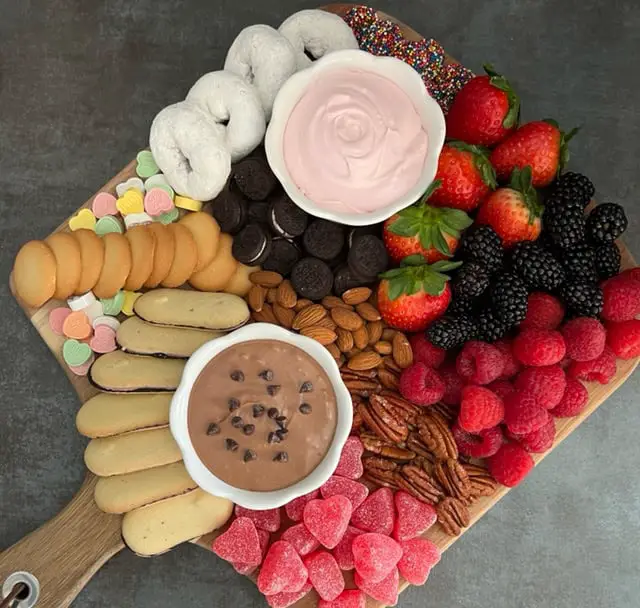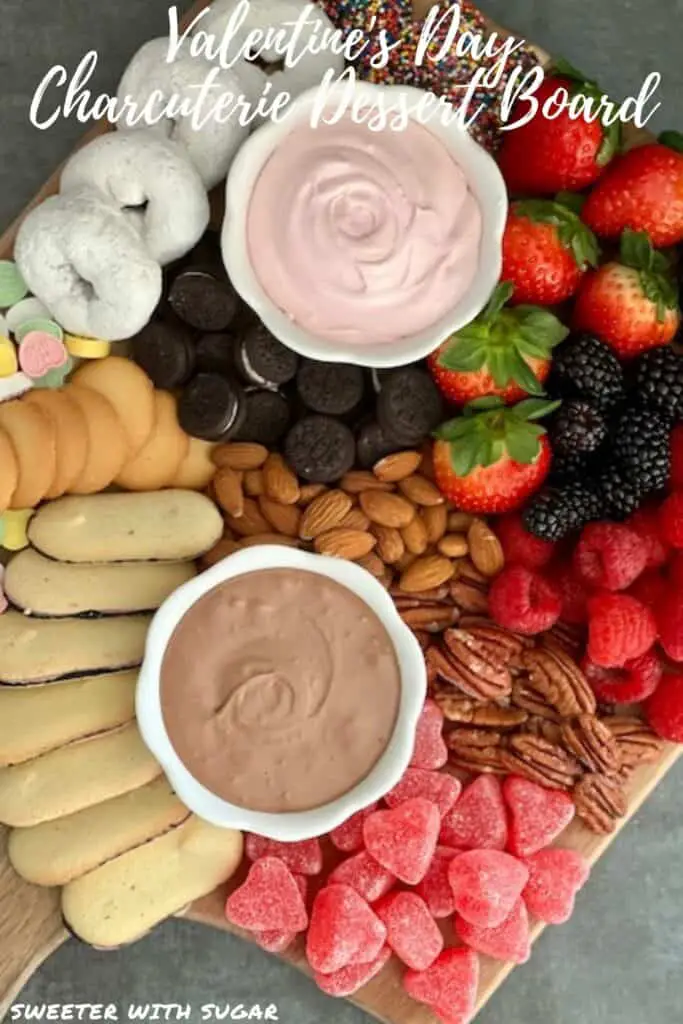 Disclaimer:
All of the thoughts and opinions here, on our family food and recipe blog, are our own. The affiliate links (if you click on one or more) here pay us a tiny commission that will not cost you anything. The commissions help us run this web-site. We appreciate your support! Thank you so much!
We all want to thank you for visiting and trying recipes from our recipe blog. Your support is very much appreciated. All of us are hoping that all of you are staying healthy, strong and happy. Have a fantastic day and an even better week. Have fun cooking and remember to get the kids involved where it is safe to do so. They may love it and it is a great activity for quality family time. Family and friends are the best!