These Pineapple Chicken Lettuce Wraps are a great easy and healthy dinner. Crock pot meals are some of my favorites to make because of how effortless they are. This recipe is no different, it is so easy and quick. I should also add, this combination of ingredients in your crock pot will make your house smell lovely all day. That is another reason I love crock pot recipes so much because you get to smell yummy food all day.
This post may contain affiliate links. This means, I may receive commissions if you use a link provided. All opinions here are my own.

Ingredients Needed For Pineapple Chicken Lettuce Wraps:
1 lb. chicken
20 oz. pineapple crushed
¼ cup soy sauce
3 Tbsp. honey
3 Tbsp. ketchup
1½ tsp. garlic powder
1½ tsp. onion powder
Lettuce
Instructions For Pineapple Chicken Lettuce Wraps:
Like I said, this recipe is EASY! All you do is combine the pineapple (with the juice), soy sauce, honey, ketchup, and some seasonings in the crock pot. You mix that together, add in your frozen chicken breast and spoon the pineapple mixture over the top of it. After either 4 or 8 hours you come back to shred the chicken. After that, you let the smaller pieces soak up the pineapple mixture and then you spoon it into pieces of lettuce to enjoy!
You can eat these Pineapple Chicken Lettuce Wraps without the lettuce if you want too. The pineapple chicken is just as great in a flour tortilla. I hope you enjoy this recipe!
Other Recipes You Will Love: ❤️
Bacon Cheeseburger Lettuce Wraps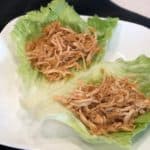 Pineapple Chicken Lettuce Wraps
An easy and healthy crock pot pineapple chicken recipe that gets wrapped in lettuce.
Ingredients
1

lb.

chicken

20

oz.

pineapple

crushed

¼

cup

soy sauce

3

Tbsp.

honey

3

Tbsp.

ketchup

1½

tsp.

garlic powder

1½

tsp.

onion powder

Lettuce
Instructions
Add the pineapple, soy sauce, honey, ketchup, onion powder, and garlic powder to the crock pot. Stir to combine everything together.

Place the chicken in the crock pot and spoon the pineapple mixture over the chicken.

Cook on low for 8 hours or high for 4 hours.

Remove chicken and shred it. Add the chicken back in and let it sit for about 5 minutes so the chicken can soak up some of the juice.

Spoon chicken onto lettuce wraps and enjoy!
Disclaimer:
All of the thoughts and opinions here, on our family food and recipe blog, are our own. The affiliate links (if you click on one or more) here pay us a tiny commission that will not cost you anything. The commissions help us run this web-site. We appreciate your support! Thank you so much!
We all want to thank you for visiting and trying recipes from our family recipe blog. Your support is very much appreciated. All of us are hoping that all of you are staying healthy, strong and happy. Have a fantastic day and an even better week. Have fun cooking and remember to get the kids involved where it is safe to do so. They may love it and it is a great activity for quality family time. Family and friends are the best!