This Taco Bell Copycat Crunchwrap Supreme recipe is delicious and fun to make! This is a must try-you may just like it better than the original.
This post may contain affiliate links. This means, I may receive commissions if you use a link provided. All opinions here are my own.
We are so happy to have you here today-we have hundreds of recipes here for you to browse through. Cooking is one of our favorite things to do and we want to share these recipes with you in hopes that we make getting meals on the table easier for you. Here are a few recipe links we think you will enjoy: Skillet Garlic Butter Asparagus, The Best Gooey Caramel Corn, Slow Cooker Pork Loin and Vegetables, Breakfast Tacos, Boneless Honey BBQ Wings-Buffalo Wild Wings Copycat, Scotchmallow Cookies, Salted Caramel Chocolate Chip Cookies, Churro Corn Pops, Almond Joy Fudge, Homemade Pizza Sauce, 25 Cinco de Mayo Recipes, Orange Chicken, Chicken Bacon Ranch Meatloaf and Caprese Chicken Casserole.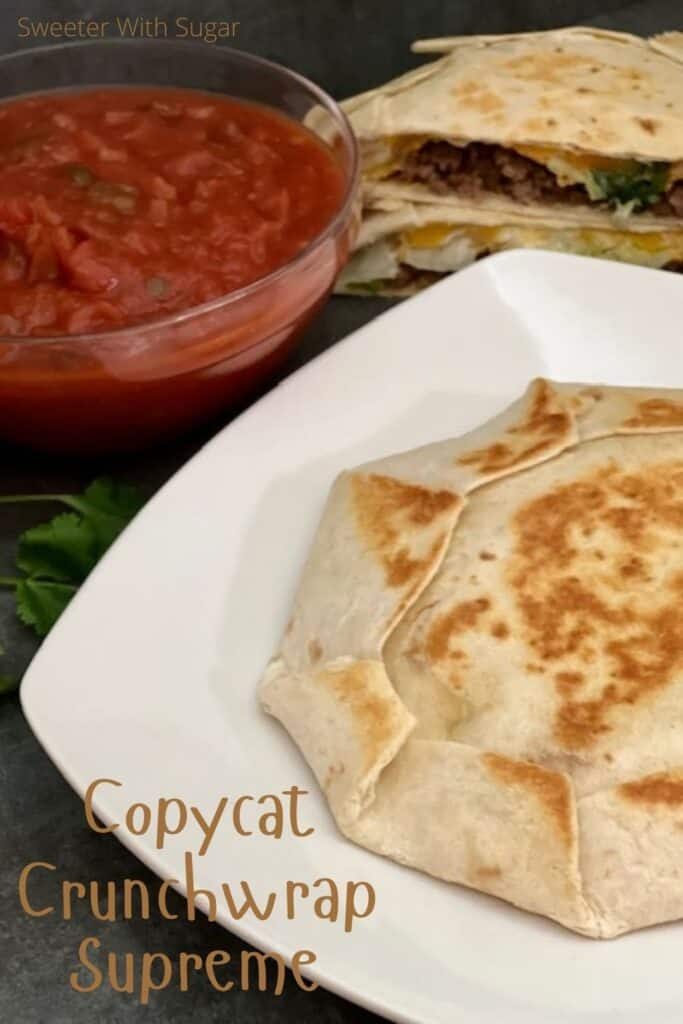 Ingredients Needed For Copycat Crunchwrap Supreme:
Flour tortillas, burrito size
Flour tortillas, fajita size
Tostadas
Ground beef, one pound
1 package taco seasoning (1.25 ounces)
15 ounce can Rico's Nacho Cheese Sauce, warmed in the microwave
Sour cream
Cilantro, chopped
Tomatoes, diced
Lettuce, chopped
Cheddar cheese, grated
Monterey Jack cheese, grated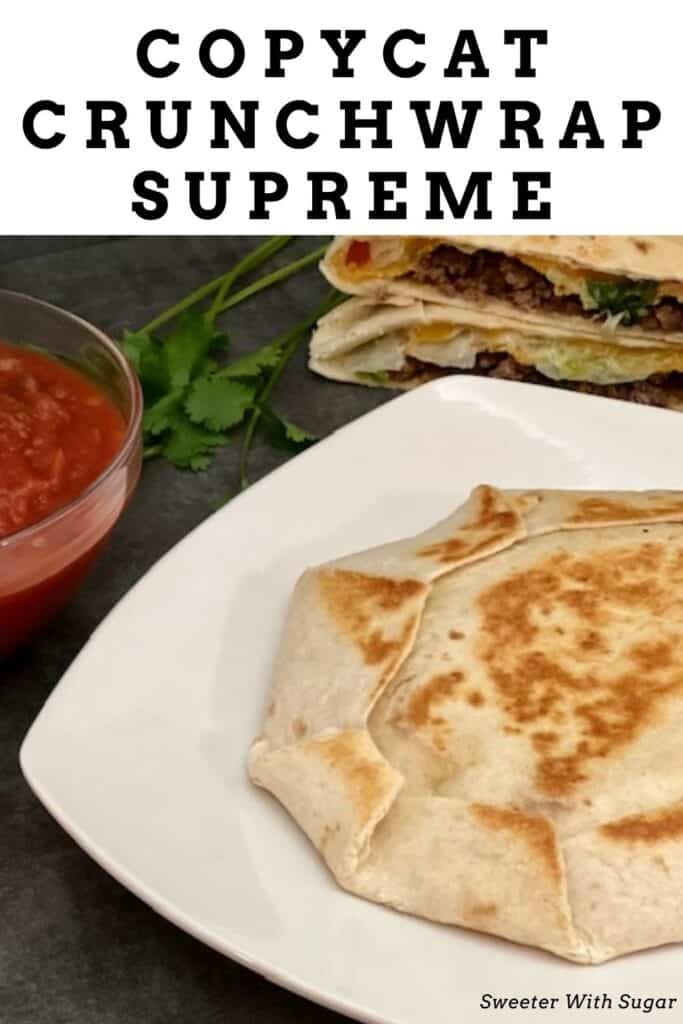 Instructions For Copycat Crunchwrap Supreme:
1. Crumble cook ground beef. Then, add taco seasoning and water-following the package instructions.
2. Prepare toppings: chop the vegetables and grate the cheese.
3. Build crunch wrap: 1. Place burrito size tortilla on a plate.  2. Place some taco meat in the middle of the tortilla. 3. Place one tostada on top of meat. 4. Spread nacho cheese sauce on top of tostada. 5. Spread sour cream on top of nacho cheese sauce. 6. Top with lettuce, tomatoes, cilantro, cheese, and on top of the tomatoes, cilantro and cheese-place the the fajita size tortilla. 7. Fold burrito tortilla around everything in the center.
4. Either spray a frying pan or an electric frying pan (I use an electric frying pan so I can brown three at a time) with cooking spray or pour a bit of oil in the pan.
5. Brown each side of the crunch wrap-starting with the folded side down. Serve and enjoy.
Cook's Note: One pound of ground beef made eight crunchwraps.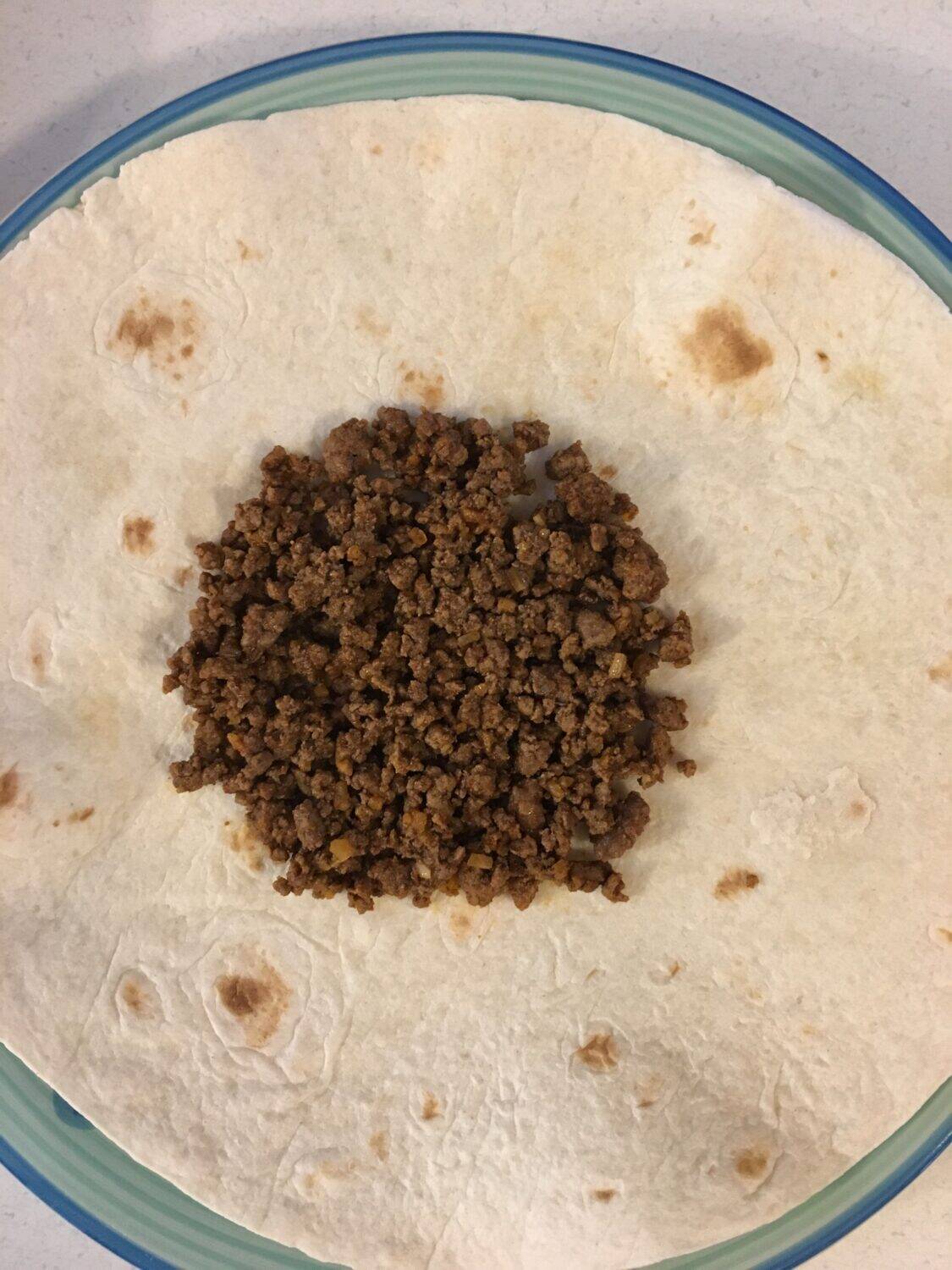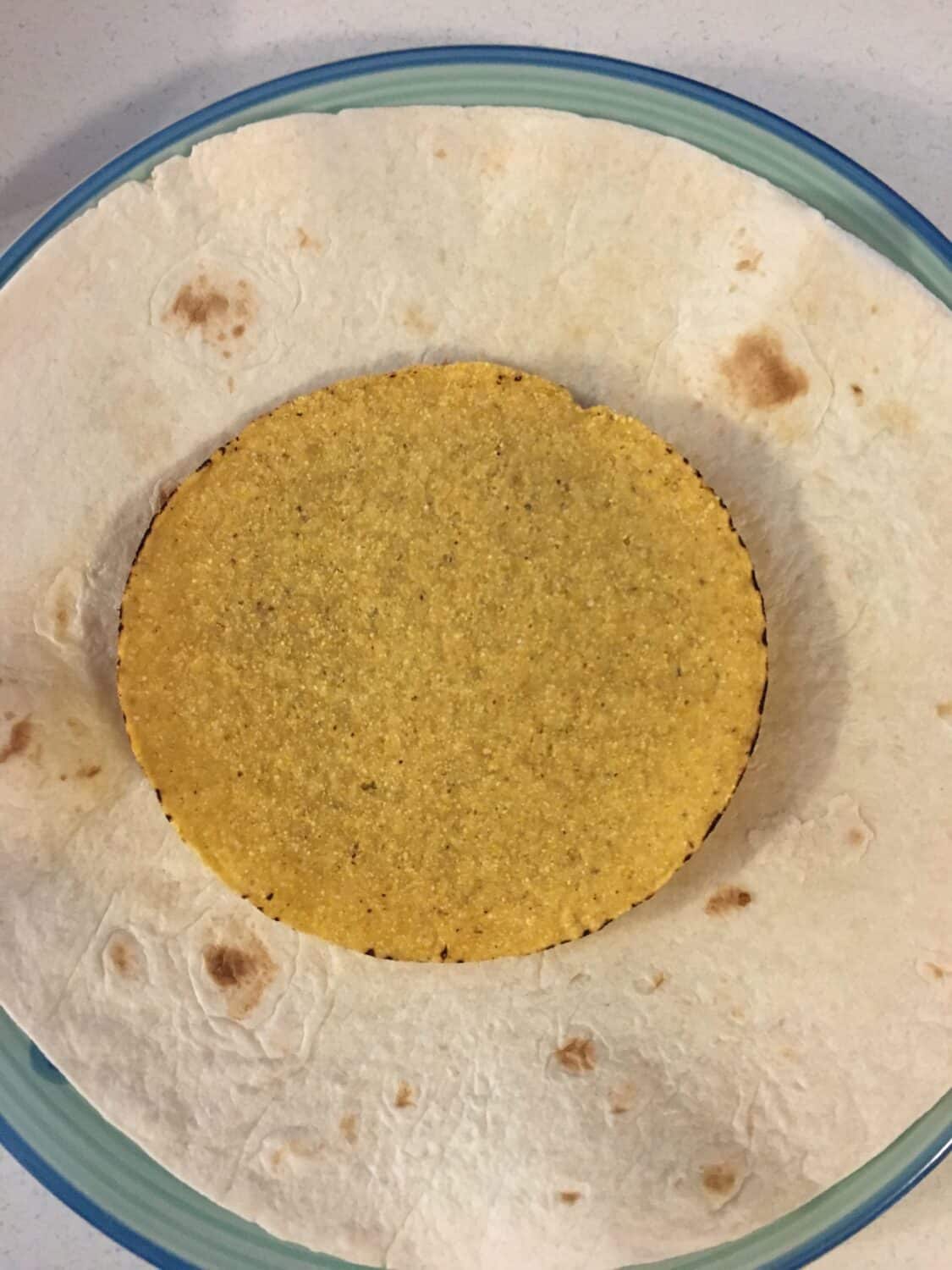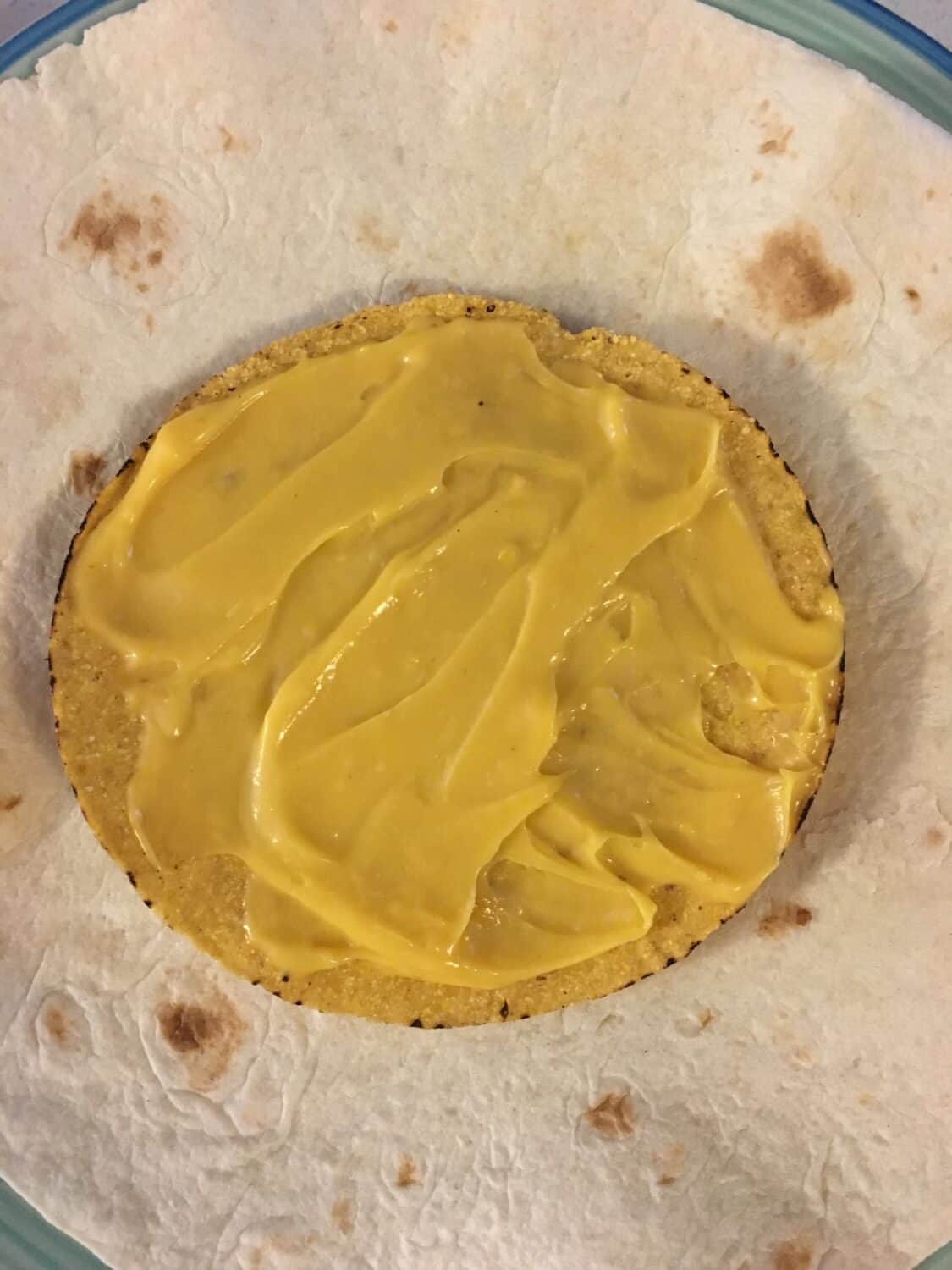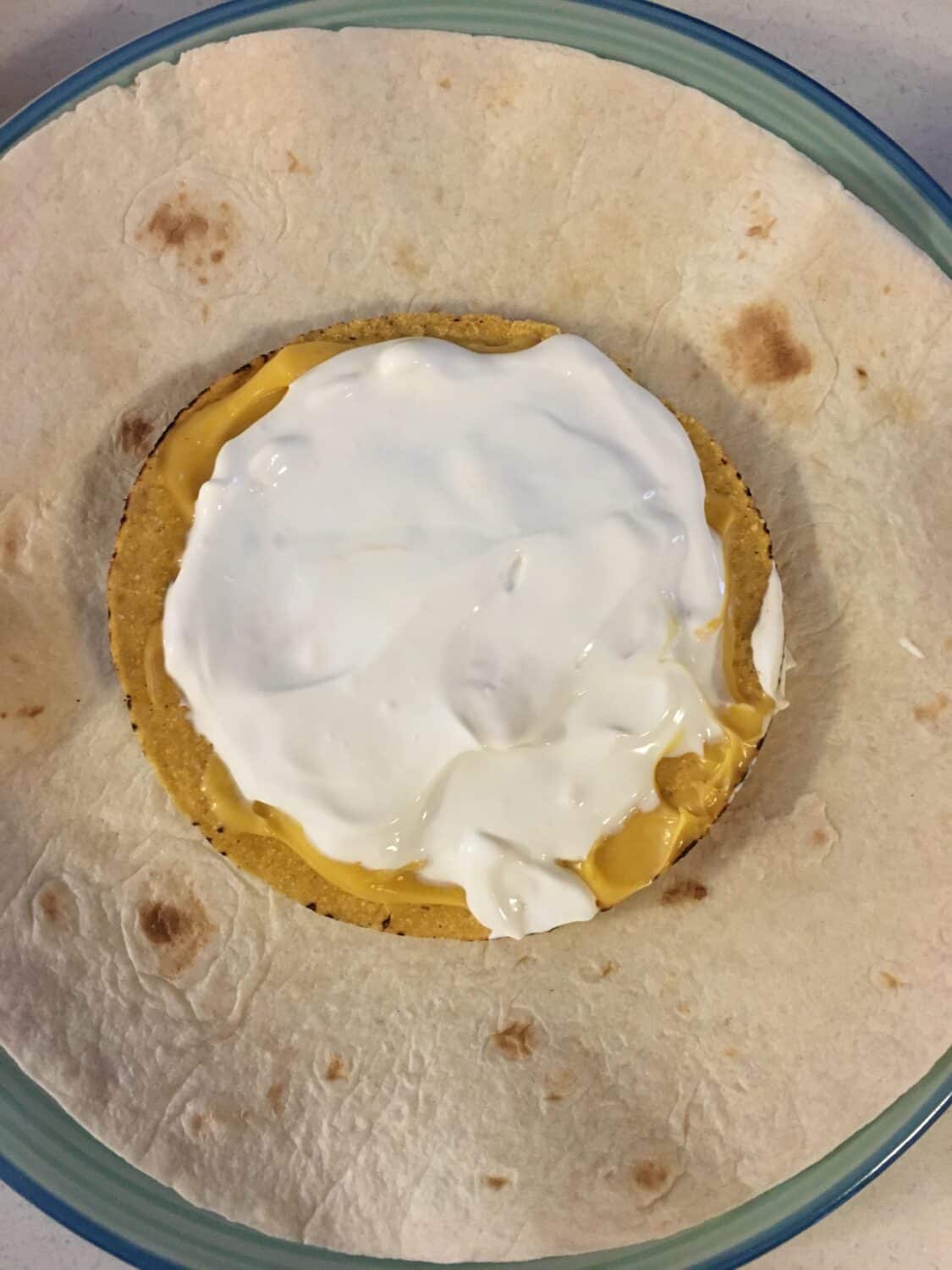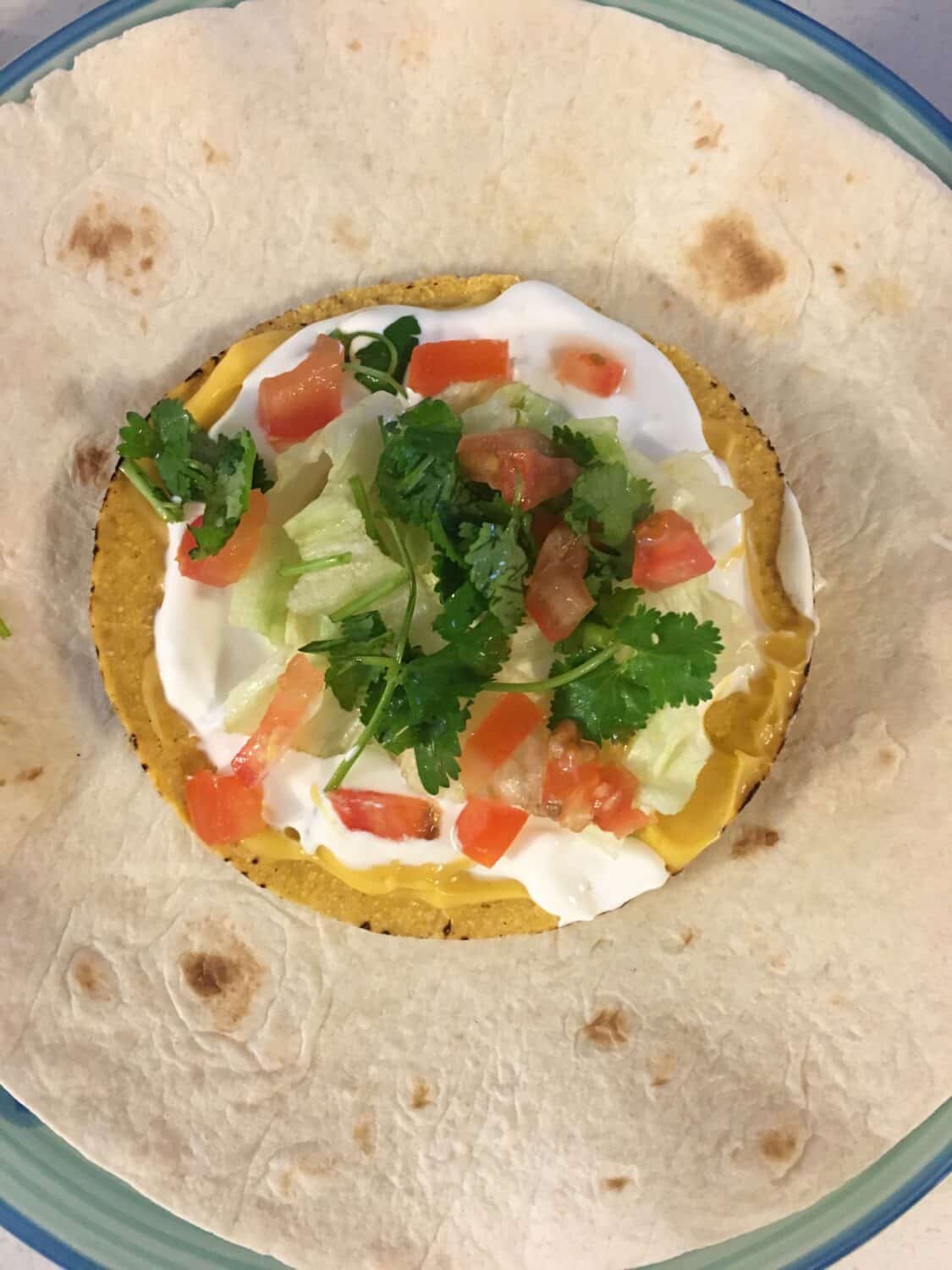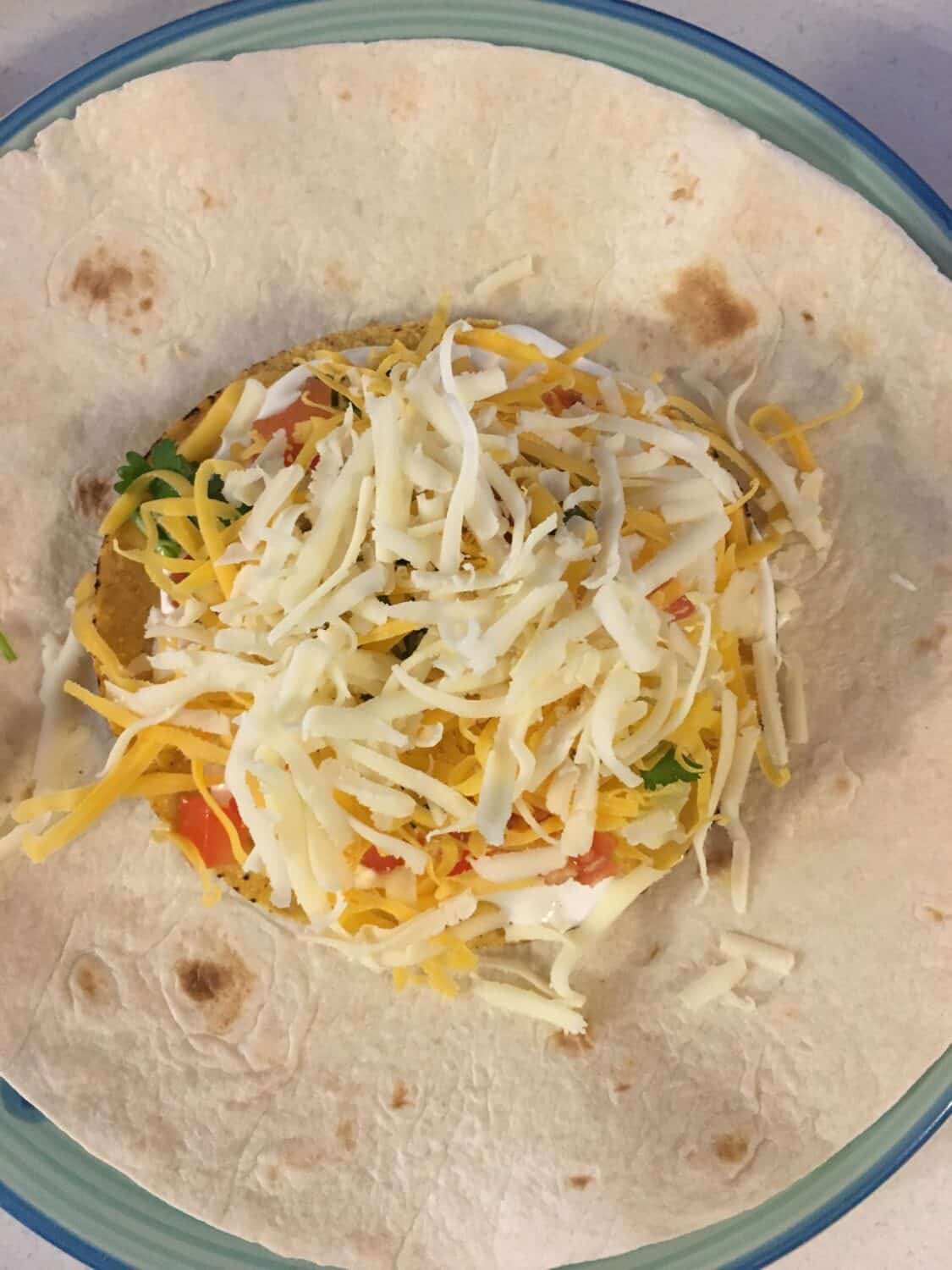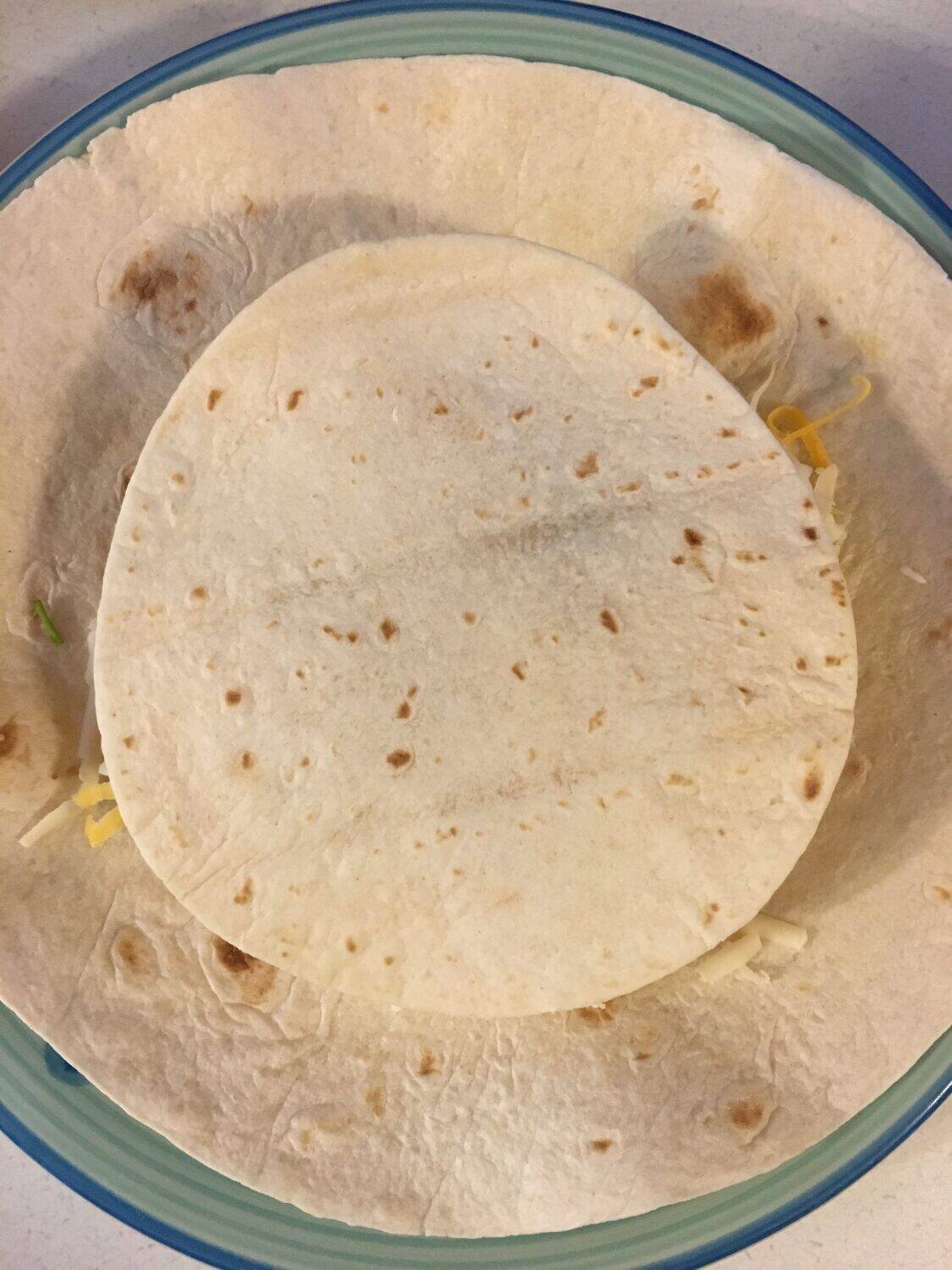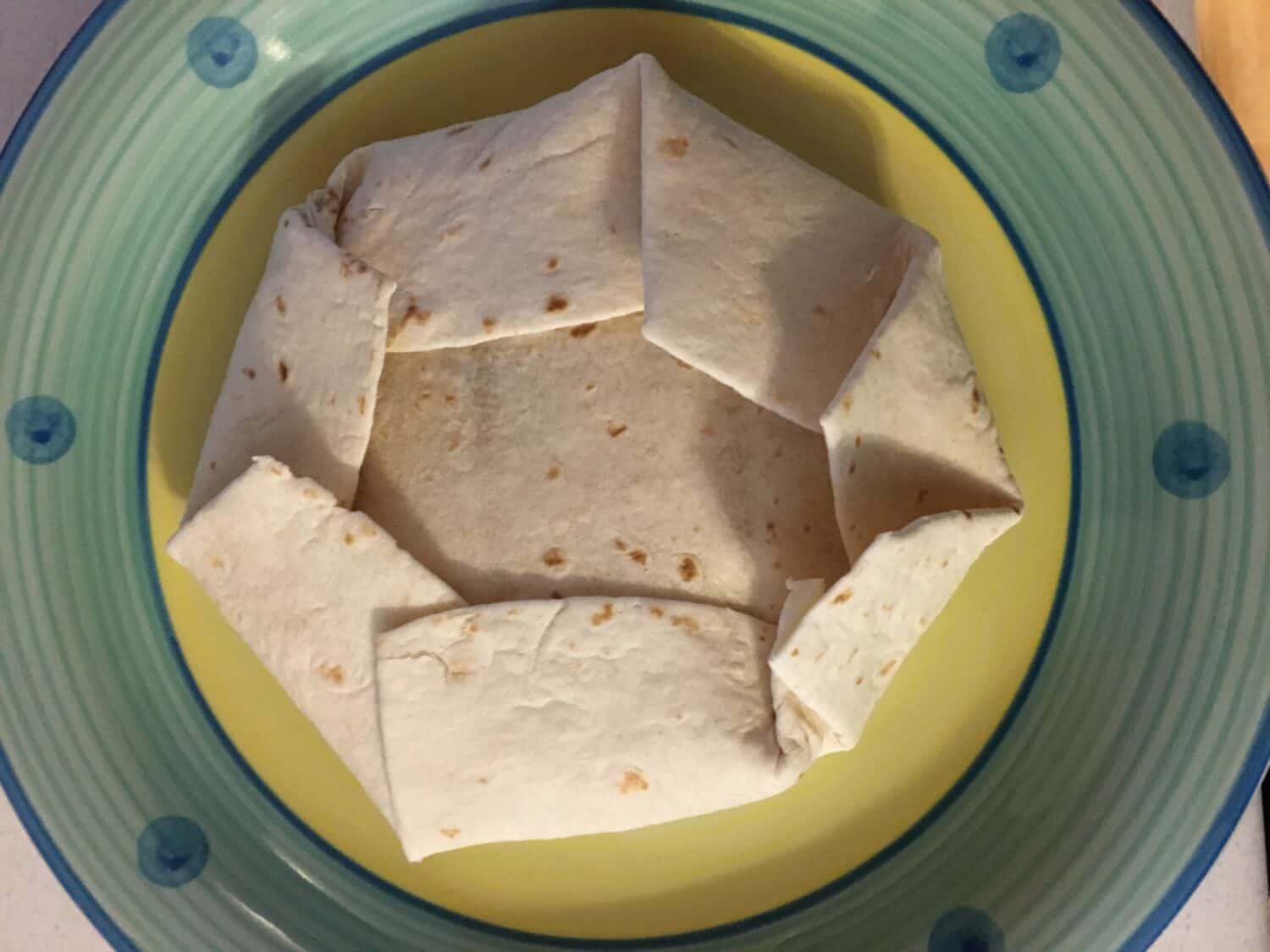 Other Recipes You Will Love: 💕
Copycat Cafe Rio Sweet Pork Burrito
Copycat Cheesecake Factory Louisiana Chicken Pasta
Barbecue Pulled Pork Mac & Cheese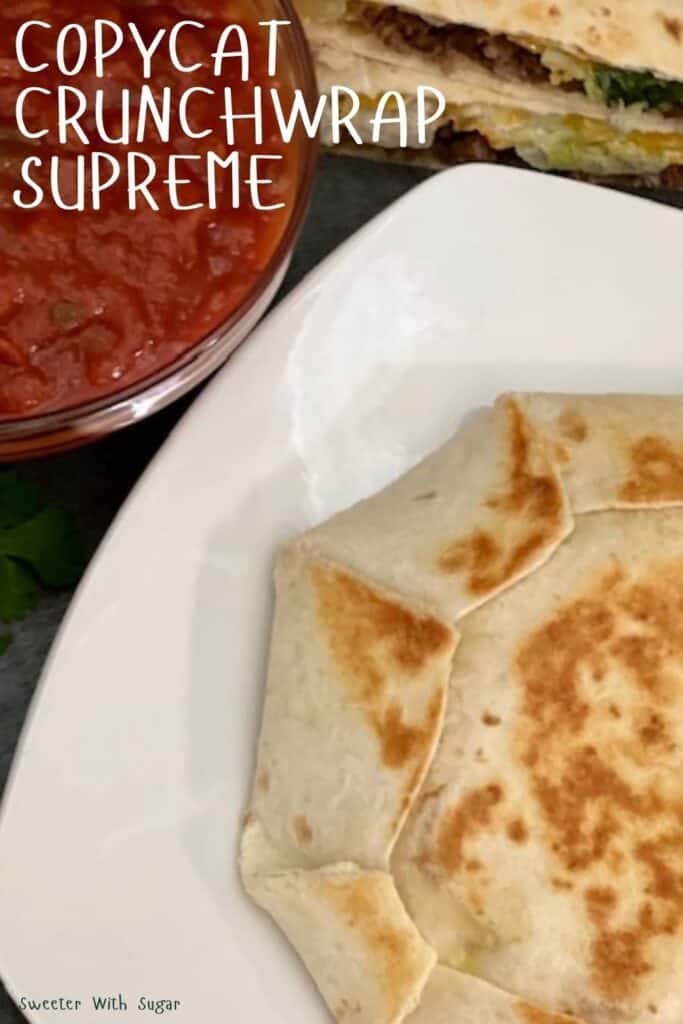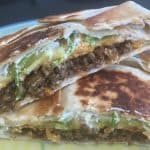 Copycat Crunchwrap Supreme
A better than the original copycat recipe.
Ingredients
8

flour tortillas

burrito size

8

flour tortillas

fajita size

8

tostadas

1

pound

lean ground beef

1.25

ounces

taco seasoning

15

ounce can

Rico's Nacho Cheese

sour cream

cilantro leaves

tomatoes

diced

lettuce

shredded

cheddar cheese

shredded

Monterey Jack cheese

shredded
Instructions
Crumble cook ground beef, drain any fat, then add taco seasoning and water as directed on the taco seasoning package.

Place a burrito sized flour tortilla on a plate and place 1/8 of the taco meat in the center-more if desired.

Place tostada on top of the meat.

Top the tostada with nacho cheese sauce, sour cream, lettuce, tomatoes, cilantro and grated cheese.

Top the grated cheese with a fajita size flour tortilla.

Fold the burrito size tortilla around the fajita tortilla.

Place folded side of the Crunchwrap into a greased frying pan and heat through and brown. Turn the Crunchwrap over and brown the other side. Enjoy with extra salsa or hot sauce, if desired.
Disclaimer:
All of the thoughts and opinions here, on our family food and recipe blog, are our own. The affiliate links (if you click on one or more) here pay us a tiny commission that will not cost you anything. The commissions help us run this web-site. We appreciate your support! Thank you so much!
We all want to thank you for visiting and trying recipes from our family recipe blog. Your support is very much appreciated. All of us are hoping that all of you are staying healthy, strong and happy. Have a fantastic day and an even better week. Have fun cooking and remember to get the kids involved where it is safe to do so. They may love it and it is a great activity for quality family time. Family and friends are the best!