This fun Edible Easter Basket is a cute gift for children, family, neighbors, or friends. It is extra fun to personalize them with their favorite candies.
This post may contain affiliate links. This means, I may receive commissions if you use a link provided. All opinions here are my own.
Welcome to our family recipe blog. You will find hundreds of recipes to browse through. Here are a few other links to recipes we think you will enjoy: The Best Gooey Caramel Corn, Easter Snack Mix, Vanilla Cinnamon French Toast, Buttery Boiled Corn on the Cob, Orange Cream Cheese Crescent Rolls, Creamy Cajun Pasta, Little Smokies Breakfast Bake, Toasted Turkey Bacon Ranch Sandwiches, Almond Joy Fudge, Nutty Buddy Cupcakes, Taffy Sundae and Scotchmallow Cookies.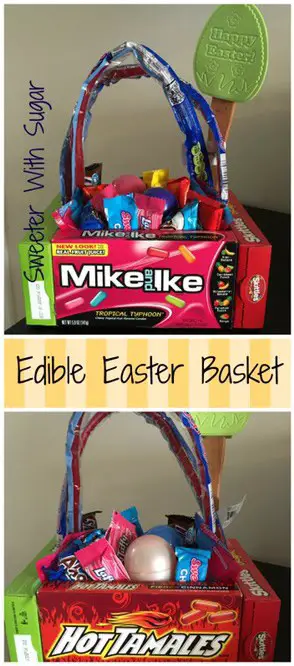 I saw this Edible Easter Basket years ago and decided to make them for my children. They thought they were fun-they loved them. I had fun making them, too!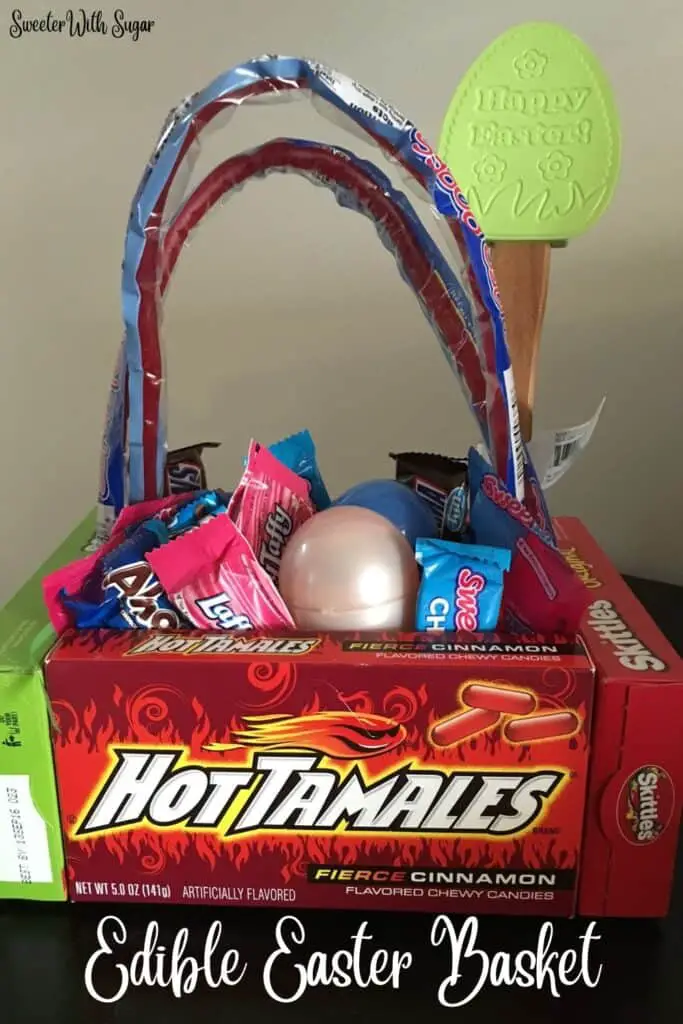 Supplies Needed for this Edible Easter Basket:
4 boxes of theater size boxes of candy- personalize them with your family's favorites candies
1 licorice rope or Nerd rope
Easter grass 
Favorite candy (I added a cute spatula, too) to fill the Easter basket
Hot glue and a hot glue gun
A piece of thick cardboard to glue to the bottom of the candy boxes to make the basket
Ribbon for decoration, if desired
Plastic eggs, if desired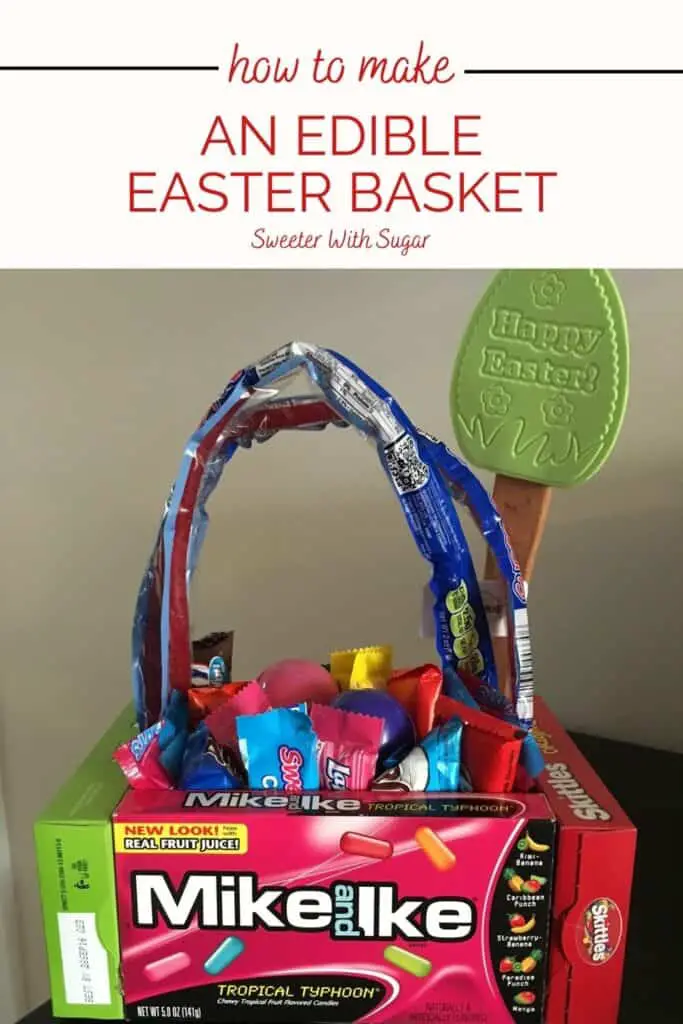 How to Make this Edible Easter Basket:
1. Glue the four candy boxes into a square with hot glue. 
2. Trace the bottom of the box you have formed with the four candy boxes onto the cardboard. Cut the cardboard out a little smaller than the traced marking so it won't show. Then, glue it to the bottom of the formed box. 
3. Glue the licorice rope to the inside of the box to form the handle. Note: this "handle" is not strong enough to carry the completed basket. It is just for decoration.
4. When the glue has dried, fill the bottom of your Easter basket with Easter grass. Then, add desired candy and gifts. 
5. Decorate with ribbon, if desired. 
Have fun making this cute and easy gift. 
Some Recipes You Will Love: 💕
Twisted Sugar Coconut Lime Cookies Copycat
Copycat Crumbl Chocolate Chip Cookies
Disclaimer:
All of the thoughts and opinions here, on our family food and recipe blog, are our own. The affiliate links (if you click on one or more) here pay us a tiny commission that will not cost you anything. The commissions help us run this web-site. We appreciate your support! Thank you so much!
We all want to thank you for visiting and trying recipes from our family recipe blog. Your support is very much appreciated. All of us are hoping that all of you are staying healthy, strong and happy. Have a fantastic day and an even better week. Have fun cooking and remember to get the kids involved where it is safe to do so. They may love it and it is a great activity for quality family time. Family and friends are the best!