Jell-O salads are always a great addition to dinner. You will love this Raspberry Sherbet Jell-O Salad, it is a must try!
This post may contain affiliate links. This means, I may receive commissions if you use a link provided. All opinions here are my own.
Welcome to our family recipe blog! There are hundreds of recipes here for you to browse through. Here are a few recipe links to start your search-that we think you will enjoy: Creamy Orange Sherbet Jell-O Salad, Mandarin Orange Jell-O Salad, Strawberries and Creme Jell-O Salad, Pistachio Pineapple Jell-O Salad, The Best Cauliflower Salad, Hasselback Bottoms, BLT Pasta Salad, Chipotle Pasta Salad, Homemade Root Beer, Copycat Twisted Sugar Coconut Lime Cookies and Copycat Crumbl Chocolate Chip Cookies.
Check This Out-I bought this recently, it is such a great size, price and great to help me keep walking this winter! ❤️
Ingredients Needed for Raspberry Sherbet Jell-O Salad:
Raspberry Jell-O
Water
Raspberry sherbet
Heavy whipping cream
Sugar
Fresh raspberries, to garnish
Reddi Wip, to garnish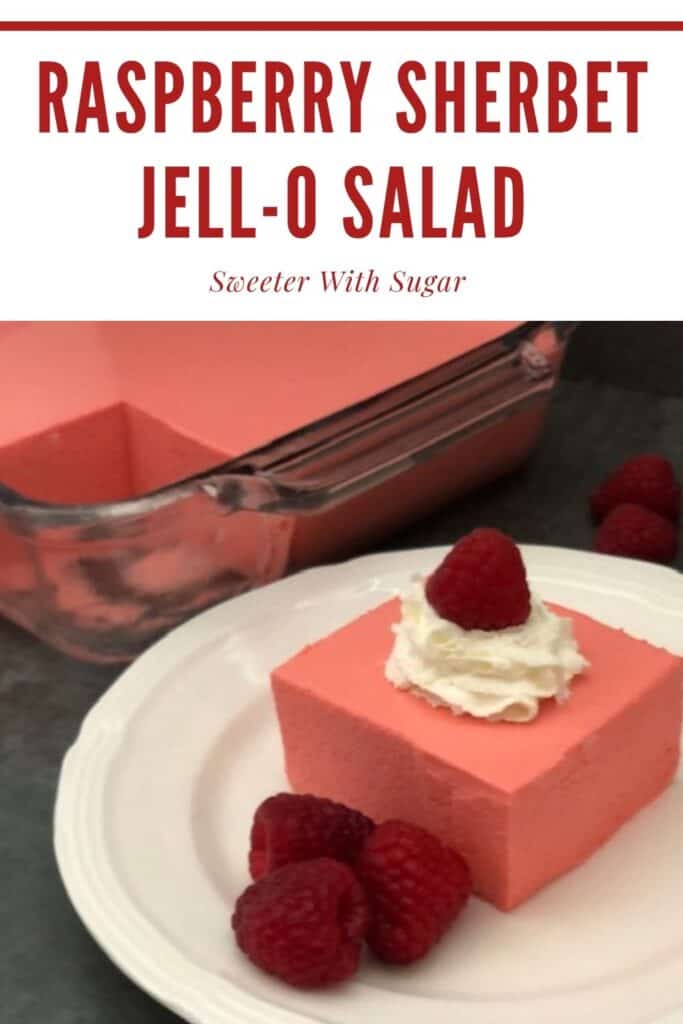 Instructions for Raspberry Sherbet Jell-O Salad:
In a small sauce pan, (but big enough to dissolve the Jell-O and then stir in the sherbet) bring one cup of water to a boil.
When water is boiling, add the raspberry Jell-O gelatin and stir until completely dissolved.
Remove the sauce pan from heat and stir in Sherbet until melted and well combined. Set this mixture aside.
In a mixing bowl, add heavy cream and 1 tablespoon of white sugar. Whip whipping cream and sugar until thick and peaks form-about 4 minutes.
Combine the Jell-O mixture and whipped whipping cream. Stir mixtures together until smooth and combined. 
Pour the Jell-O and whipping cream mixture into a 2-quart Pyrex dish.
Cover the baking dish with plastic wrap or a lid, and refrigerate until set and chilled (for about 3-4 hours).
Serve with fresh raspberries and Reddi Wip whipped topping, if desired.
Enjoy this delicious Jell-O salad for Christmas, Valentine's Day, Thanksgiving, Fourth of July or any day-it is beautiful and perfectly delicious.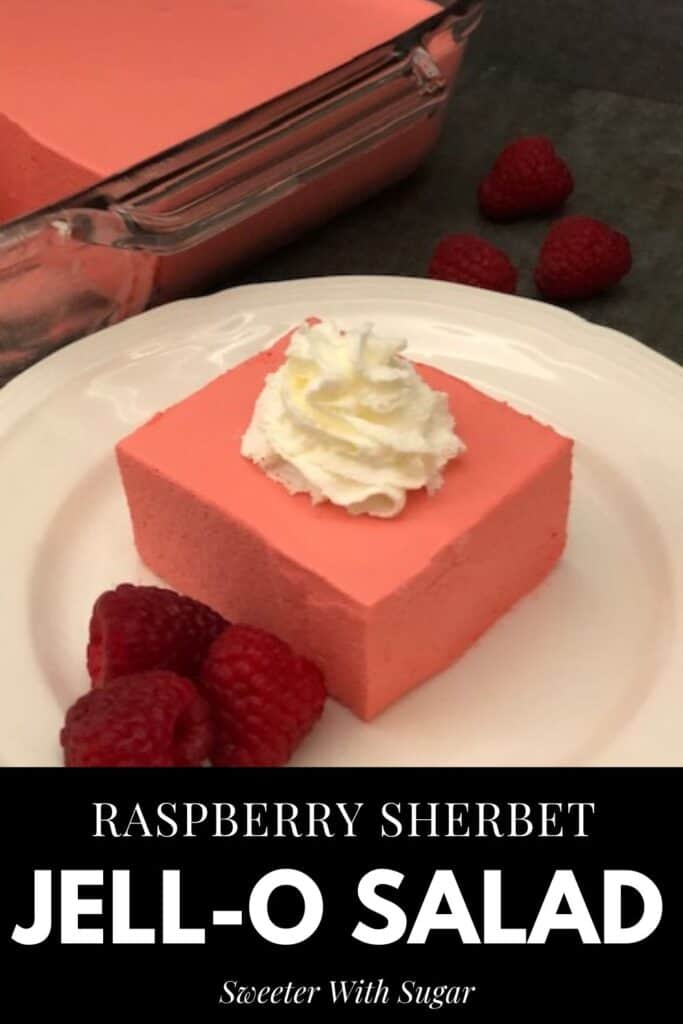 Other Recipes You May Love: 💕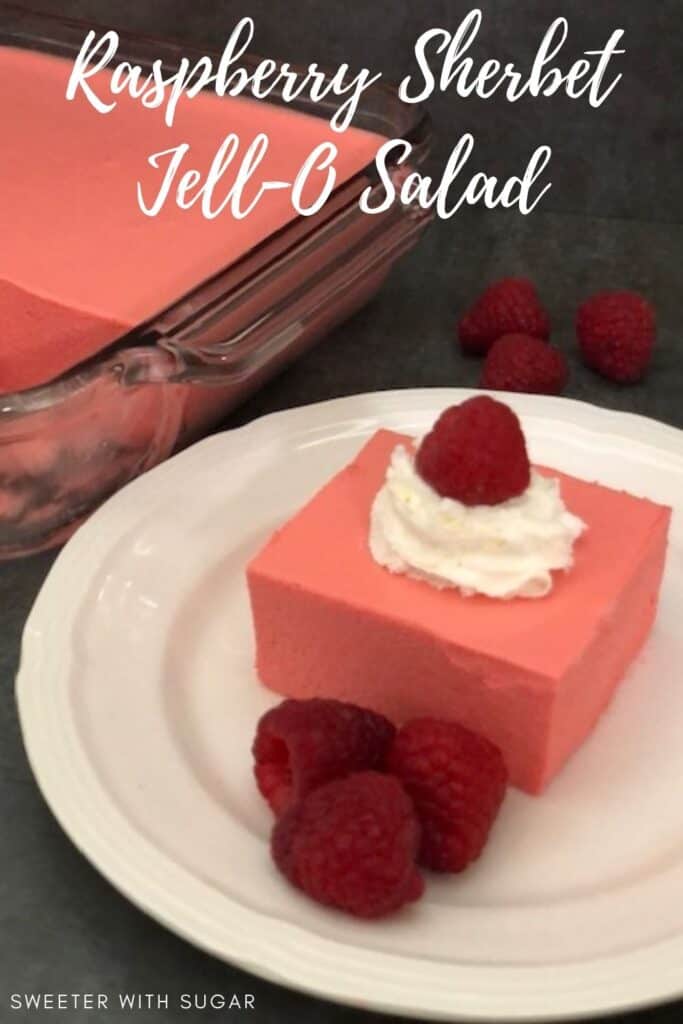 Raspberry Sherbet Jell-O Salad
A smooth and creamy Jell-O salad that is perfect for the holidays or any dinner.
Total Time
4
hours
10
minutes
Ingredients
2-

3 ounce packages

raspberry Jell-O gelatin

1

cup

water

2

cups

raspberry sherbet

8

ounces

heavy whipping cream

1

tbsp

sugar

fresh raspberries

for serving

Reddi Wip whipping cream

for serving
Instructions
Bring water to a boil in a small sauce pan (big enough to stir in Jell-O and sherbet). Then, stir in Jell-O gelatin until dissovled.

Remove from heat and stir in sherbet. Stir to melt.

In a mixing bowl, whip heavy cream and sugar for about 4 minutes, until whipping cream thickens and forms peaks.

Combine the Jell-O with the whipping cream until well blended and smooth.

Pour mixture in a 2-quart Pyrex dish.

Cover with plastic wrap or lid and refrigerate until set and well chilled-3-4 hours. 

Serve with extra Reddi Wip whipping cream and fresh raspberries, if desired. Enjoy this refreshing Jell-O salad.
Try These Yummy Cookie Recipes:
Raspberry Shortbread Cookies are a delicious and fun cookie that taste wonderful with the butter, sugar, flour, and raspberry extract. We have made them for Valentine's Day in that post (link above). They can, of course, be made for any holiday or just any average day. Fun holiday cookie cutters make this recipe not only yummy but fun for kids and adults, too.
Stuffed Peanut Butter Cookies are peanut butter cookies that have been stuffed or in other words wrapped around a bite-sized candy bar. We have used different bars, but we love to wrap the peanut butter cookie dough around a bite-sized Snicker bar. Chocolate and peanut butter go together perfectly. A way to make these even more simply…use Betty Crocker peanut butter cookie mix. 
German Chocolate Cookie Bites are so easy. They are not made from scratch, however, you could make your own cake. This recipe uses a German chocolate cake mix and a container of German chocolate frosting. Simple to make and delicious to eat. Have fun baking!
Thanksgiving Turkey Cookies are the cutest cookies! They are made with Nutter Butters so all you have to do is have fun decorating them with your family-kids love to be creative and decorate cookies. They have been known to come up with some pretty fun and clever ideas when we cook together. 
Disclaimer:
All of the thoughts and opinions here, on our family food and recipe blog, are our own. The affiliate links (if you click on one or more) here pay us a tiny commission that will not cost you anything. The commissions help us run this web-site. We appreciate your support! Thank you so much!
We all want to thank you for visiting and trying recipes from our family recipe blog. Your support is very much appreciated. All of us are hoping that all of you are staying healthy, strong and happy. Have a fantastic day and an even better week. Have fun cooking and remember to get the kids involved where it is safe to do so. They may love it and it is a great activity for quality family time. Family and friends are the best!