Pizza Quiche is made with all things pizza-pepperoni, sausage, onion, green pepper, tomatoes, spices, and mozzarella. 😁
This post may contain affiliate links. This means, I may receive commissions if you use a link provided. All opinions here are my own.
We are so glad you are here-there are hundreds of recipes on our food and recipe blog. There are links throughout this post of other recipes we think you will enjoy.

Have you ever wanted to learn how to make quiche or are already a pro at making quiche? Either way, you must try this Pizza Quiche recipe, it is delicious! We love quiche and this recipe has a great blend of flavors.
Pizza is a favorite for our family. Quiche and breakfast are, too. With this recipe, we tried to bring the two together. The result was really yummy. We hope you try it and enjoy it!
I love using Pillsbury Pie Crust. It takes a lot of time out of making quiche. Rolling pie crust out in a perfect circle, with the perfect thickness, and the perfect size is not an ability of mine. I plan on working on that. I would love to be able to make great pie crust like my mom. She will have to teach me how really soon. Mom's are the best!
Ingredients Needed For Pizza Quiche:
Pie crust pre-made or homemade, if desired (I used Pillsbury's pre-made pie crust)
Sausage- I used Jimmy Dean pork sausage
Pepperoni
Onion
Green pepper
Tomatoes
Mozzarella (grated yourself or pre-grated works great for this recipe-some times pre-grated cheese seems dry to me so I like to grate my own from a block, usually.)
Eggs
Whipping cream
Flour
Salt
Basil
Oregano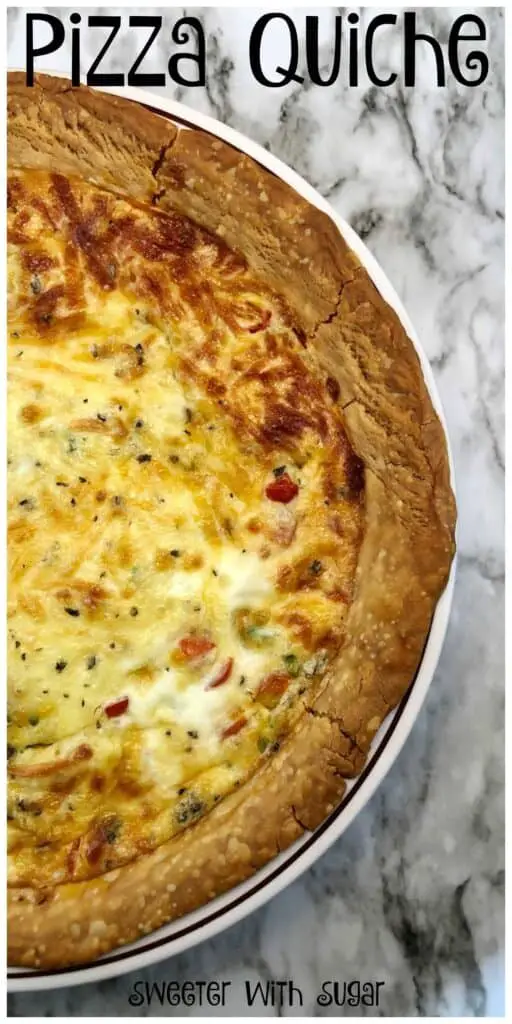 How to Make Pizza Quiche:
Preheat the oven to 400 degrees.
Crumble cook the sausage. Drain any fat.
Place the pie crust in a 10 inch pie pan. (I like to buy Pillsbury pre-made pie crusts because they are so easy and it helps me skip the step of making pie crust. However, you may bake your own pie crust for this recipe.)
Layer the sausage in the bottom of the pie crust.
Then, top with the pepperoni slices, diced onion, diced green pepper, diced tomatoes, and the grated Mozzarella.
In a medium sized mixing bowl, whisk the eggs, whipping cream, flour, salt, basil, and the oregano until well blended.
Pour the egg mixture evenly over the top of the grated Mozzarella cheese.
Bake the quiche at 400 degrees for 15 minutes. Then, without removing the quiche from the oven, lower the oven temperature to 325 degrees and continue baking for 30 more minutes.
Remove the quiche from the oven and let it sit for five minutes. Cut, serve, and enjoy!!
Quiche is always great for breakfast. It is also great for brunch and breakfast for dinner. We love breakfast for dinner. We eat breakfast for dinner at least once a month.

Other Recipes You Will Love:
Bacon Mushroom Breakfast Casserole
Orange Cream Cheese Crescent Rolls
The Easiest Breakfast Casserole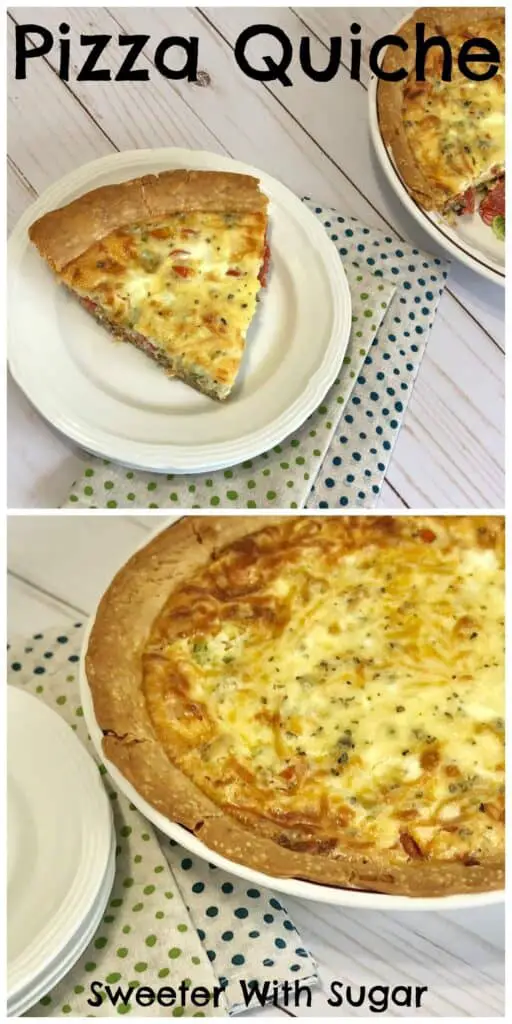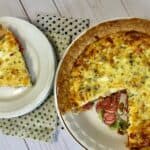 Pizza Quiche
A flavorful quiche recipe.
Ingredients
1

Pillsbury pie crust

pre-made dough

½

pound

ground sausage

20

pieces

pepperoni

¼

cup

onion

diced

¼

cup

green pepper

diced

⅓

cup

tomatoes

diced

1

cup

Mozzarella

grated

3

eggs

1

cup

whipping cream

1

tbsp

flour

½

tsp

salt

½

tsp

basil

½

tsp

oregano
Instructions
Crumble cook sausage and drain any fat. Set aside.

Press pie crust into the pie pan.

Place cooked sausage into the bottom of the pie crust.

Layer pepperoni, onion, green pepper, tomatoes, and then, sprinkle the Mozzarella cheese on top.

In a mixing bowl, whisk eggs, whipping cream, flour, salt, basil, and oregano until well blended.

Pour egg mixture evenly over the Mozzarella cheese.

Bake at 400° for 15 minutes. Then, lower the oven temperature to 325° and continue cooking for 30 minues.

Remove from the oven and allow to cool for five minutes. Cut, serve, and enjoy!!
Yummy Breakfast Roll Recipes:
Some of our favorite sweet breakfast recipes are as follows: Lemon Breakfast Rolls are super easy to make and uses Rhodes Rolls for the bread part of this recipe. The lemon flavor is delicious, yummy, and sweet. Other easy recipes that use Rhodes Rolls (which are the best!) are: Orange Breakfast Rolls are a super easy breakfast roll recipe that can be made really quickly and with very few ingredients. Strawberry Breakfast Rolls are easy and delicious. The strawberry frosting that is poured over the rolls is very sweet and very yummy-with pieces of strawberries in it.
Other Breakfast Favorites:
French Breakfast Muffins are a delicious breakfast muffin and simple recipe. After the muffins are cooked, you roll the muffins in melted butter and then in a yummy cinnamon and sugar mixture. They are one of our favorite breakfast muffins. Our family has been making these perfect muffins for so many years and we will continue making them for so many more.
Buttery Cinnamon Breakfast Biscuits are a fun and yummy breakfast recipe. The buttery flavor and the cinnamon and sugar mixture makes these biscuits a family favorite. Another super thing about this recipe is that it only requires four ingredients and we always have the four ingredients in our refrigerator and pantry. We love easy and quick recipes that have very few ingredients. These biscuits are a favorite go-to breakfast idea for busy mornings, or on busy mornings when your are trying to get the kids to school. Along with butter (does anyone not love butter?), we love cinnamon and sugar, too. Here is a snack recipe that has cinnamon and sugar and is so yummy you will have a hard time not eating all of it: Churro Corn Pops are on of our favorite snacks. These caramel, cinnamon, and sugar coated Corn Pops are fabulous. How about one more recipe with cinnamon and sugar (and butter, of course) 😊💕 Caramel Coated Cinnamon Toast Crunch.
One of my Favorite Products:
The Salad Shooter makes shredding/grating cheese so simple. It is so much faster than I can grate cheese myself. Another great thing about this Salad Shooter is that is it easy to clean up. All of the pieces come apart so washing them is quick and painless. There are other recipes that I use my Salad Shooter for her on Sweeter With Sugar and they are: Double Chocolate Zucchini Bread, Banana Blueberry Zucchini Bread, Zucchini Bread, Zucchini Relish, and any recipe that contains grated cheese.
Thank You!
We hope all of you (your family, neighbors, and friends) are staying happy, healthy, and strong. Have a fun and fantastic week. Thank you so much for visiting our online cookbook. Hopefully, you will find a lot of recipes and ideas that will help you get breakfast, lunch, and dinner on the table. Hopefully, you will find many, many recipes that you will love to eat, love to make, and that your family will love to eat. We hope you will try our recipes and let us know what you think. We are definitely not perfect. If you find errors here, we are human and make many mistakes all of the time. Please let us know if you find mistakes and we will fix them as soon as we can.
Disclaimer:
All of the thoughts and opinions here, on our food recipe blog, are our own. The affiliate links (if you click on one or more) here pay us a tiny commission that will not cost you anything. The commissions help us run this web-site. We appreciate your support! Thank you so much!
(Visited 189 times, 1 visits today)