Dark Chocolate Raspberry Fudge is made with dark chocolate and flavored with delicious raspberry. It is a rich, smooth, and creamy fudge recipe.
This post may contain affiliate links. This means, I may receive commissions if you use a link provided. All opinions here are my own.
Welcome to our family recipe blog, where we share easy family friendly recipes. Here are a few other recipe links we think you will enjoy: Super Moist Cornbread, Classic Meatloaf, Cashew Brittle and Mega Meat Quiche.

This is such a simple recipe. It takes nearly no prep-time. All that is required is to cover a small baking dish with aluminum foil. The foil is such a great part-it makes removing the fudge from the baking dish so easy. Then, melt the chocolate with the sweetened condensed milk, and add the flavoring. So easy! The hardest part is waiting for it to cool and set up. Sometimes I have placed it in the refrigerator to help speed up the process. Placing it in the refrigerator also helps when you cut your fudge. Make sure you use a sharp knife and cut on a cutting board. You can cut the fudge into the sizes you want depending on how many people you are serving or how many pieces you need to get from the batch of candy.
It is hard to believe you can make such a flavorful candy with only three ingredients. It is delicious and rich. Here are some other recipes that require minimal ingredients: Rocky Road, Fudge Drops, Chocolate Mousse, Honey Brown Sugar Carrots, Homemade Caramel, Hot Fudge Caramel Apple Dip, Lemon Cookies, and Triple Chocolate Cookies, to name a few.
A 9 x 9 baking dish or a 8 x 8 baking dish will work very well for this fudge recipe. The 8 x 8 will give you a thicker (in depth) pieces of fudge and a 9 x 9 dish will give you thinner (in depth) pieces of fudge. Both are fantastic. It is a rich and decadent dessert, some people will like smaller pieces. Not me however, I always want a large piece of fudge or more than one smaller piece. 😊
Cook's Note:
This is a rich fudge. I love dark chocolate so I love this fudge! If you like a bit less dark chocolate, substitute some milk chocolate for the dark chocolate. It is very simple to do-combine two cups dark chocolate chips with one cup milk chocolate chips. Mom likes the full dark chocolate and my daughter likes a blend of the dark chocolate chips and the milk chocolate chips. She loves milk chocolate the best-I will have to make this recipe sometime especially for her, with all milk chocolate chips. To me, raspberry goes with dark chocolate.
Ingredients Needed for Dark Chocolate Raspberry Fudge:
3 cups dark chocolate, chocolate chips
1 14 ounce can sweetened condensed milk
1 1/2 teaspoons raspberry extract-I used McCormick Raspberry Extract
Instructions for Dark Chocolate Raspberry Fudge:
Cover a 9 x 9 or an 8 x 8 baking dish with aluminum foil and set aside.
Place the dark chocolate chips and the sweetened condensed milk in a medium sauce pan.
Over medium low heat, melt the chocolate chips-stirring frequently to combine with the sweetened condensed milk. I love flat bottomed wooden spoons. They help me stir across the entire bottom of the pan easier.
If the chocolate starts sticking to the bottom, even though you are stirring, turn the heat down a bit.
As the chocolate melts and is blending with the sweetened condensed milk, add the raspberry extract. Continue stirring to combine.
As the chocolate completely melts, you will notice the chocolate will become more shiny. So, when the chocolate has melted and the mixture has become more shiny than it was earlier in the cooking process, your fudge is done.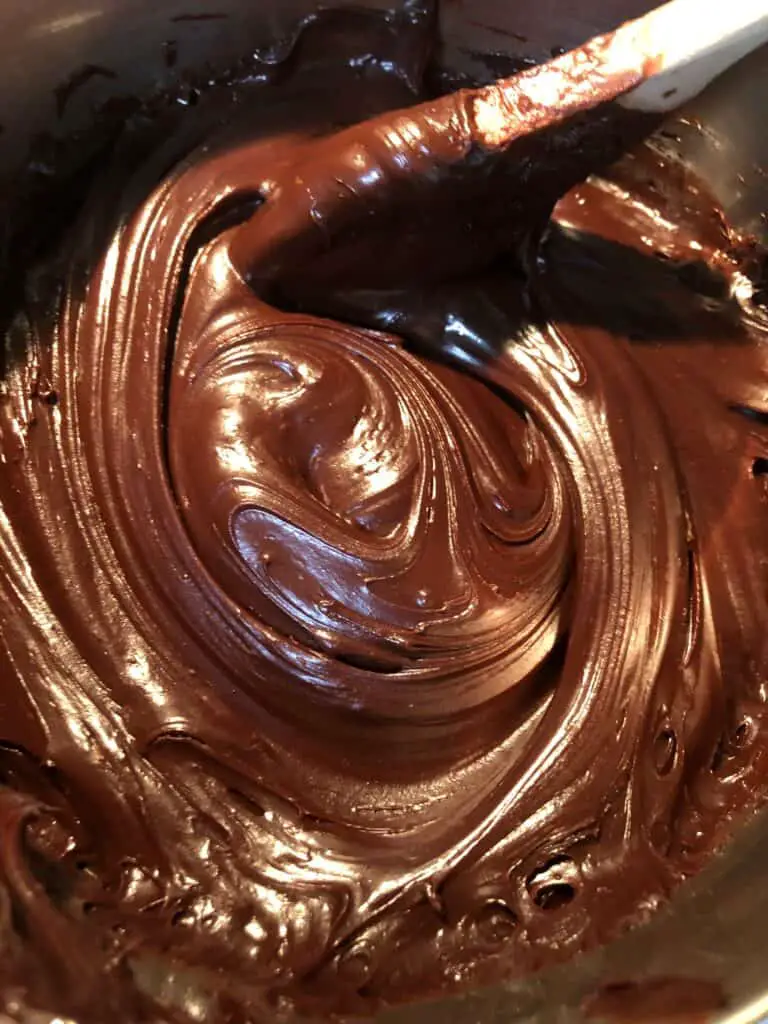 Immediately pour fudge in the foil covered baking dish. Spread fudge out in the pan and smooth the top with the spoon as needed. I also like to tap the baking dish on the counter a few times to get the fudge to settle into the baking dish.
Allow fudge to cool completely and to set up-at room temperature-about 4 hours.
When ready to cut the fudge, lift foil out of the baking dish and place on a cutting board.
Cut into desired size pieces. Store in an airtight container-on the counter. If you want cleaner lines when you cut the fudge into pieces, chill before cutting.
Enjoy this rich and delicious raspberry fudge!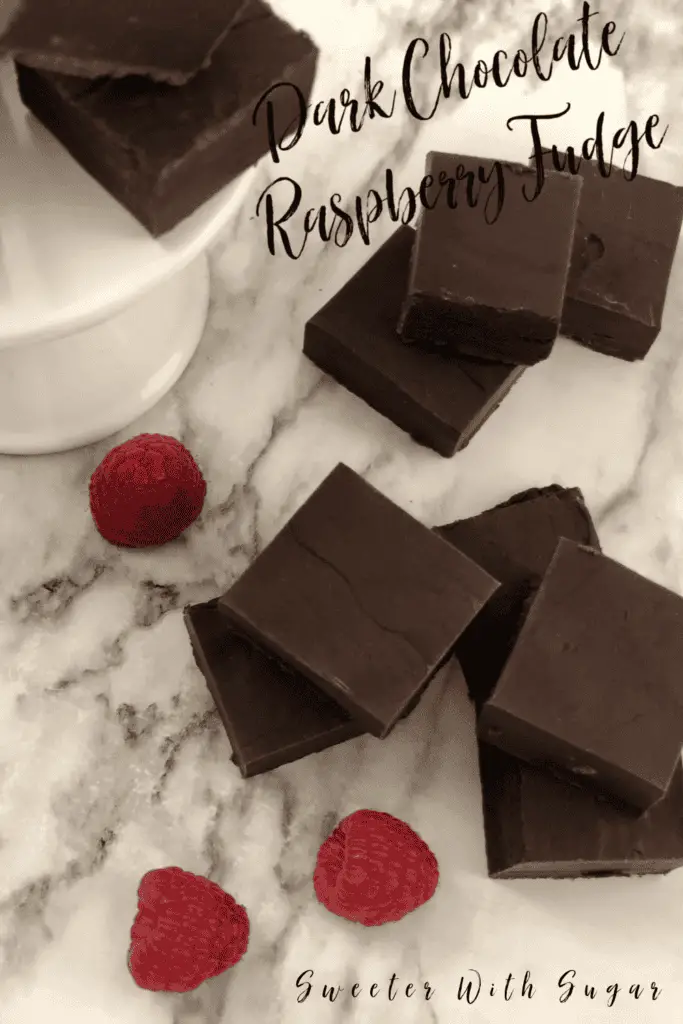 Other Recipes You Will Love: 💗
Caramel Coated Cinnamon Toast Crunch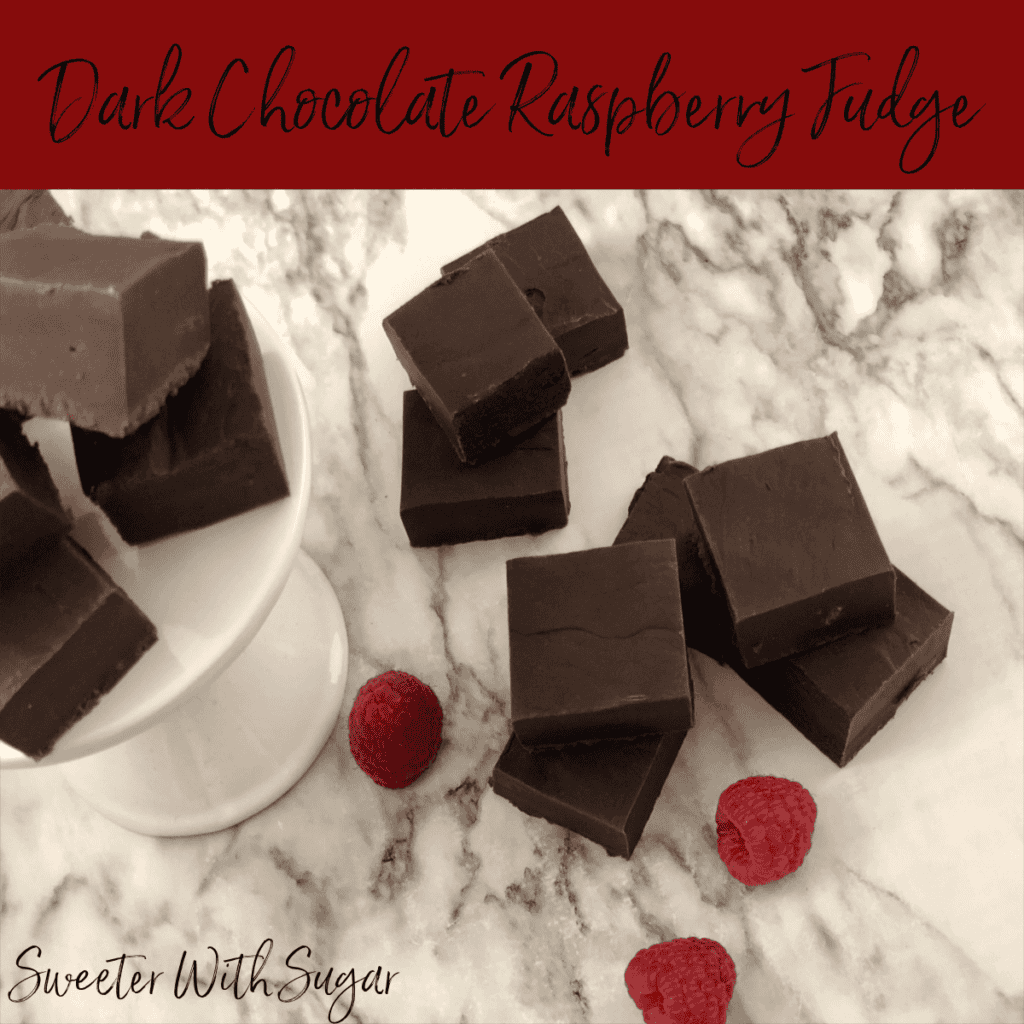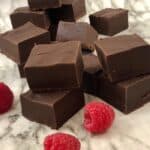 Dark Chocolate Raspberry Fudge
An easy and decadent dark chocolate fudge recipe with the flavor of raspberry.
Ingredients
3

cups

dark chocolate chips

or 2 cups dark and 1 cup milk chocolate

1

14 ounce can

sweetened condensed milk

1 1/2

tsp

raspberry extract
Instructions
Cover a 9 x 9 or an 8 x 8 baking dish with foil. Set aside.

In a medium sized sauce pan, melt chocolate chips and sweetened condensed milk over medium low heat.

Melt chocolate slowly, stirring frequently.

Add raspberry extract when chocolate begins to melt.

Heat until chocolate chips are melted and the mixture is smooth and becomes more shiny.

Pour fudge into prepared dish. Smooth the fudge out into the dish. Tap dish on counter to get the fudge to settle into the dish.

Allow about four hours to set up at room temperature.

Cut and enjoy! (I like to refrigerate my fudge before I cut it-I get cleaner cuts).

Store fudge in an airtight container at room temperature.
Thank you for your support-we are so happy you have stopped by our family food and recipe blog. We would love to hear how you like our recipes and we would love to see photos of how the recipes turn out. We hope you will come back soon, try some other recipes here at Sweeter With Sugar, and leave us a comment and rating. Have a wonderful week. I hope you, your family, and friends stay healthy, happy, and safe.