This fun Hot Cocoa Charcuterie Board is a great addition to your Christmas party menu. Your guests will love all of the options for making a fun and flavorful cup of hot chocolate.
This post may contain affiliate links. This means, I may receive commissions if you use a link provided. All opinions here are my own.
We are so glad you are here. You will find hundreds of delicious family friendly recipes on our recipe blog. Cooking is one of our favorite things to do. Here are a few other recipe links we think you will like: Philly Cheesesteak Waffle Fries, Creamy Jalapeño Dipping Sauce, Cranberry Almond Cheese Ball, Cranberry Wassail, Cookie Butter Hot Cocoa, White Chocolate Pumpkin Spice Hot Cocoa, Chocolate Mousse, Copycat Cheesecake Factory Louisiana Chicken Pasta, Gooey Caramel Corn, Cashew Brittle, One Pan Beef Noodle Casserole, Peanut Butter Marshmallow Fudge, Almond Toffee, and Homemade Caramel.
Ingredients Needed For Hot Cocoa Charcuterie Board:
You need lots of fun hot cocoa flavors (I love Stephens Gourmet Hot Chocolate-they offer many flavors) and lots of fun and flavorful candies and cookies.
Other Options: Adding pumpkin spice, cinnamon or even orange flavors make a hot cocoa board perfect for Thanksgiving. Adding fruity flavors such as strawberry or raspberry to a hot cocoa board makes it perfect for Valentine's Day. Here are the items I used for my Christmas Hot Cocoa Charcuterie Board:
Stephen's Hot Chocolate
Hot Chocolate Packets
Hot Water and/or Milk
Mini Milk Chocolate Santas
Marshmallows
Coconut
Whipping Cream
Peppermint Candy Canes
Cookies: Lotus Cookie Butter Cookies, Pirouline Cookies and Milanos
Chocolate Candies: White Chocolate or Peppermint Pretzels, Ferrero Roche or Peppermint Kisses
Mint Chocolate Candies: Dilettante Chocolates-Peppermint Truffle Cremes and York Peppermint Patties
Werther's Soft Caramels
Have fun with Charcuterie Boards-there are so many options! 😊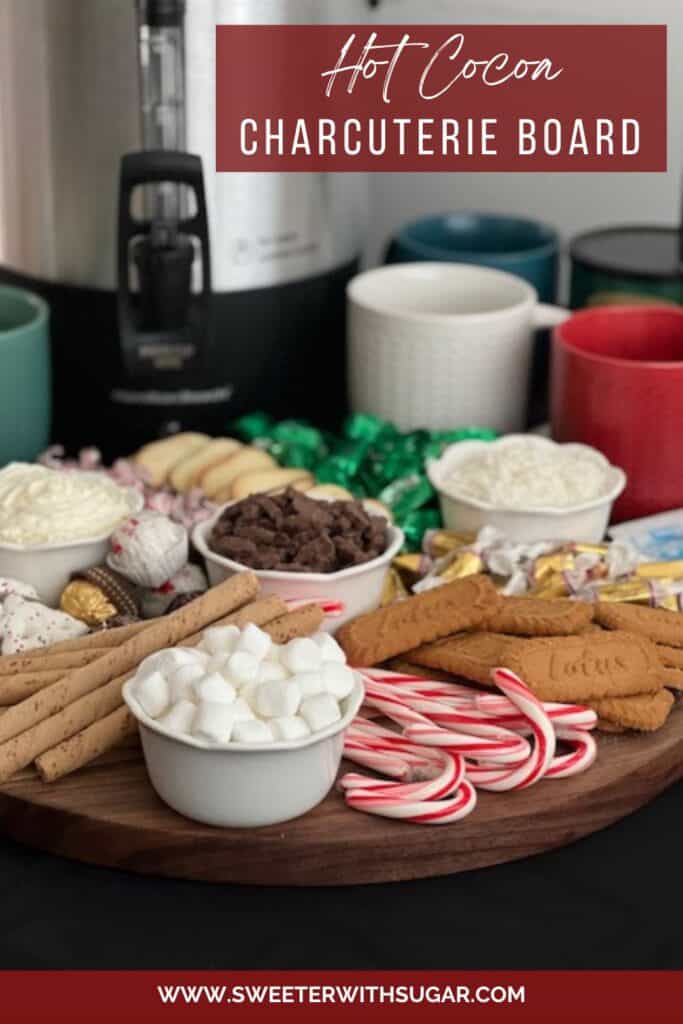 Other Recipes You Will Love: 💕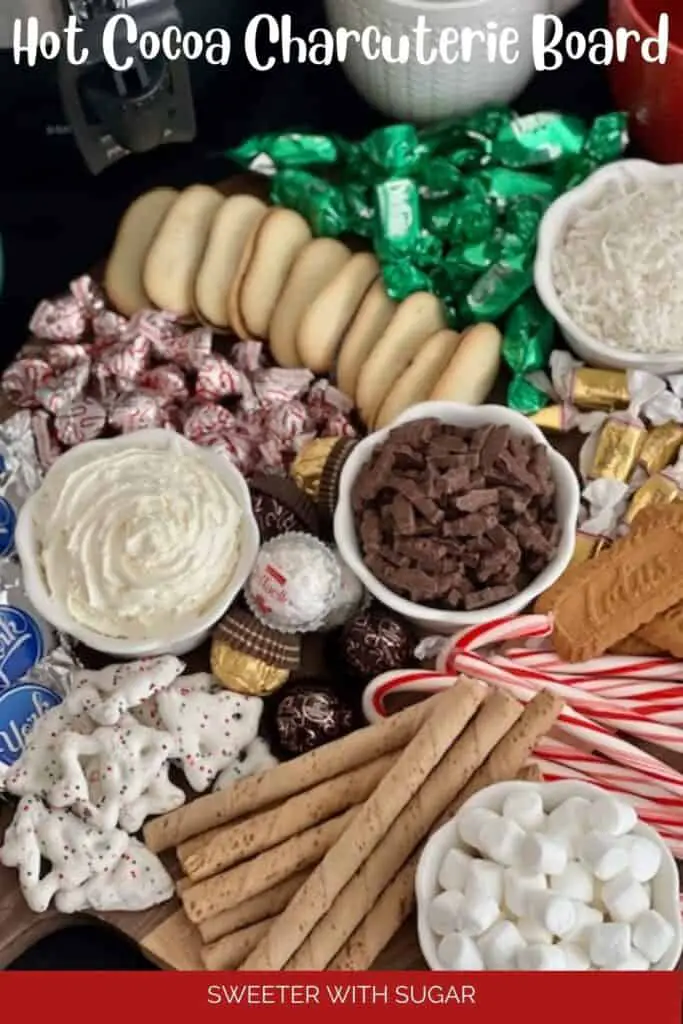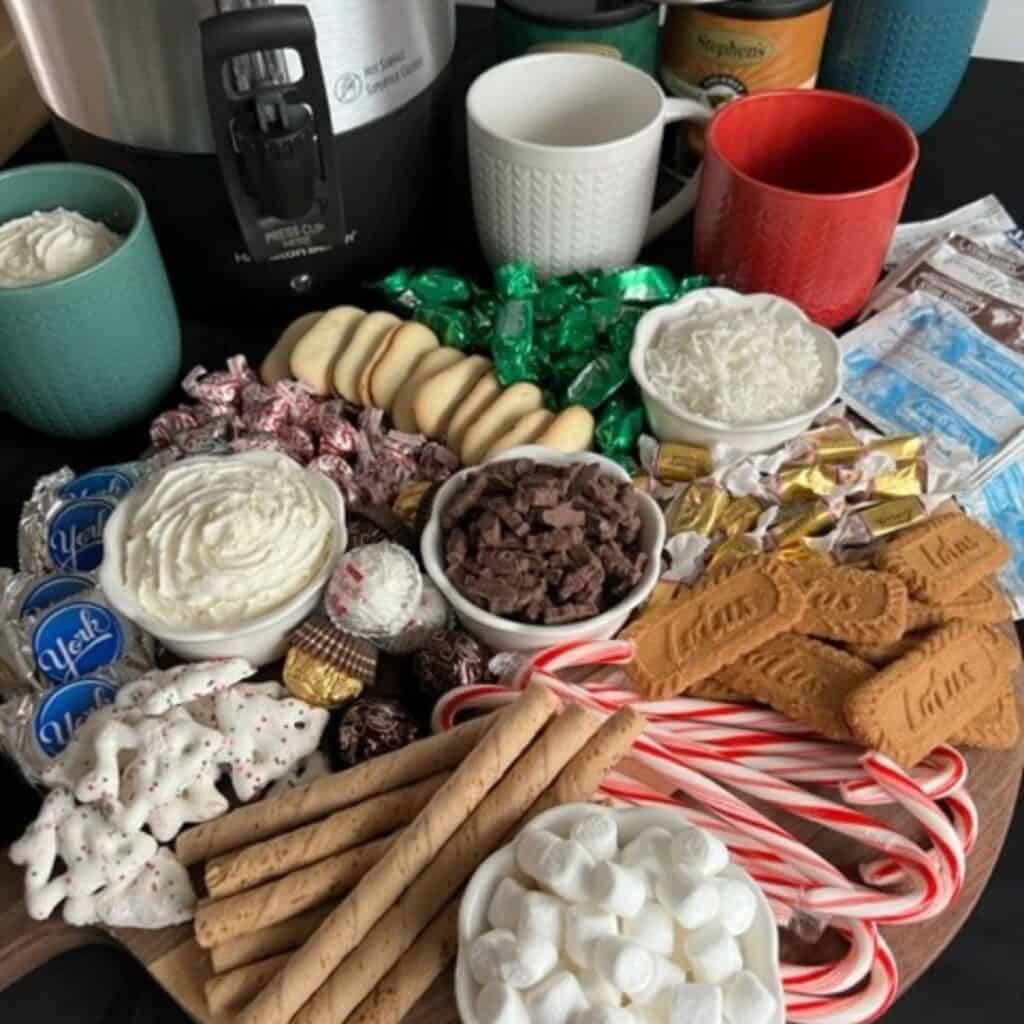 Disclaimer:
All of the thoughts and opinions here, on our family food and recipe blog, are our own. The affiliate links (if you click on one or more) here pay us a tiny commission that will not cost you anything. The commissions help us run this web-site. We appreciate your support! Thank you so much!
We all want to thank you for visiting and trying recipes from our family recipe blog. Your support is very much appreciated. All of us are hoping that all of you are staying healthy, strong and happy. Have a fantastic day and an even better week. Have fun cooking and remember to get the kids involved where it is safe to do so. They may love it and it is a great activity for quality family time. Family and friends are the best!