Frog Eye Salad is a classic. The Cool Whip, pudding, mandarin oranges, pineapple, and marshmallows make this salad a great choice for the holidays-very kid friendly.
This post may contain affiliate links. This means, I may receive commissions if you use a link provided. All opinions here are my own.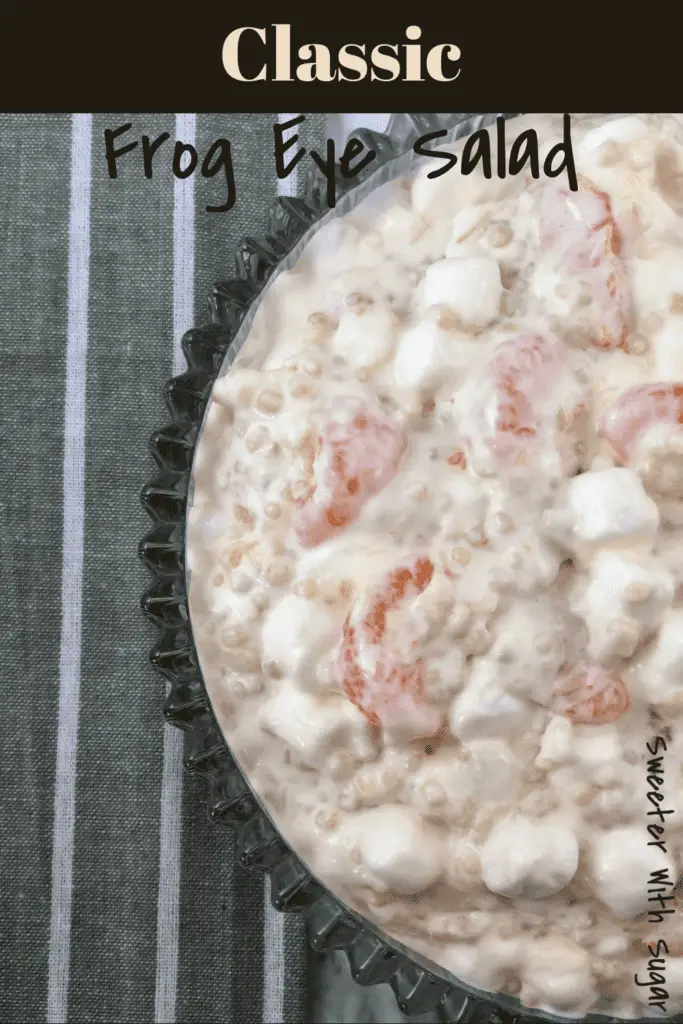 We are so glad you are here. You will find many delicious family friendly recipes on our food recipe blog. Cooking is one of our favorite things to do. We love making family favorites that have been in the family for many years, making up new recipes, and trying other people's recipes. Thank you for browsing our many recipes and have a great day cooking!
Fruit salads are so easy to make and delicious. They are very dessert like-who doesn't like dessert? Actually, I know two people that do not love dessert, just too sweet for them. 😳 We love dessert! Sitting here right now, I can't think of a dessert I do not like!
I do not know why this Frog Eye Salad has been called frog eye. To me, it looks nothing like frog eyes and I really do not want to eat frog eyes! However, it is a delicious salad. Adults and children love this salad. I know I am always safe serving this recipe at dinners, parties, barbecues, or holiday gatherings.
We hope you all have a healthy and safe holiday season this year and every year! We hope you will be able to enjoy spending time with family and friends while eating delicious food.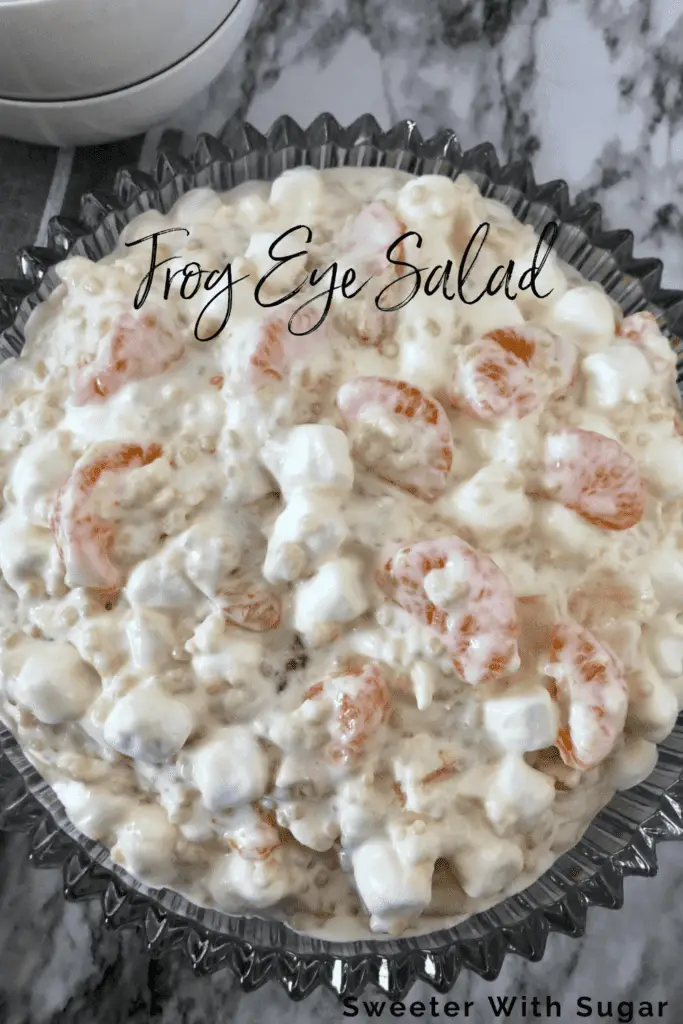 Ingredients Needed for Frog Eye Salad:
Acini Pepe pasta
Mandarin oranges
Pineapple tidbits-plus some of the juice
Crushed pinapple
Milk
Cool Whip
Marshmallows
Sugar
Vanilla pudding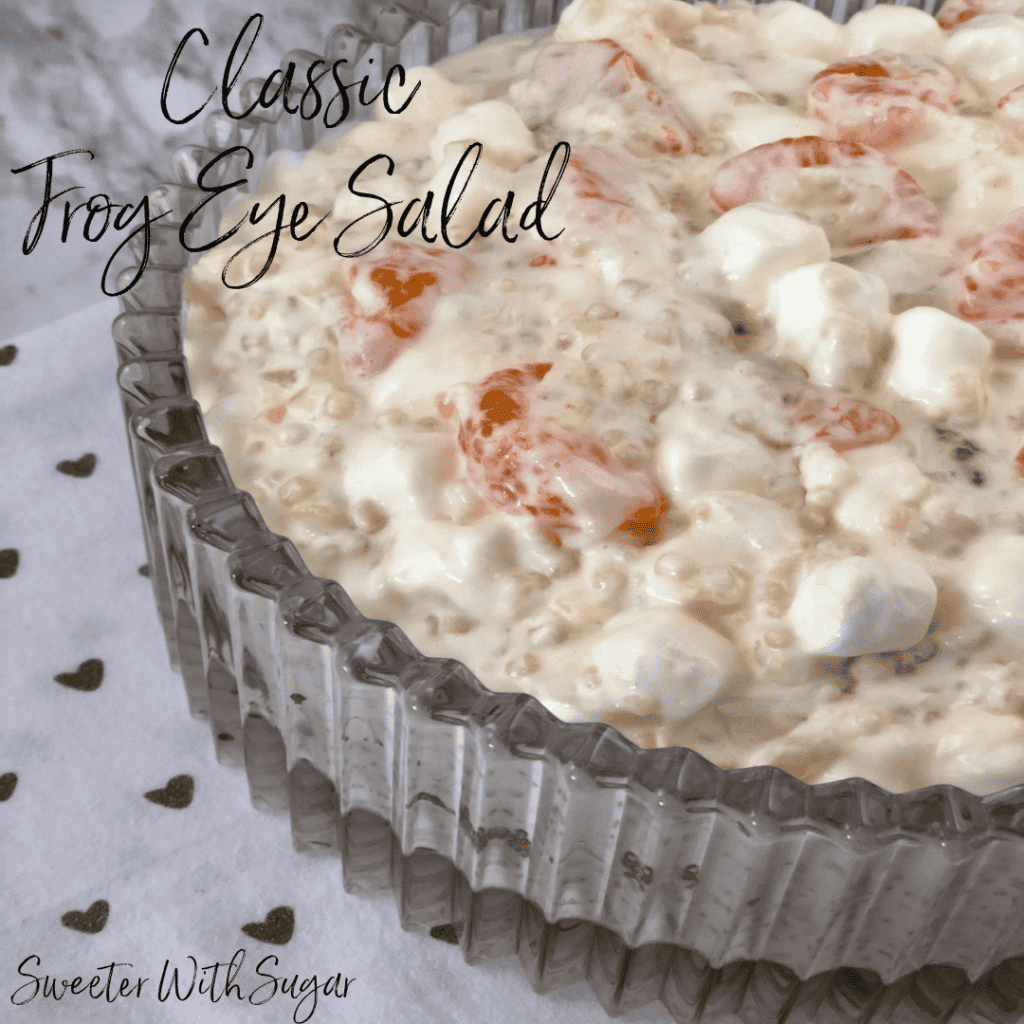 How to Make Frog Eye Salad:
Cook the Acini Pepe pasta according to the package directions. Drain and rinse the pasta in cold water. Set Aside.
In a large mixing bowl, combine milk, reserved pineapple juice, sugar, and vanilla pudding. Whisk until smooth and well blended.
Next, fold in Cool Whip.
Then, fold in pasta, then the fruit, and then the marshmallows.
Cover salad and place it in the refrigerator to chill.
Serve and Enjoy!
Get your taxes done right with TurboTax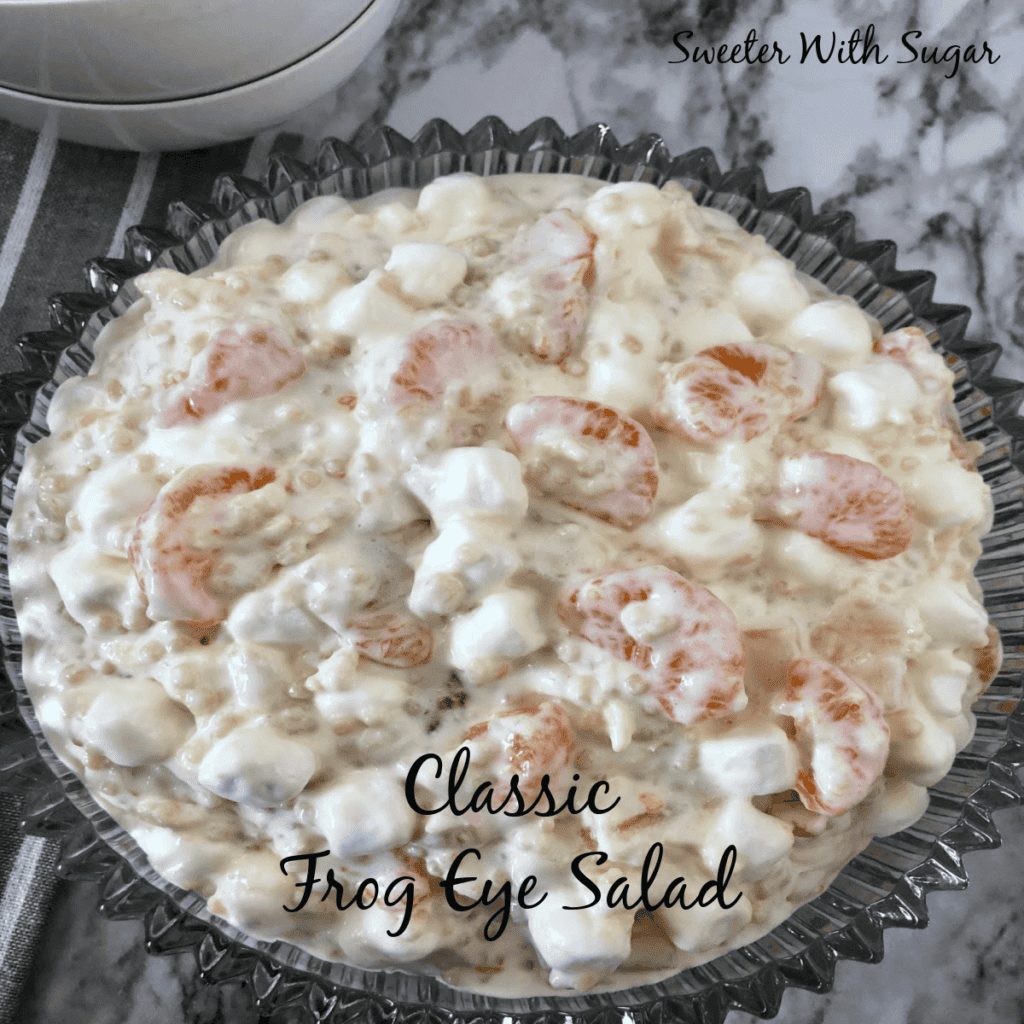 Other Recipes You Will Love: ❤️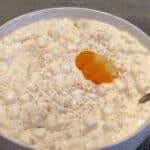 Frog Eye Salad
A classic fruit salad that kids and adults love.
Ingredients
1 ⅓

cups

Acini Pepe pasta

uncooked

22

ounces

mandarin oranges

drained well

20

ounces

pineapple tidbits

reserve 1/4 cup juice then drain well

20

ounces

crushed pineapple

drained well

1 ¾

cup

milk

8

ounces

Cool Whip whipped topping

4

cups

miniature marshmallows

¼

cup

sugar

3.4

ounce box

instant vanilla Jell-O pudding

the small box size
Instructions
Cook pasta according to package directions. Drain and rinse with cold water. Set aside.

In a large mixing bowl, combine milk, reserved pineapple juice, sugar, and vanilla pudding. Whisk until smooth and well combined.

Fold in Cool Whip whipped topping

Fold in drained manadarin oranges and pineapple.

Fold in miniature marshmallows.

Cover and refrigerate to chill before serving. Enjoy!
This Frog Eye Salad is a salad that we love to make in the summer but also it is a salad that is requested every year for Christmas. It is easy to make, creamy and delicious. Some of the times that I make this delicious classic salad, I remember to use Extra Creamy Cool Whip. Regular or Extra Creamy Cool Whip will work for this recipe, however, the Extra Creamy Cool Whip makes it even more yummy and creamy.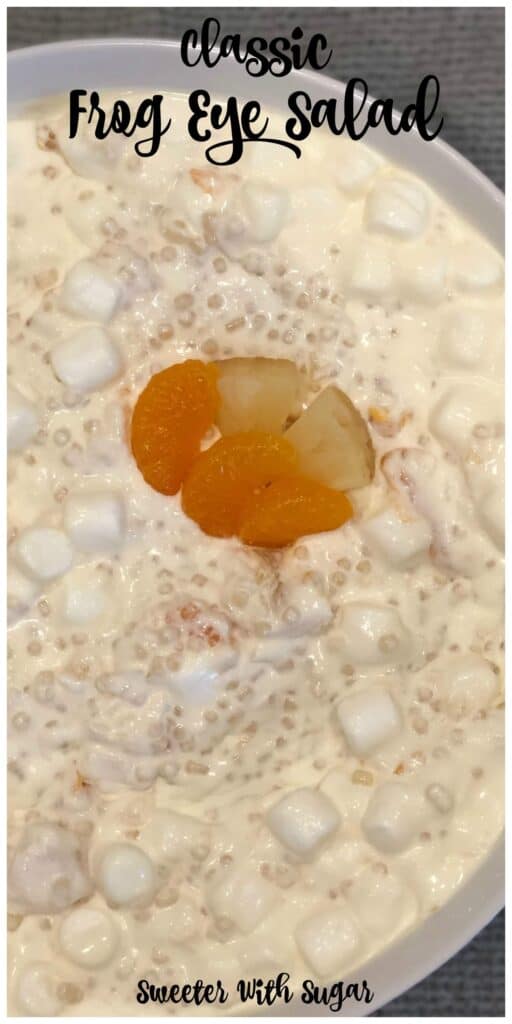 Other Delicious Salad Recipes:
Cranberry Fruit Salad is a salad that we love for the holidays. It works so well for Thanksgiving and Christmas. It is really pretty and so flavorful. There is another cranberry salad we have made a few times that calls for you to blend the cranberries up in the blender before you add them. For some reason I do not like the grittiness of it. Textures in food do not usually bother me-this one does. So…I love this salad for that reason, too. It is not gritty and it still has the great cranberry taste I love for the holidays!
Pistachio Pineapple Jell-O Salad is one of my daughters most favorite salads. This is one that we make all of the time in the summer when we barbecue. It has great flavor and is the most simple recipe ever! It could be called a dump and stir salad. I dump all other the ingredients in a bowl and mix to combine. I do like to mix the Jell-O with the fruit first but, it is not necessary.
Strawberries and Cream Jell-O Salad Yum-this is another good one. Strawberries say summer to me. Yes, you can buy strawberries all year long but, strawberries say summer. This recipe has only four ingredient in it-one of which is water, so does that really count as an ingredient?? Anyway, my granddaughter just loves this salad so much. She loves all things sweet-just like me.
Orange Jell-O Salads:
Mandarin Orange Jell-O Salad is a refreshing Jell-O, fruit, and Cool Whip salad kids and adults will love. This salad is also very simple to make-I always love recipes that are easy to make and also still delicious to eat.
Marshmallow Orange Jell-O is another sweet and yummy Jell-O salad kids and adults will love. One of the five ingredients is Marshmallow Creme-which gives this salad an extra good taste.
Pasta Salads You Will Enjoy:
Mexican Street Corn Pasta Salad is a flavorful salad that has a recipe for the homemade dressing with it.
Barbecue Ranch Pasta Salad Barbecue Ranch salads are a favorite of mine. Really, I love salads-I could eat them every single day. This one has yummy ingredients and is fun to take to barbecues.
BLT Pasta Salad We tried to capture the flavor of a BLT in this pasta salad. We used spinach instead of lettuce. Pasta salads are fantastic and this one is fun and yummy.
Chipotle Pasta Salad and Italian Pasta Salad are two other salads we think you will love to cook and love to eat. Italian Pasta salad is a classic we have been making for 30 or more years and the Chipotle Pasta salad is one we began making years ago but, definitely not 30 years ago-both are great and worth trying. Hope you love them.
Thanks:
We hope you find this Frog Eye Salad recipe and others on Sweeter With Sugar to be yummy and helpful in your meal planning (and party food, snack, dessert, holiday, and beverage planning). We would love to hear how you like any of the recipes here-love to see a photo of your beautiful creation and love, love, love, ratings, and or comments. Our family definitely does not claim to be perfect cooks. Cooking (and eating what we cook and others cook) is one of our favorite things to do but, we are not perfect. Typos are something we hate to find in our recipes, but, it happens. If you find any mistakes, please let us know-we will fix them as soon as we can and we will appreciate your excellent editing skills.
We all want to thank you for visiting and trying recipes from our food recipe blog. Your support is very much appreciated. All of us are hoping that all of you are staying healthy and strong and happy. Have a fantastic day and an even better week. Have fun cooking and remember to get the kids involved where it is safe to do so. They may love it and it is a great activity for quality family time.