Pina Colada Cake is a refreshing chilled dessert recipe with the taste of pineapple and coconut. This is an easy recipe that tastes tropical!
This post may contain affiliate links. This means, I may receive commissions if you use a link provided. All opinions here are my own.
Welcome to our food, recipe blog. We are so glad you are here. We love cooking and baking and hope we can make your life easier with the recipes here. Here are a few recipes to get your browsing started: White Chocolate Raspberry Cheesecake, Caramel Coated Cinnamon Toast Crunch, Cookies and Creme Cake, Sweet Chex, Toasted Coconut Cake, Chocolate Mousse, and Nutty Buddy Cupcakes.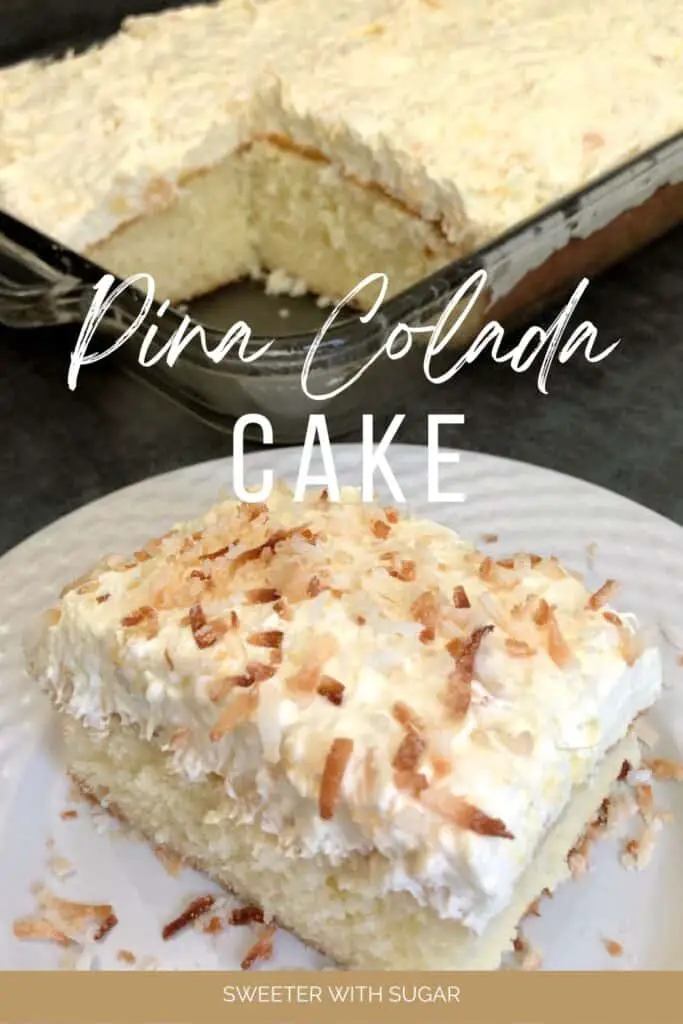 Ingredients For Pina Colada Cake:
Cake Ingredients:
15.25 ounce white cake mix
4 eggs
1/2 cup oil
1 cup pina colada cocktail mix
1/2 cup sour cream
Topping Ingredients:
20 ounce can crushed pineapple, undrained
3.4 ounce box Coconut Cream Instant Jell-O pudding
8 ounces Cool Whip
1/2-3/4 cup shredded coconut, toasted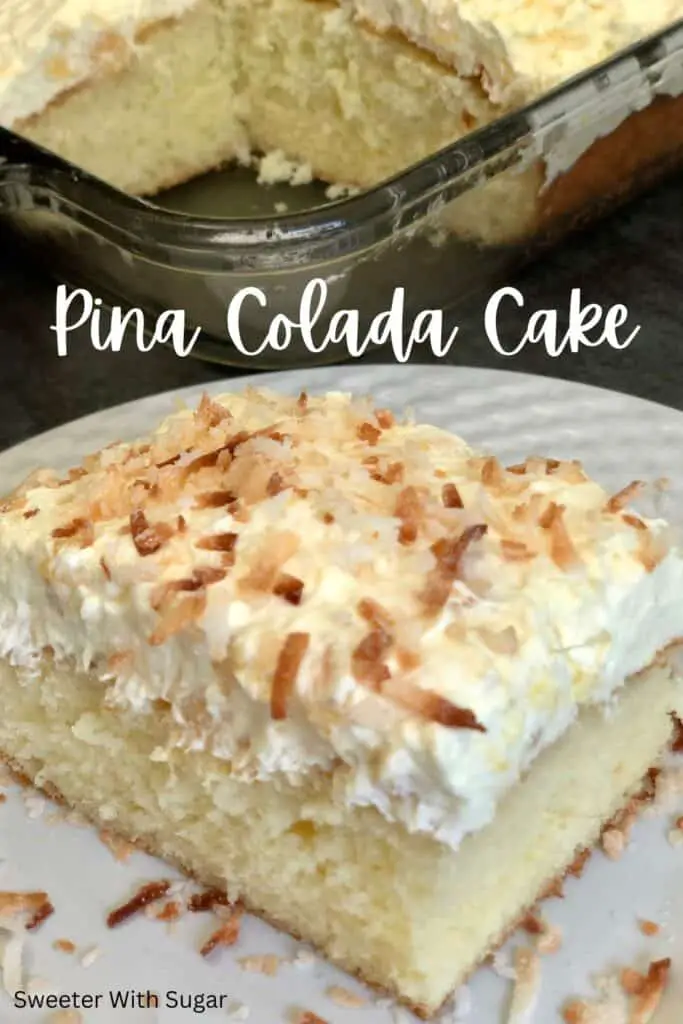 Instructions For Pina Colada Cake:
1. Combine cake mix, eggs, oil, Pina Colada Cocktail Mix and sour cream. Mix and bake as directed on the cake mix box for a greased 9×13 baking dish. Bake about 34 minutes.
2. Remove cake from the oven and allow time to cool.
3. Toast coconut in oven on low broil-watch it closely. You want the coconut to be lightly toasted.
4. Mix pudding and crushed pineapple, including the pineapple juice, in a mixing bowl.
5. Fold in the Cool Whip.
6. Spread the topping on cooled cake and top with toasted coconut, refrigerate to chill. Enjoy this yummy cake!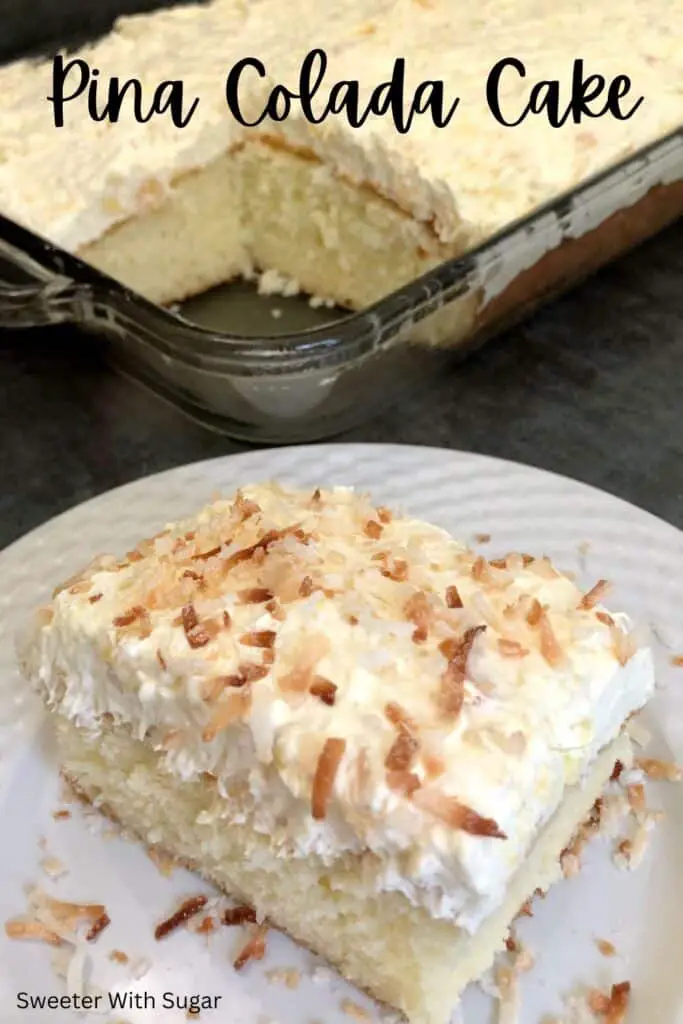 Other Dessert Recipes You Will Love: 💕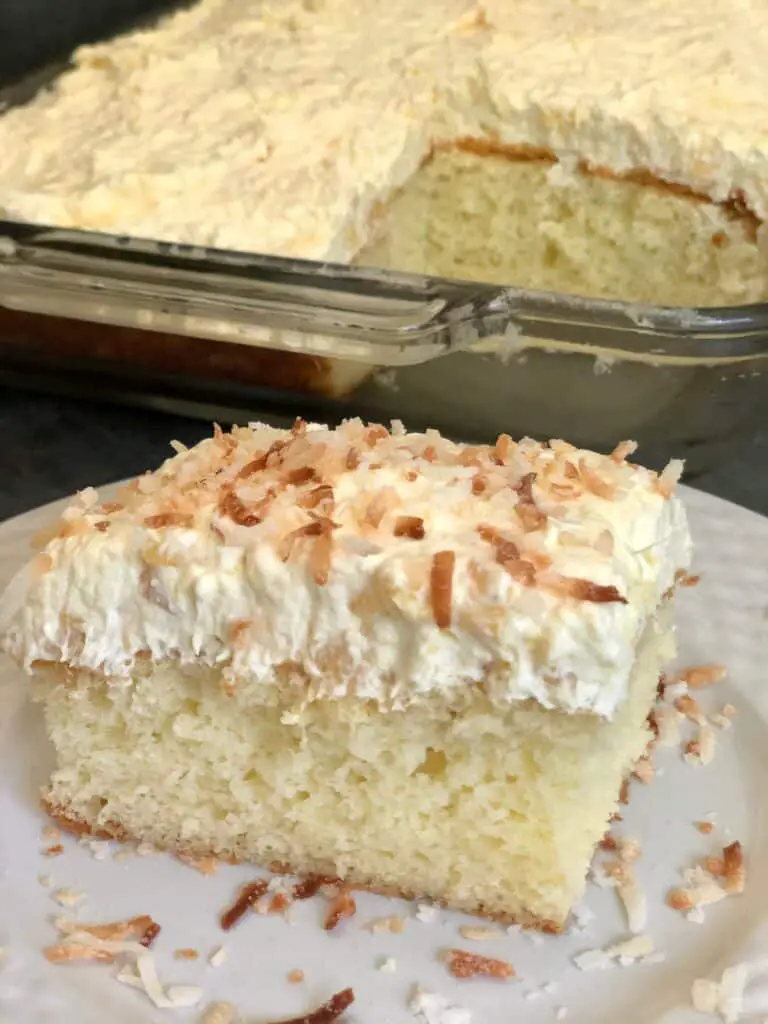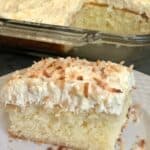 Pina Colada Cake
A simple cake recipe with the taste of pineapple and coconut.
Ingredients
Cake Ingredients:
15.25

ounce

white cake mix

4

eggs

1/2

cup

oil

1

cup

pina colada cocktail mix

1/2

cup

sour cream
Topping Ingredients:
20

ounce can

crushed pineapple

undrained

3.4

ounce box

Coconut Cream instant Jell-O pudding

8

ounces

Cool Whip

1/2-3/4

cup

shredded coconut

toasted
Instructions
Cake Instructions:
Combine Cake ingredients with an electric mixer or wire whisk until combined-as per cake mix directions.

Bake cake in a greased 9 x 13 baking dish, at 350° for 32-34 minutes, until toothpick test comes out clean.

Remove from oven and allow time for the cake to cool.
Topping Instructions:
Place coconut onto a sheet pan in a single layer and toast on low broil until toasted-watch closely, it will burn easily.

In a mixing bowl, mix the crushed pineapple and the pineapple juice with the Jell-O pudding. Mix well.

Fold in Cool Whip and spread on cooled cake.

Top with toasted coconut.

Serve chilled cake-enjoy!
Disclaimer:
All of the thoughts and opinions here, on our family food and recipe blog, are our own. The affiliate links (if you click on one or more) here pay us a tiny commission that will not cost you anything. The commissions help us run this web-site. We appreciate your support! Thank you so much!
We all want to thank you for visiting and trying recipes from our family recipe blog. Your support is very much appreciated. All of us are hoping that all of you are staying healthy, strong and happy. Have a fantastic day and an even better week. Have fun cooking and remember to get the kids involved where it is safe to do so. They may love it and it is a great activity for quality family time. Family and friends are the best!