Are you looking for an easy side dish recipe? Delicious Asparagus is easy to make and so yummy. The bacon and onion gives this side dish a delicious flavor.
This post may contain affiliate links. This means, I may receive commissions if you use a link provided. All opinions here are my own.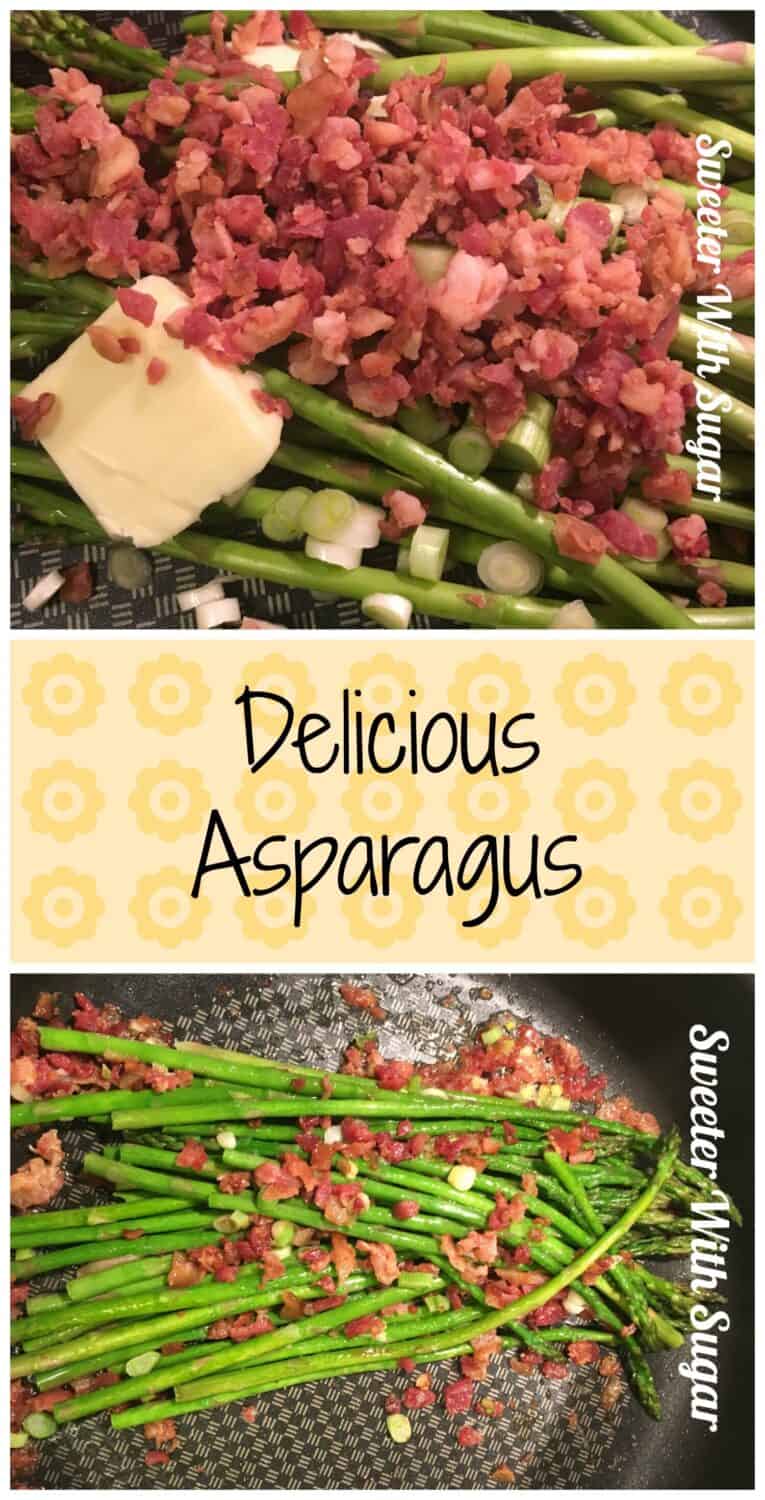 You will find many fun and easy (along with some that will take more time) recipes on our recipe blog. It can be tricky to get meals on the table some days-we want to help you with that! Have a great day cooking!
We love Asparagus and bacon! We added some onion, too. It turned out so delicious! Asparagus is wonderful served on the side of chicken dishes, beef, fish, and pork.
If you need more than four servings of this recipe, it is very easy to double. You will just need one pound of asparagus, 10 green onions, one cup of bacon crumbles, and two tablespoons of butter. You can also use bacon strips-just cook and crumble them to make the needed amount. For years now you can buy bacon strips that are already cooked. This is a very convenient way to use bacon. The bacon crumbles that I use are also extremely easy and work fantastically in many recipes. I use bacon crumbles often in recipes here on our food recipe blog. I love bacon but, I do not love my house smelling like bacon, so these two pre-cooked options are perfect for me.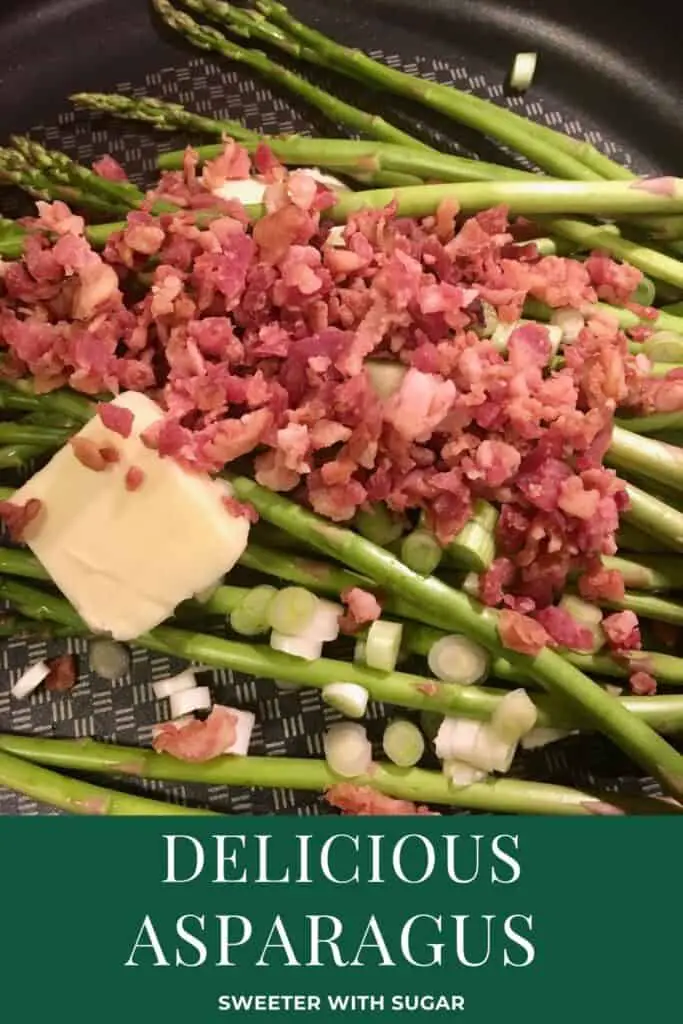 Ingredients Needed for Delicious Asparagus:
1/2 pound asparagus
5 green onions, sliced (I have also used diced yellow onion)
1/2 cup bacon crumbles (I love Kirkland's Bacon Crumbles)
1 Tablespoon butter
How to Make this Delicious Asparagus Recipe:
These directions for this dish are so simple. Here we go…
Just wash and place all of the ingredients into a frying pan that is big enough to fit the asparagus.
Cook the asparagus, bacon crumbles, onion, and butter on medium heat until asparagus and onion are desired tenderness.
Serve hot and enjoy!
Other Recipes You Will Love:
Creamy Orange Sherbet Jell-O Salad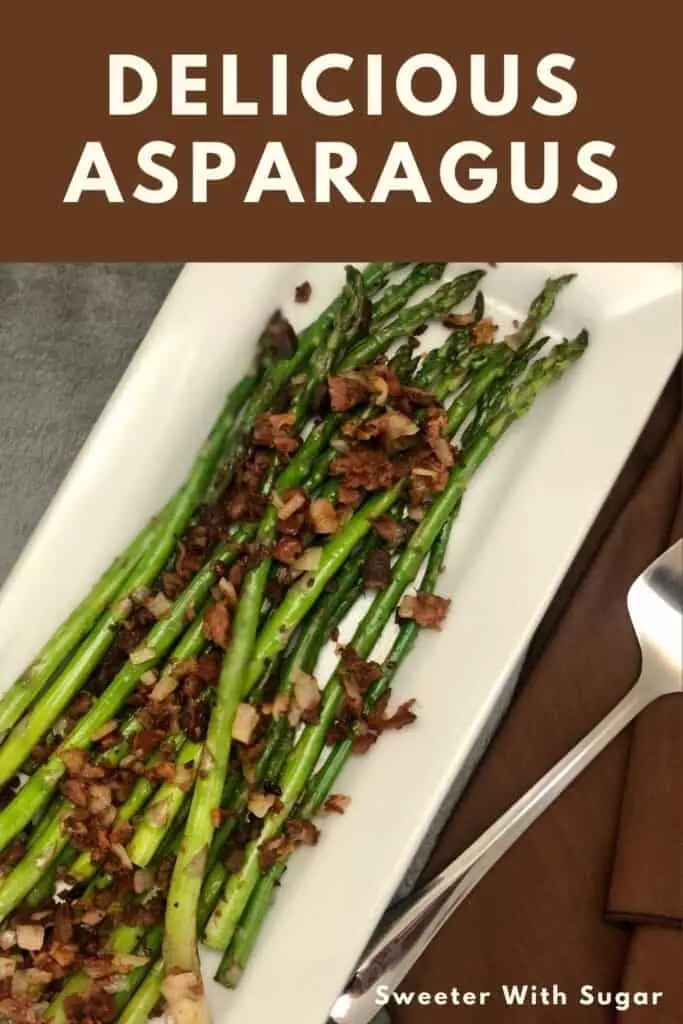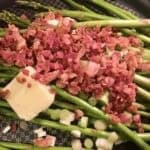 Delicious Asparagus
A simple and quick side dish recipe.
Ingredients
1/2

pound

asparagus

5

green onions

sliced

1/2

cup

bacon crumbles

1

tbsp

butter
Instructions
Place all ingredients in a frying pan.

Cook on medium heat until asparagus is desired tenderness-about 3 to 5 minutes.
Disclaimer:
All of the thoughts and opinions here are our own. The affiliate links (if you click on one or more) here pay us a tiny commission that will not cost you anything. The commissions help us run this web-site. We appreciate your support! Thank you so much!
Thanks:
We are so happy you stopped by our food recipe blog. We hope you find this side dish recipe and many others here to be delicious and helpful for you and your family. Family mealtime is one of our favorite times. It is a great way to strengthen relationships with family and friends.
We hope you, your family, friends, and neighbors are healthy and happy. Have a fantastic day and a wonderful week.