Blueberries are a favorite fruit. This Blueberry Jam is made without Pectin. It is easy and flavorful. It is delicious on toast, pancakes, peanut butter sandwiches, vanilla ice cream and much more. This is a small batch recipe-it makes about one and a half cups of jam after it is blended with an immersion blender.
This post may contain affiliate links. This means, I may receive commissions if you use a link provided. All opinions here are my own.
Welcome and thank you for visiting our family recipe blog. We hope to help you find delicious family friendly recipes. There are hundreds of recipes here for you to browse through. Here are a few recipe links we think you will enjoy: Cranberry Orange Meatballs, Easy Lemon Chicken, Orange Chicken Lettuce Wraps, Copycat Buffalo Wild Wings Boneless Honey BBQ Wings, Blueberry Syrup, Toasted Coconut Cake, Gooey Caramel Corn, Salted Caramel Chocolate Chip Cookies, Nutty Buddy Cupcakes and Almond Joy Fudge.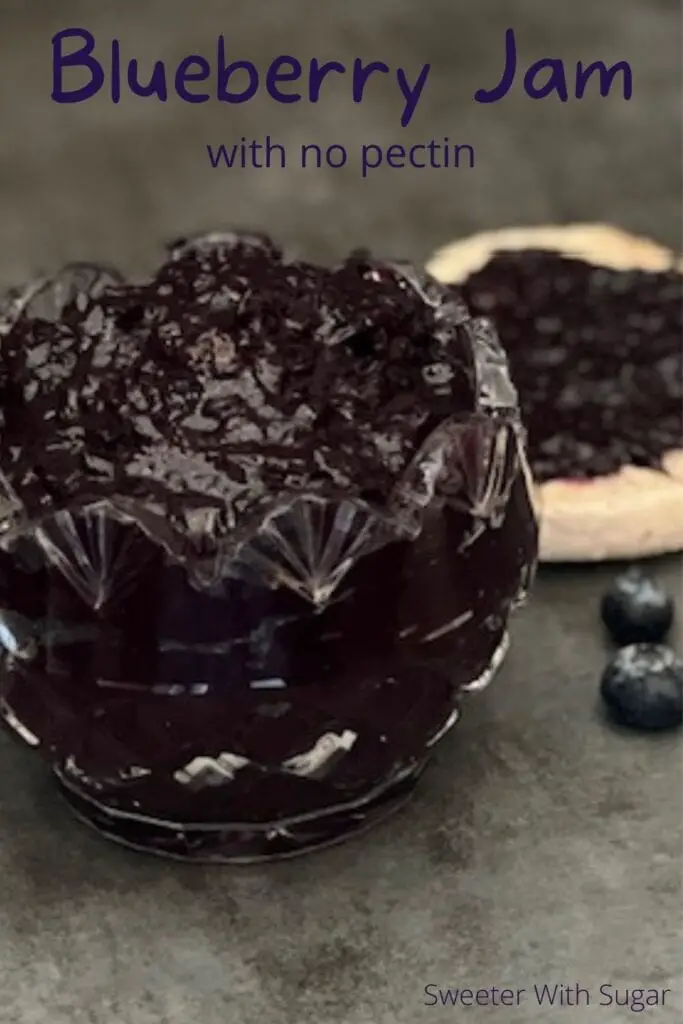 Ingredients Needed For Blueberry Jam:
Three ingredients are all you will need for this yummy blueberry jam recipe. Remember: do not cut back on any of the ingredients. The following ingredients and the amounts are needed to help this jam thicken without the use of Pectin.
Blueberries
Sugar
Fresh squeezed lemon Juice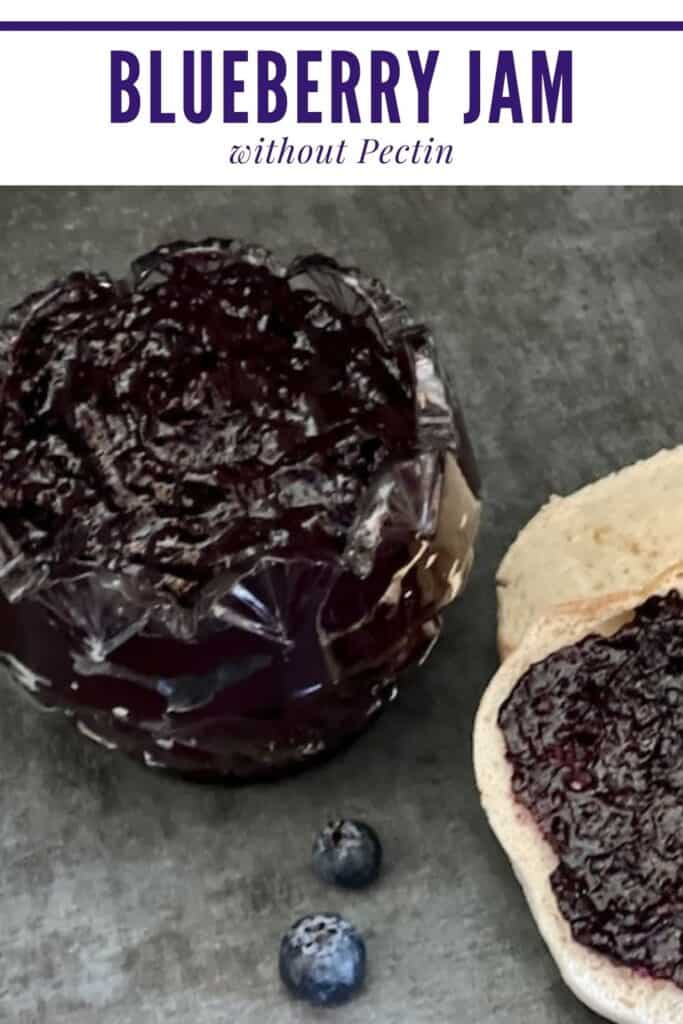 Instructions For Making Blueberry Jam:
Place the washed blueberries into a medium sized sauce pan and bring the mixture to a boil while stirring frequently.
Keep the mixture simmering and stir the mixture for about 30 minutes.
Remove the jam from the heat after the jam has thickened in to a jam consistency.
Allow jam time to cool in the sauce pan. Then, store it in an airtight container.
If you want less fruit chunks in your jam, use an immersion blender to blend the jam after you remove it from the heat.
This blueberry jam can be stored in the refrigerator for up to two weeks and in the freezer for up to 12 months. Store in an airtight container leaving space for the jam to expand, if freezing.
Enjoy this jam on toast, muffins, pancakes, waffles, sandwiches, and over vanilla ice cream.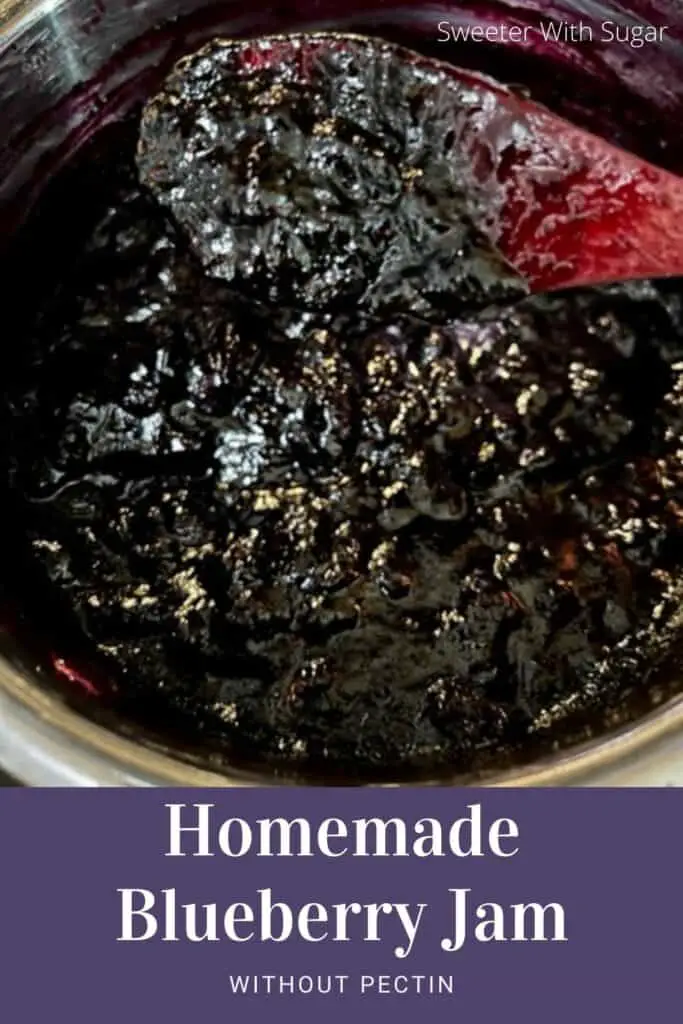 Other Recipes You Will Love: 💕
Nutella Stuffed Crescent Rolls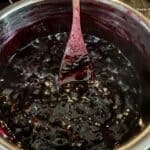 Homemade Blueberry Jam
An easy and delicious homemade jam recipe without Pectin.
Ingredients
18

ounces

blueberries

fresh

1

cup

sugar

2

tbsp

lemon juice

freshly squeezed
Instructions
Add all ingredients to a medium sauce pan and bring to a boil.

Continue simmering for about 30 minutes to thicken. Stir frequently to avoid burning.

Remove from the heat and allow time to cool.

If you want less fruit chunks in your jam, use an immersion blender to blend the jam after you remove it from the heat.

Store in the refrigerator in an airtight container or freeze.

Use this jam on sandwiches, toast, muffins, pancakes, waffles and ice cream, as desired.
Disclaimer:
All of the thoughts and opinions here, on our family food and recipe blog, are our own. The affiliate links (if you click on one or more) here pay us a tiny commission that will not cost you anything. The commissions help us run this web-site. We appreciate your support! Thank you so much!
We all want to thank you for visiting and trying recipes from our family recipe blog. Your support is very much appreciated. All of us are hoping that all of you are staying healthy, strong and happy. Have a fantastic day and an even better week. Have fun cooking and remember to get the kids involved where it is safe to do so. They may love it and it is a great activity for quality family time. Family and friends are the best!