Our family loves easy casseroles! They come together with ingredients you already have and you just throw them together! This Creamy Chicken Bacon Casserole is just that, you probably have all of these ingredients and it is thrown together really quickly.
This post may contain affiliate links. This means, I may receive commissions if you use a link provided. All opinions here are my own.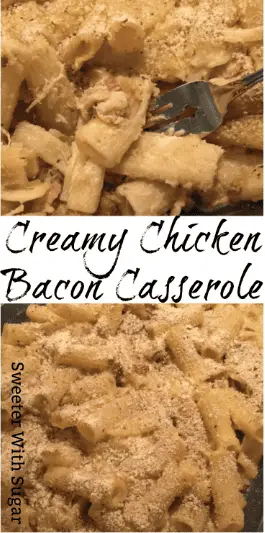 Ingredients:
16 oz. rigatoni pasta
1/2 stick of butter
2 garlic cloves, minced
1/2 cup milk
1 can cream of chicken soup
1/8 teaspoon pepper
12.5 oz. shredded chicken, (I used 1 can of the Kirkland canned chicken and drain it)
1/2 cup bacon, cooked and crumbled
1/4 cup Italian breadcrumbs
1/8 cup Parmesan cheese
Directions:
Cook pasta according to package directions with a little dash of salt in the water. Drain and set aside.
In a saucepan in medium low heat, melt butter. Add garlic cloves and sauté until fragrant. Whisk in the milk and cream of chicken soup until smooth. Add the pepper, chicken and bacon. Cook together until warm.
Combine the pasta and the sauce and coat well.
Grease a 9×13 pan and pour pasta into the pan. Cover with tin foil. Bake at 350 degrees for 25 minutes.
Remove from oven, sprinkle the Italian breadcrumbs and Parmesan cheese over the pasta. Return to oven without the foil covering for five more minutes.
Enjoy!
You may also like:
One Dish Ritz Chicken Casserole
Creamy Italian Chicken and Asparagus Pasta
(Visited 287 times, 1 visits today)