This Philly Cheesesteak Ring recipe is quick to put together. It uses crescent rolls and Steak-Umm sliced steak. It only takes 20 minutes to cook and is so delicious!
This post may contain affiliate links. This means, I may receive commissions if you use a link provided. All opinions here are my own.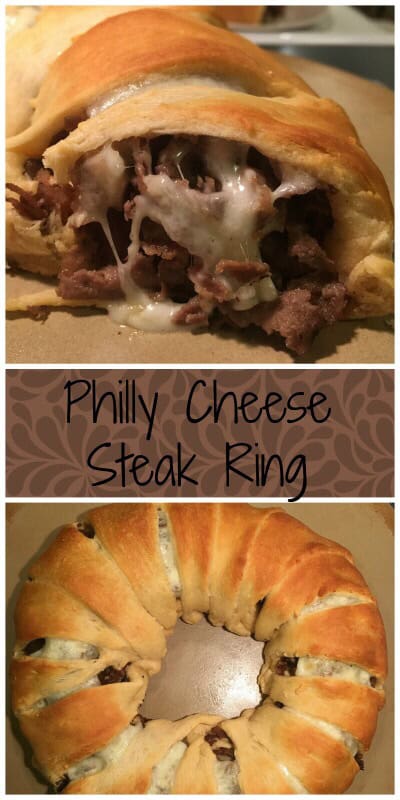 We are so happy you have visited our recipe blog today. Hopefully, you find everything you are looking for. Cooking favorite tried and true recipes and testing out new recipes are some of our favorite things to do.
This Cheese Steak Ring always turns out really great and it is very quick to make. We love making this when we have guests coming over. Everyone loves it. We hope you love it, too.
Below is a link to Pampered Chef's Pizza Stone. I love Pampered Chef's products SO MUCH!
Ingredients Needed for Philly Cheesesteak Ring Recipe:
2 tubes of refrigerator crescent roll dough
1 pound Steak-umm sliced steak (found in the freezer section of your grocery store-I find it at Walmart)
1/2 of an onion, sliced and quartered
3 cups chopped mushrooms
5 slices provolone cheese, sliced in half.
How to Make Philly Cheesesteak Ring:
Preheat the oven to 350 degrees.
Cook the Steak-Umms, sliced and quartered onion, and chopped mushrooms in a deep frying pan. Break the meat up as it cooks.
When the meat is cooked through and the vegetables are cooked to desired tenderness, drain the grease from the frying pan. Set this mixture aside.
Spray your cookie sheet or pizza pan (or stone) with a little cooking spray. Separate the crescent roll triangles and arrange them on a cookie sheet, pizza pie pan, or a pizza stone (I prefer using a pizza stone-I love Pampered Chef's stoneware) in a circle with the points pointing out. (See the picture below)
Place the cooked meat mixture on the crescent rolls in a circle around the thickest parts of the crescent rolls.
Top the meat mixture with the provolone cheese slices.
Bring points of the crescent rolls over the top of the meat and cheese. Press the points of the crescent rolls under center edge. This should hold the meat and cheese mixture in place.
Bake at 350 degrees for 20 minutes.
Remove from the oven and allow the crescent ring to cool a bit before serving.
We love to keep this meal simple by serving fresh, raw, cut up vegetables. We especially love that Costco sales baby carrots and already chopped up broccoli pieces that are ready to eat. Those two items make a great vegetable side for this dinner. Sometimes we have a salad with it as well. Serve it with your favorite vegetables or even fries on the side.
Serve and enjoy!
*Some people like to have bell pepper on their Philly Cheese Steak. You can definitely add bell pepper to the meat, onion, and mushroom mixture when you are making this wonderful dinner recipe.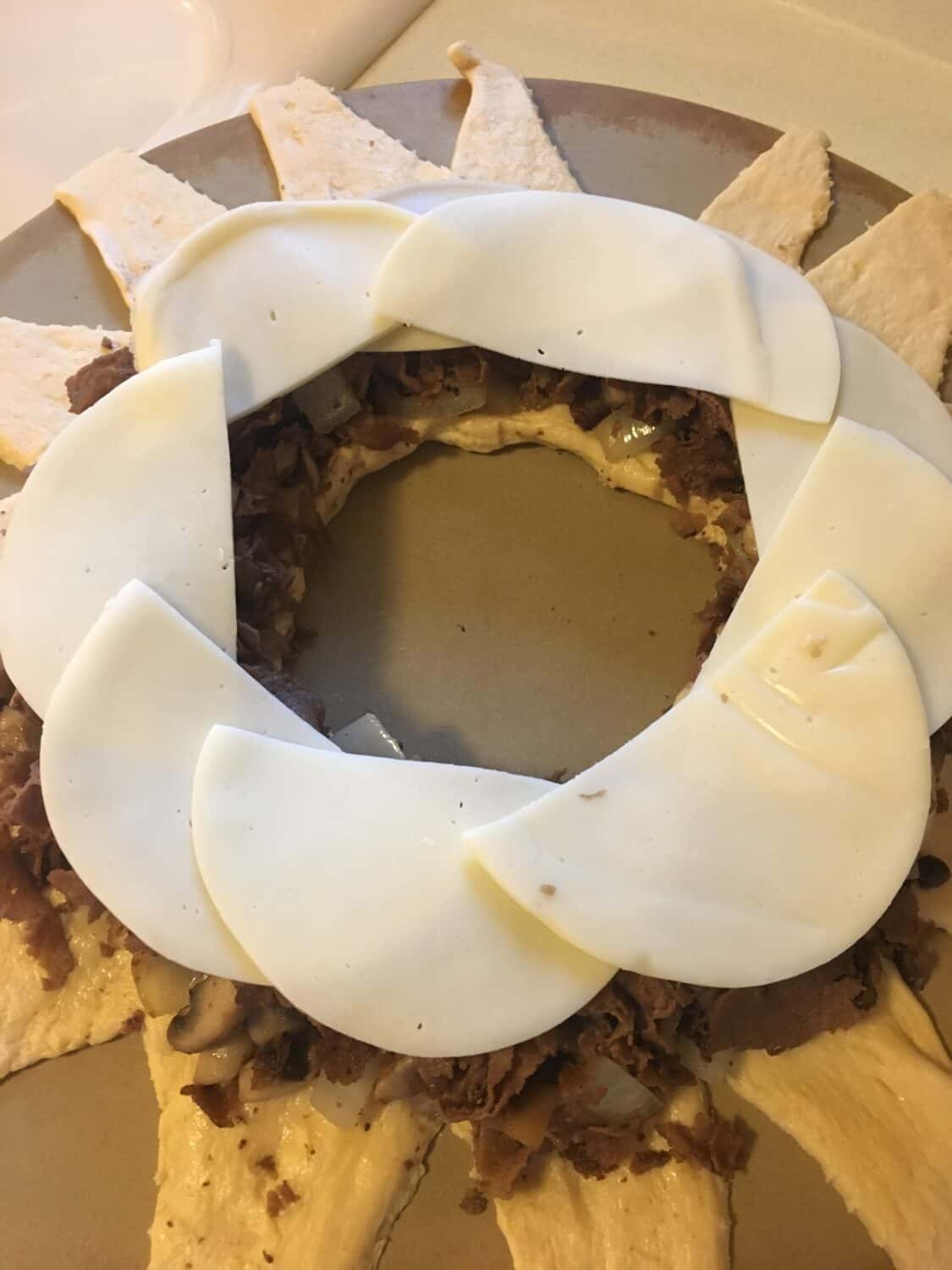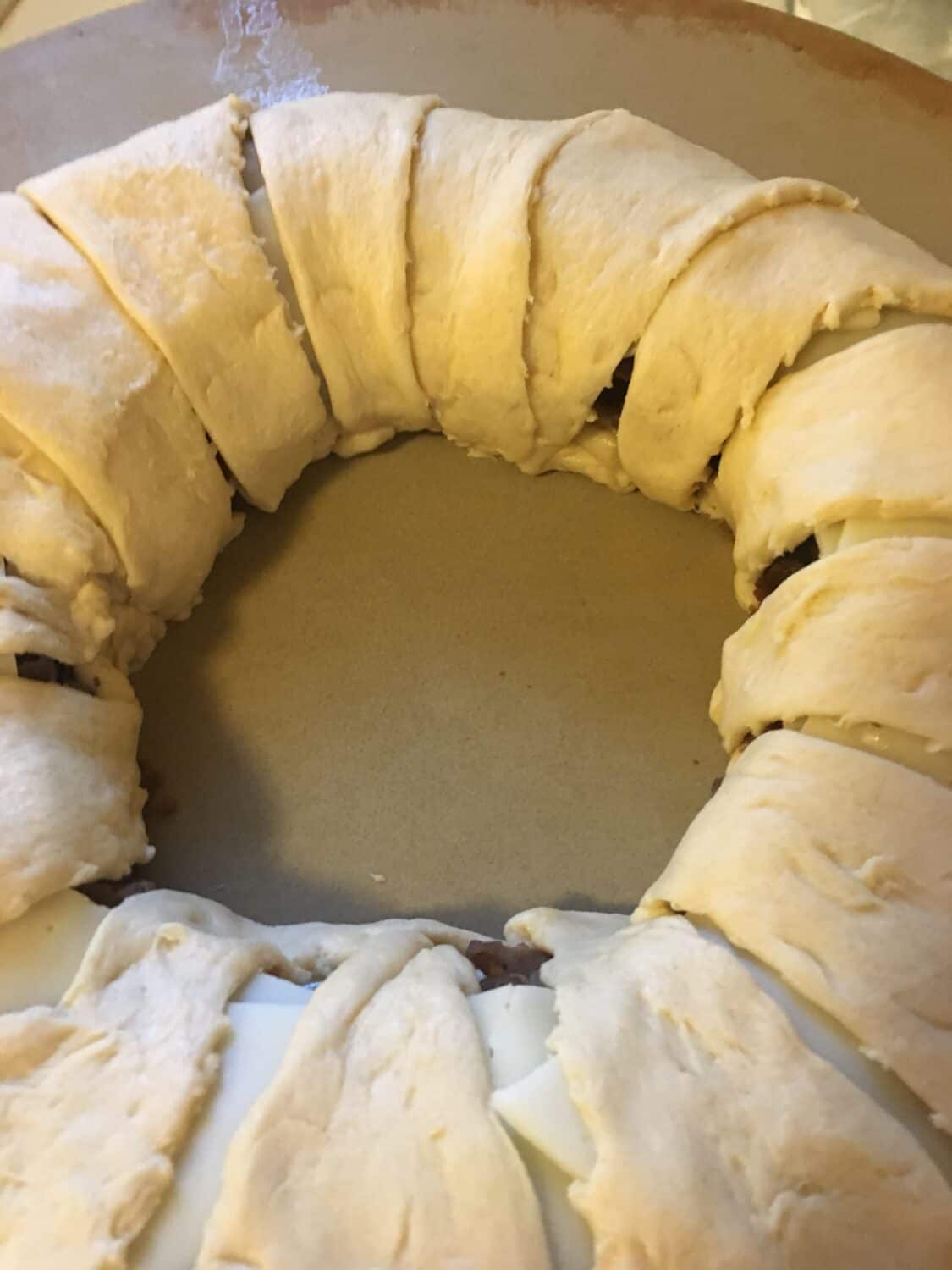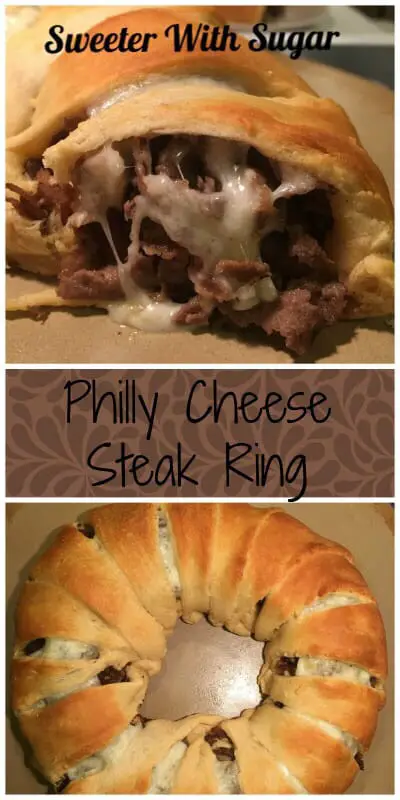 Other Quick Recipes:
Easy Onion Dip is the easiest dip ever! It only requires two inexpensive ingredients, a bowl to mix it in, a spoon to stir it with, and chips (such as Ruffles-it is a thick dip so you will want a ridged chip for dipping. Your store brand ridged chip will work, too). We love this dip when we get together for game night or just a snack anytime. It's simple, cheap, and delicious!
Easy Chicken Ramen is also a very simple and easy recipe. This recipe uses Ramen noodles, a little chicken, and a few other ingredients. It takes about ten to fifteen minutes to complete. It is yummy and will disappear fast.
Easy Pork Loin is a slow cooker meal. It's made with a one pound pork loin. It will cook fast due to the size of the pork loin but if you need a bigger meal it is really simple to double it. It has a great flavor and is simple to make-two of our favorite things in a recipe.
Easy Chicken Noodle Soup has delicious vegetables and tender pieces of chicken. Along with the egg noodles and the seasonings, this soup is so comforting and delicious.
Easy Alfredo I love creamy pasta sauces the most. Alfredo is something I always choose when we go out to dinner at an Italian restaurant. It is just so good and such a great comfort food-I love it!! This Alfredo recipe is super simple to make and extra good to eat. Try dipping your breadsticks in it too!
The Best Easy Chili is another great recipe for busy nights when dinner needs to be on the table quickly. It is full of ground beef, three kinds of beans, tomatoes, and spices. All of the ingredients for this recipe are probably in your panty right now. This is one of our go to recipes for those nights. We all love it and it is fast to prepare.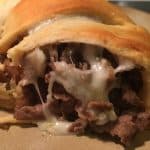 Philly Cheesesteak Ring
The best Philly Cheesesteak recipe that is so easy to make and so delicious!
Ingredients
2

tubes

Pillsbury Crescent Rolls

1

pound

Steak-umms sliced steak

1/2

small

onion

sliced and quartered

3

cups

mushrooms

chopped

5

slices

provolone cheese

sliced into halves
Instructions
Cook Steak-umms, onion, and mushrooms in a frying pan. Break up the meat as you cook it.

Drain the grease from the meat mixture.

Separate the crescent rolls and arrange them on a cookie sheet or a pizza stone in a circle with the points pointing out.

Place the meat mixture on the crescent rolls in a circle on the thickest part of the crescent roll ring.

Top the meat mixture with the cheese.

Bring the points of the crescent rolls over the top of the meat and cheese mixture. Press the points under the center edge.

Bake at 350° for 20 minutes.
Thanks:
We hope you find this Philly Cheese Steak Ring recipe and others here on Sweeter With Sugar-food recipe blog to be some of your favorites. Hopefully, you find them very helpful in your meal planning (and party food, snack, dessert, holiday, and beverage planning). We would love to hear how you like any of the recipes here, love to see a photo of your beautiful creation and love, love, love, for you to give us a rating, and a comment. 
Our family definitely does not claim to be perfect cooks. Cooking (and eating what we cook and what others cook) is one of our favorite things to do but, we are not perfect. Typos are something we hate to find in our recipes, but, it happens. If you find any mistakes, please let us know-we will fix them as soon as we can and we will appreciate your excellent editing skills.
We all want to thank you for visiting and trying recipes from our on-line cookbook. Your support is very much appreciated. All of us are hoping that all of you are staying healthy and strong and happy. Have a fantastic day and an even better week. Have fun cooking and remember to get the kids involved where it is safe to do so. They may love it and it is a great activity for quality family time. Family is the best! 
Disclaimer:
All of the thoughts and opinions here are our own. The affiliate links (if you click on one or more) here pay us a tiny commission that will not cost you anything. The commissions help us run this web-site. We appreciate your support! Thank you so much!