Are you a big fan of dill pickles? These Dill Pickle Oyster Crackers have a yummy buttery dill flavor. They are one of our favorite snack crackers.
This post may contain affiliate links. This means, I may receive commissions if you use a link provided. All opinions here are my own.
Here are some other links to other snack recipes we think you will enjoy: Cajun Pretzel Sticks, Sheet Pan Ranch Crackers, Copycat Crumbl Chocolate Chip Cookies, Nutty Buddy Cupcakes and Churro Corn Pops.
Do you know anyone who has such a dislike of a certain food that they can't eat the food if that particular food has been near their food or on it? It's funny to me. One of our family members completely despises pickles (Most of us like them so much we bottle our own 😊). Anytime he orders a burger and the fast food restaurant has forgotten to minus the pickle, the burger goes to someone else. He won't eat it. The pickle has left its essence on the whole burger. To me-pickles make the burger-give me more! I have been trying to think of a food I dislike that much…………maybe sardines-I don't get liking sardines. I guess most of us have some food that we dislike. But, we hope you really like these dill pickle crackers.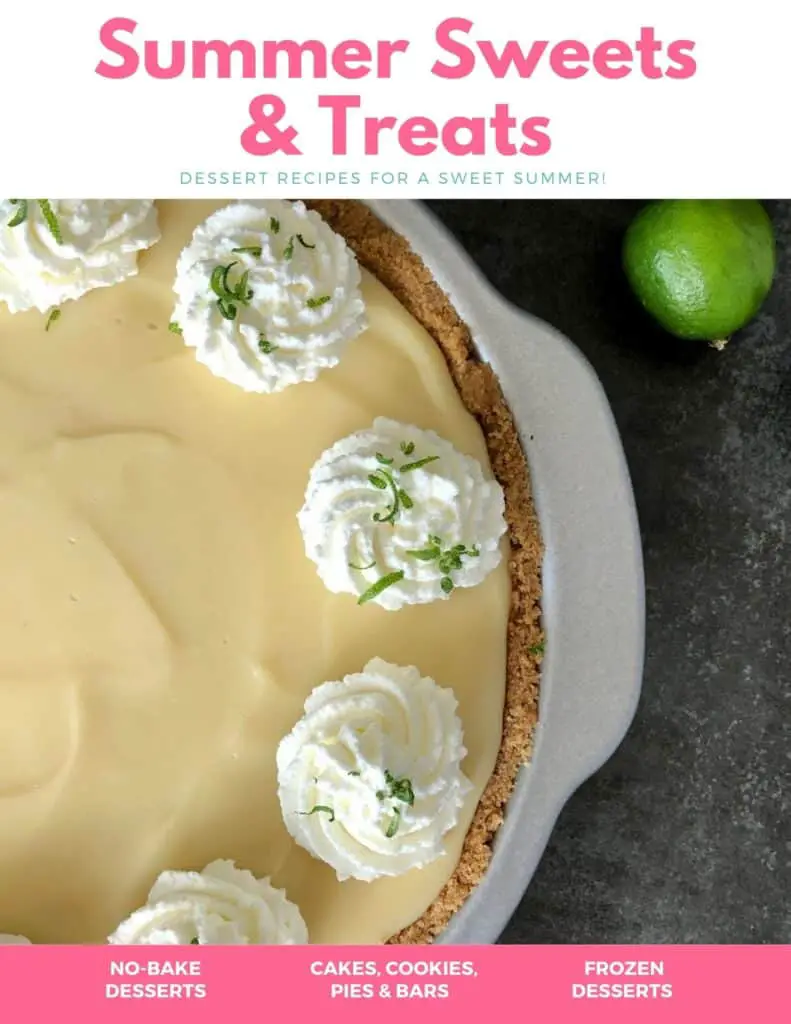 Ingredients Needed For Dill Pickle Oyster Crackers:
Oyster Crackers
Butter
Garlic powder
Pepper
Dill weed
Pickle juice
Salt
Instructions For Dill Pickle Oyster Crackers:
Melt butter and mix in all of the seasonings.
Place crackers in a bowl.
Pour butter mixture over the crackers and stir to coat.
Place crackers on a baking sheet.
Bake for 20 minutes at 200 degrees.
Allow time to cool completely and enjoy!
Store leftovers in an airtight container.
Other Recipes You May Love:
Below is the recipe for dill oyster crackers. You will love the flavor of these dill pickle crackers for snacks anytime! We would love to hear from you-leave a comment below. 💕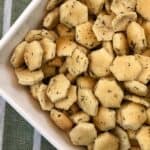 Dill Pickle Oyster Crackers
A yummy dill pickle flavored snack cracker.
Ingredients
9

ounces

Oyster Crackers

3

tbsp

butter

melted

1/2

tsp

garlic powder

1/8

tsp

pepper

1/2

tsp

dill weed

1

tbsp

dill pickle juice

1/2

tsp

salt
Instructions
Place Oyster Crackers in a bowl. Set aside.

Melt butter and mix with the seasonings.

Pour butter mixture over the Oyster Crackers and stir to coat.

Place crackers on a baking sheet.

Bake at 200° for 20 minutes.

Cool completely and enjoy! Or store in an airtight container.
Disclaimer:
All of the thoughts and opinions here, on our family food and recipe blog, are our own. The affiliate links (if you click on one or more) here pay us a tiny commission that will not cost you anything. The commissions help us run this web-site. We appreciate your support! Thank you so much!
We all want to thank you for visiting and trying recipes from our family recipe blog. Your support is very much appreciated. All of us are hoping that all of you are staying healthy, strong and happy. Have a fantastic day and an even better week. Have fun cooking and remember to get the kids involved where it is safe to do so. They may love it and it is a great activity for quality family time. Family and friends are the best! 
(Visited 5,187 times, 12 visits today)